Masterclass - Vegan Nutrition & Cookery with Daphné Duval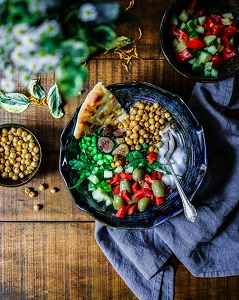 Date and Time
Sunday 27th May 2018
10:00am - 2:30pm
Cost
£70 (£55 Concessions)
Location
Made In Hackney
Food For All Basement
3 Cazenove Road
London
N16 6PA
This a past event and is no longer avaliable.
Please see our calendar for upcoming events.
The Event
"Being vegan does not have to be complicated, time-consuming or expensive. In this class, you will learn the essentials of plant-based nutrition, and how to cook deliciously healthy vegan dishes with ease". Daphné Duval, Public Health Nutritionist and Cookery Teacher
The class will include:
The principles of plant-based nutrition, including the low down on how to get your calcium, iron and vitamins B12 and D3.
Essential tips on how to follow a plant-based diet with ease
An introduction to a variety of tasty and nutritious vegan ingredients
The importance of pulses, soy foods (tofu & tempeh), nuts and seeds in a plant-based diet, and how to cook effectively with them
Simple recipes to wow your guests (without them even noticing it's vegan) such as blue corn tortilla, cashew 'sour cream' and chocolate mousse with aquafaba!
Delicious wholefood recipes for breakfast, lunch, dinner and snacks to take home, along with your own jar of homemade 'Plant Power Boost'
A selection of tasty meals and snacks throughout the day
Daphne is a Public Health nutritionist and food educator who is passionate about plant-based and sustainable food. Daphne started her career ten years ago as a research scientist in France and later in Spain. Disillusioned by the environmental impact of nano/biotechnologies, she decided to leave her career in academic research to pursue her passion for food and went on to study for a Masters in Nutrition and Public Health. Daphne now works with various organisations in London to teach people about the health and environmental benefits of following a plant-based diet within a sustainable food system.
Beautiful photo by Edgar Castrejon on Unsplash
Fee*: £70 (£55** Concession) includes a delicious organic plant based meal
* This fee is used to fund our programme of free courses to vulnerable and low-income community groups. By attending a Made In Hackney masterclass you get a great day of learning AND you're providing our charity with essential funds for us to continue our work with vulnerable community groups.
** Concessionary rate available for students, pensioners, unemployed and low waged
Refunds: we require a minimum of 7 days' notice for any cancellations or transfers once you have booked onto a class.
Vouchers: To redeem a voucher purchased on our site, please contact us to book a place. If contacting us by email please attach your voucher. If telephoning, have your voucher to hand so you can quote the voucher number.
For information: info@madeinhackney.org / 020 8442 4266 - Regretfully, the kitchen is not wheelchair accessible.
---
Masterclass Prices and VAT from January 2019
Stop press! Due to our growth (a good thing!) Made In Hackney is now VAT registered. This means from January 20th 2019 our masterclasses prices must include VAT - raising our prices by 20%. This is a legal requirement. Thanks for your understanding.
---
---