Passionate about local, healthy, sustainable food? Got some time on your hands to give to a worthwhile cause? Then why not volunteer for Made In Hackney.
Ways To Volunteer
Become A Class Host
Are you friendly, organised and good with people? Knowledgeable about global food issues and keen to share this information with others? Would you thrive off supporting and encouraging people to do their best in a MIH cookery class? Then this could be the post for you. Sense of humour, patience and knowledge of food issues all essential.
We regret we are currently highly over-subscribed for volunteers so we cannot guarantee any immediate opportunities. Please also only apply if you have week day day time availability. View Role Description
Become A Project Apprentice
Want hands on experience running a small but ambitious community project? Looking to change career and move into the charity/NGO/not-for-profit sector but lack real-world experience to get one of those hotly contested jobs? Then this could be the opportunity for you. Only apply if you can commit to working a minimum of one day (same day) each week for three months in the MIH office. Excellent communication, organisational, computer literacy and social media skills essential. View Role Description
Offer Your Skills
Are you a campaigner, fundraiser, carpenter, plumber, up-cycler, tech person, PR, photographer, filmmaker, copy writer, designer or artisan food maker? Want to offer your services pro-bono to a worthwhile local cause where you can really see its impact? Then why not get in touch with MIH to see how you can contribute to the Made In Hackney local food mission.
Become an Events Volunteer
Do you like meeting people? Working outside? Being at a market or festival? We'd love you to join our team of Events Volunteers to help us set up and run a Made in Hackney Information stand at markets, shows, fun days and festivals. These may include Stoke Newington Farmers Market, Broadway Market, VegFest, The Restaurant Show, Woodberry Downs Estate Summer fair and many others.
You will need to be a good organiser, confident to deal with the public and happy to work independently with other volunteers, sometimes taking the responsibility to set up the stand in the morning or pack up at end of the day.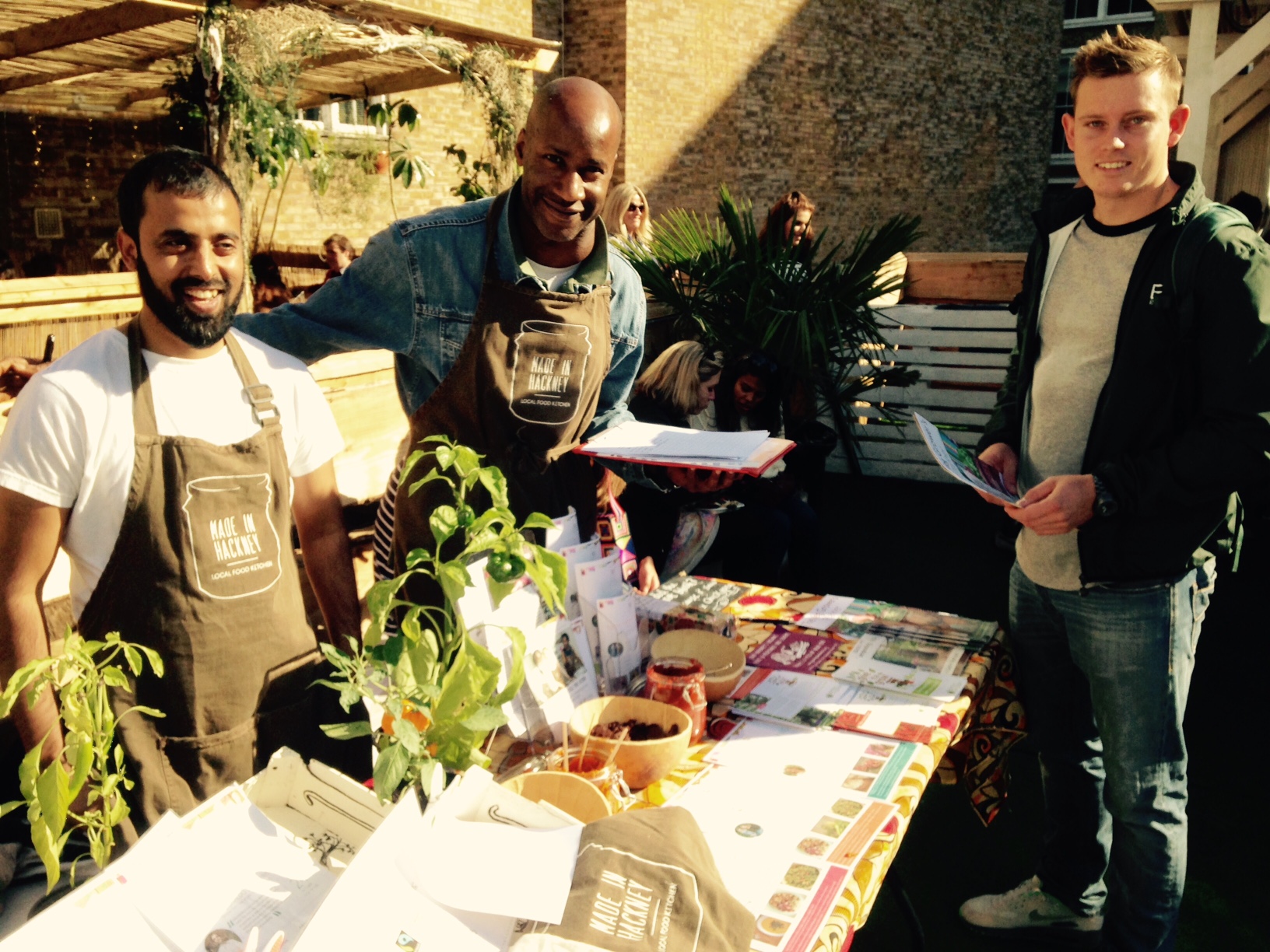 Become a Trustee
From time to time we seek people to join our Board of Trustees. Individuals who will be strong, experienced and enthusiastic advocates for the organisation and help to raise our profile. You are welcome to send in an expression of interest with your CV. (Note, at present we do not have any immediate vacancies)
---
To apply for any of the above please fill in our online application form. You will also be asked to attach your CV. We get a very high volume of applications so please allow a few weeks for a reply.
If you need assistance completing this application form or need to complete a paper copy please call us on 02084424266.