Hire Our Stunning Venue - Liberty Hall
Liberty Hall is a beautiful, unique venue located in Stamford Hill, Hackney. A former public convenience the mock Tudor building has been lovingly restored into a stunning events and meeting space with a fully equipped plant-based cookery school.
The quirky venue is a fabulous location for film and photography shoots, cookery classes, intimate supper clubs and other food events.
The venue is available to hire Monday to Sunday, 8am-10pm. Earlier start times can be arranged by request.
---
Notable Features:
Stunning bespoke kitchen crafted by Balau Kitchens
Surrounded by its own landscaped gardens
Open ceiling with beautiful period style beams
Glass conservatory overlooking Clapton Commons
Fully accessible space with wheelchair suitable cooking stations and accessible facilities
Stainless steel prep stations, central island and counter tops
Moveable central island with power points
Option for 4 additional cookery stations to be set up in conservatory
On site organic composting
4 cycle storage racks
Muisca Colombian Coffee kiosk situated next to hall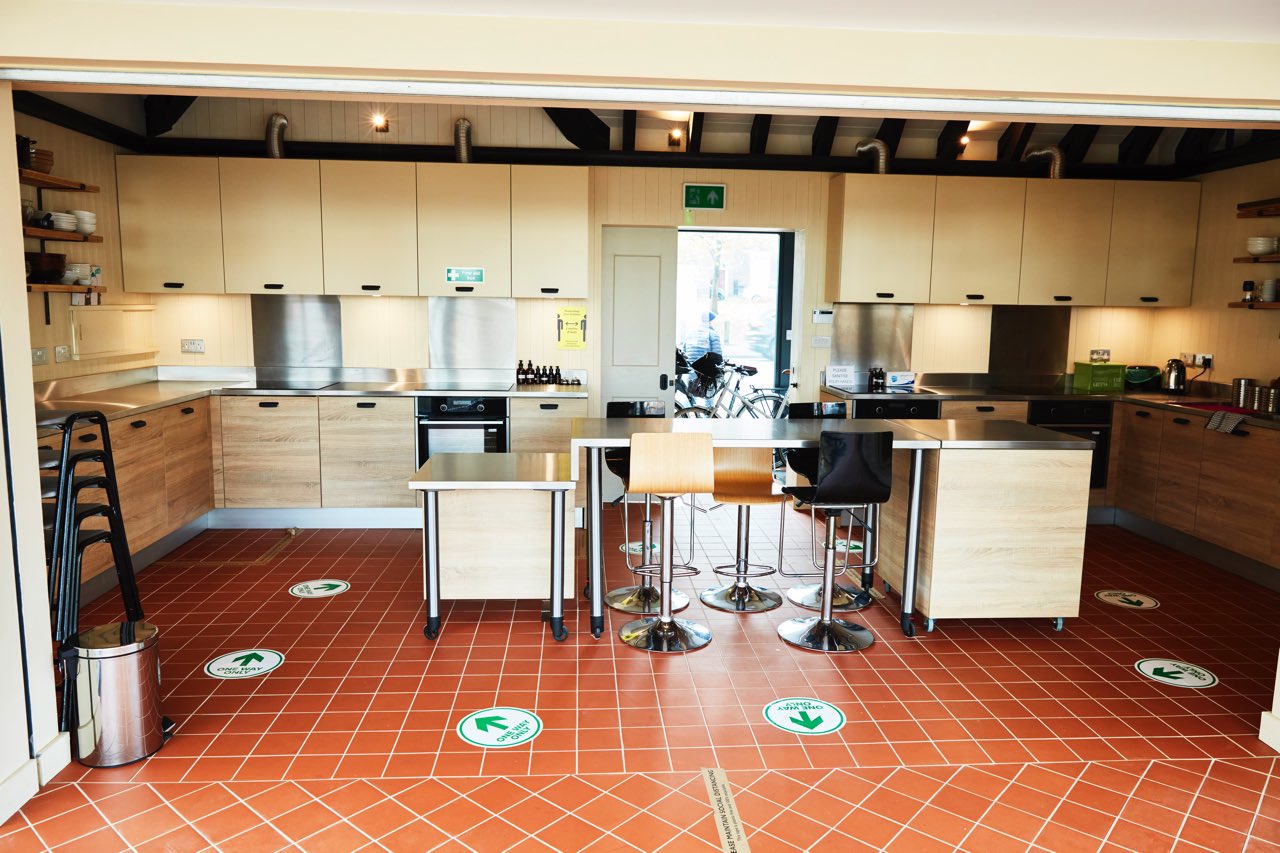 ---
Fixed Equipment:
4 Gorenje hobs – 4 rings on each
3 Gorenje domestic ovens
Gorenje dishwasher
Washer/Dryer on site but used by arrangement
1 under counter freezer
2 under counter refrigerators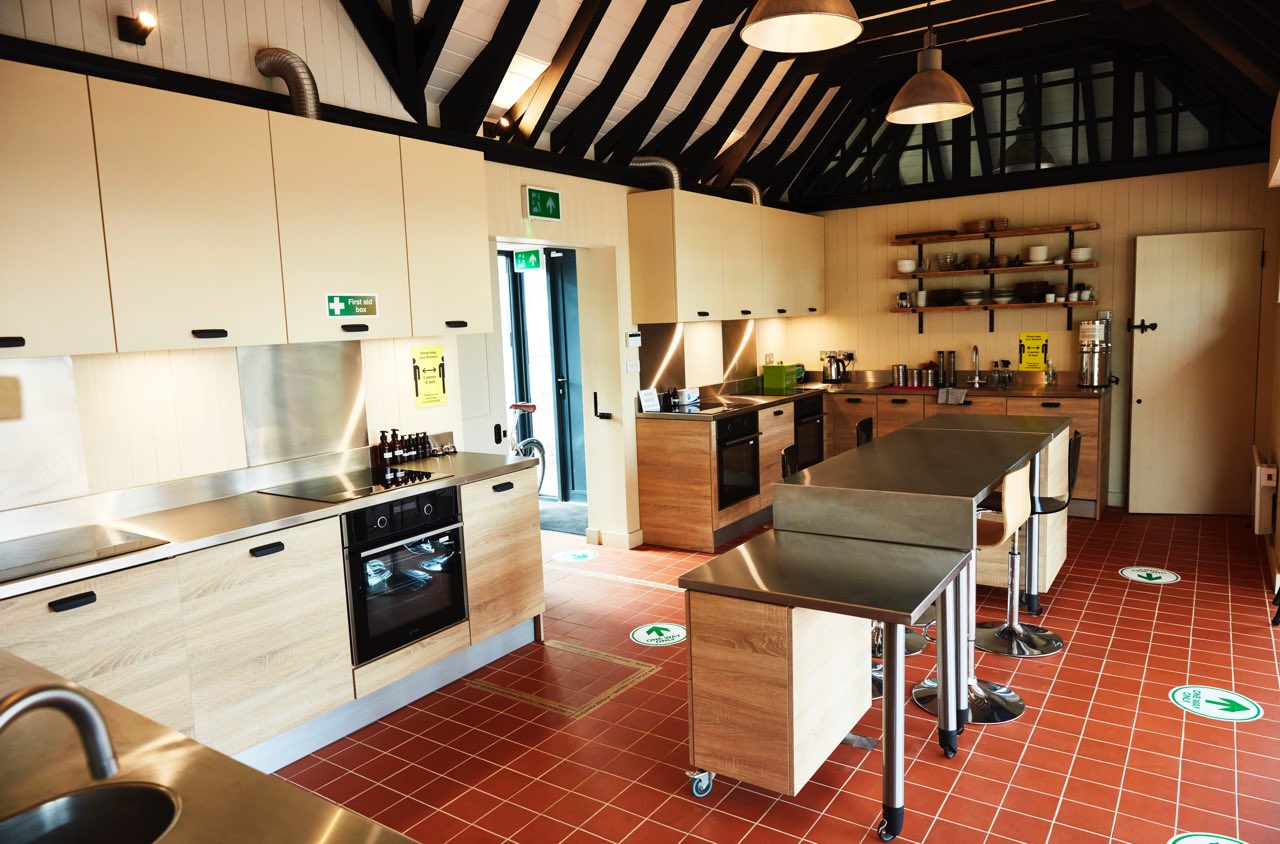 ---
Kitchen Equipment:
2 Vitamix Blenders
2 Magimix food processors
6 portable 2 ring hobs
9 tray dehydrator (available on request)
Pans of various sizes
Knives
Baking ware
Stick blender
Digital scales
Crockery & utensils
Water carafes
Kitchen accessories – graters, peelers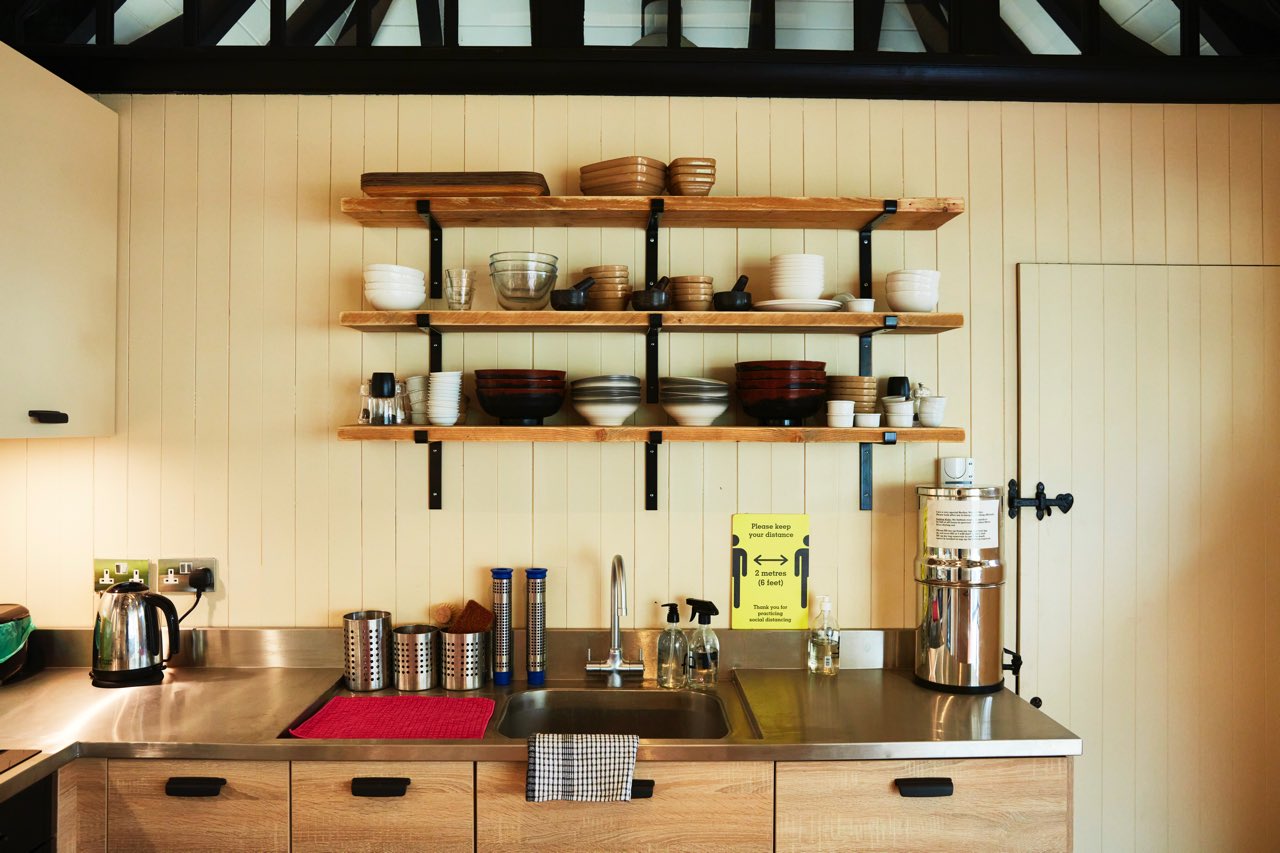 ---
Cleaning
All hire clients are expected to leave the premises in the same state they found them in and will be given a thorough site and cleaning induction before using the premises.
If you would like us to arrange cleaning we can arrange a bespoke service and price suitable for your activity and extent of cleaning required. To discuss this in more detail contact: andi@madeinhackney.org
Please note Made In Hackney is a vegan organisation. Therefore, all events must adhere to a 100% plant-based food policy.
---
How To Make A Booking
Please note our 100% plant-based food policy before making a booking enquiry.
Read our Terms & Conditions (coming soon) & our Venue Hire Form..
Contact Venue Manager Andi Gaywood to arrange a site visit. Please note Andi works 2 days a week. Email: andi@madeinhackney.org
Complete the Venue Hire Booking Form electronically. If you require assistance filling this in or need a paper form please request one from Andi Gaywood.
Once we receive your booking form we will send an invoice for a £100 deposit on the booking.
---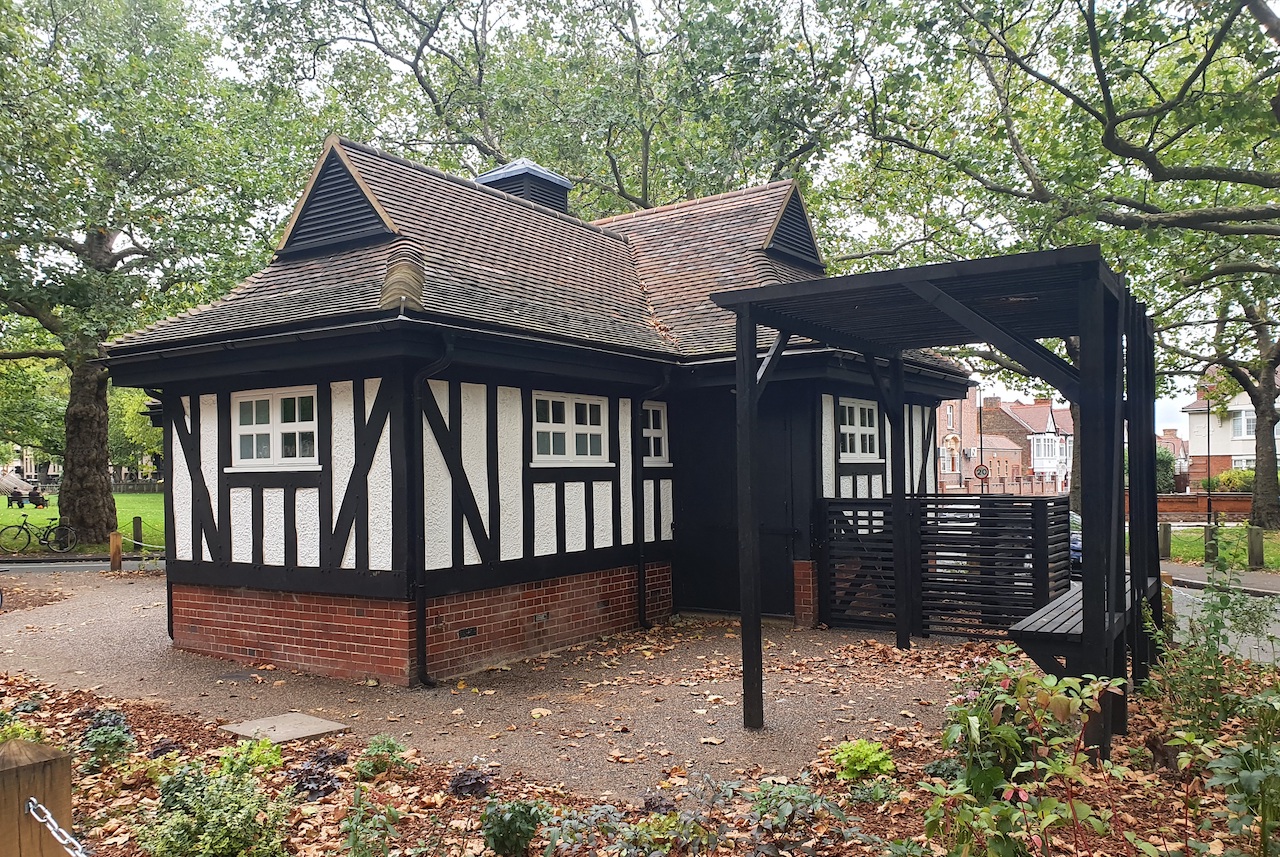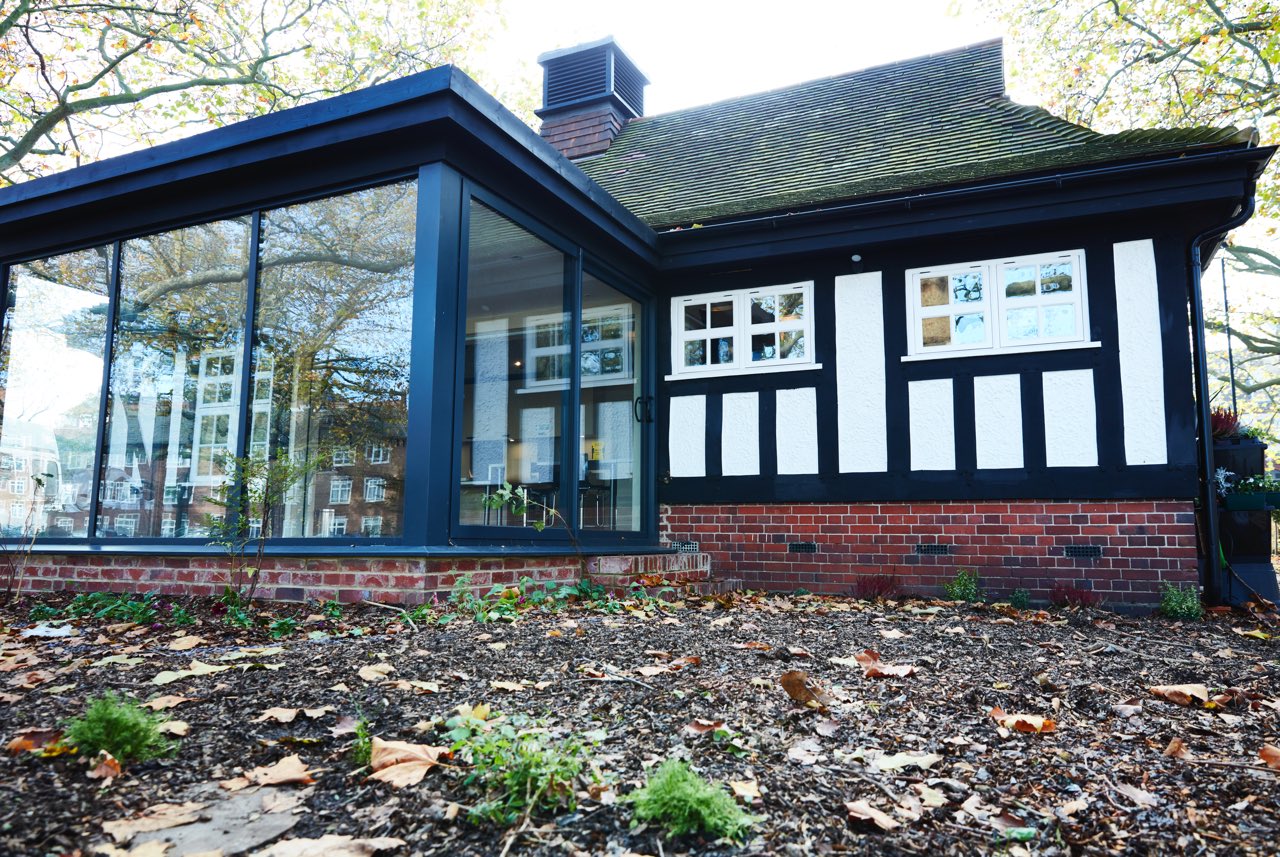 ---
Availability
To check kitchen availability, use the calendar below. Available time is shown in hourly slots highlighted in green. The calendar is for guidance only and slots are not guaranteed to be available – so do please get in touch to confirm your required dates and times.
The Kitchen - A Beautiful Kitchen, That Didn't Cost The Earth
We regret we are no longer hiring out our kitchen on Cazenove Road. However in 2021 we will be offering hire slots at our beautiful new kitchen venue 'Liberty Hall' on Clapton Common E5. More coming soon.....
Our beautiful recycled kitchen is available for hire to workshop leaders and small scale food producers. As opposed to your hard earned money going to a faceless landlord all hire fees go to the Made In Hackney Local Kitchen project. Your fee allows us to continue delivering our vital program of free and pay-by-donation cooking classes to the local community.
The MIH kitchen demonstrate it's possible to have a beautiful domestic kitchen that doesn't cost the earth. Designed by Architecture For Humanity and pioneering Yorkshire based, recycled kitchen company Milestone Design, it uses eco-design features possible to emulate in any home kitchen.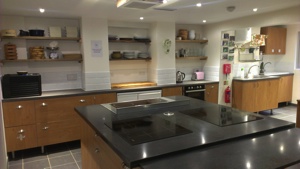 Equipment
Range cooker, domestic oven, 12 hob rings
Nine tray Excalibur Dehydrator
Vitamix, Magimix, Stick Blender
Pans, bowls, Pyrex dishes, colanders
Food waste composting facility
A work top made of recycled plastic coffee cups
Eco-Features
Units made of 98% recycled content MFC board
Super efficient 7 watt LED light bulbs
Shelving made from salvaged scaffold boards
Bespoke cupboard made from an old desk
VOC free paint and varnishes by Ecos Paint
A+ rated appliances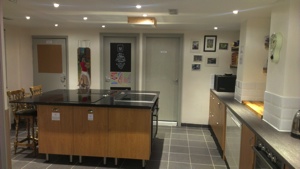 Please note the kitchen is a vegan space (no meat, fish, dairy or eggs) and is entirely electric (no gas).
Exhibition by photographer Kate Beatty www.kate-beatty.co.uk
How to Make a Booking
Read through equipment list above to ensure MIH meets your needs
Read Kitchen Hire Rates to confirm you are happy with MIH rates
Check our calendar below for available slots and read our Health & Sustainability Policy to check you're happy to adhere to it.
Read our Conditions of Use. This is a lengthy document. Do not be put off, it is there to protect both parties and is similar to that used by many kitchens.
If booking multiple sessions we recommend you visit the kitchen in advance. Email andi@madeinhackney.org to make an appointment
Complete the Kitchen Hire Booking Form electronically (click in the space next to the question and type directly into document) and email back to MIH.
MIH will now send you an invoice for the booking. To secure the booking MIH must receive a £100 deposit, as instructed on invoice.
Enjoy using the kitchen!
Availability
You can check the availability of the kitchen below. Available time is shown in hourly slots highlighted green. Please be aware the grid is for guidance only and slots are not guaranteed to be available, so please get in touch to confirm.
There may also be some extra time available before or after available slots, where booked slots do not take up the whole hour, so please ask if you need some additional time - and we may be able to accommodate.
September 2023
Monday
Tuesday
Wednesday
Thursday
Friday
Saturday
Sunday

1st
08:00-09:00
09:00-10:00
10:00-11:00
11:00-12:00
12:00-13:00
13:00-14:00
14:00-15:00
15:00-16:00
16:00-17:00
17:00-18:00
18:00-19:00
19:00-20:00

2nd
08:00-09:00
09:00-10:00
10:00-11:00
11:00-12:00
12:00-13:00
13:00-14:00
14:00-15:00
15:00-16:00
16:00-17:00
17:00-18:00
18:00-19:00
19:00-20:00

3rd
08:00-09:00
09:00-10:00
10:00-11:00
11:00-12:00
12:00-13:00
13:00-14:00
14:00-15:00
15:00-16:00
16:00-17:00
17:00-18:00
18:00-19:00
19:00-20:00

4th
08:00-09:00
09:00-10:00
10:00-11:00
11:00-12:00
12:00-13:00
13:00-14:00
14:00-15:00
15:00-16:00
16:00-17:00
17:00-18:00
18:00-19:00
19:00-20:00

5th
08:00-09:00
09:00-10:00
10:00-11:00
11:00-12:00
12:00-13:00
13:00-14:00
14:00-15:00
15:00-16:00
16:00-17:00
17:00-18:00
18:00-19:00
19:00-20:00

6th
08:00-09:00
09:00-10:00
10:00-11:00
11:00-12:00
12:00-13:00
13:00-14:00
14:00-15:00
15:00-16:00
16:00-17:00
17:00-18:00
18:00-19:00
19:00-20:00

7th
08:00-09:00
09:00-10:00
10:00-11:00
11:00-12:00
12:00-13:00
13:00-14:00
14:00-15:00
15:00-16:00
16:00-17:00
17:00-18:00
18:00-19:00
19:00-20:00

8th
08:00-09:00
09:00-10:00
10:00-11:00
11:00-12:00
12:00-13:00
13:00-14:00
14:00-15:00
15:00-16:00
16:00-17:00
17:00-18:00
18:00-19:00
19:00-20:00

9th
08:00-09:00
09:00-10:00
10:00-11:00
11:00-12:00
12:00-13:00
13:00-14:00
14:00-15:00
15:00-16:00
16:00-17:00
17:00-18:00
18:00-19:00
19:00-20:00

10th
08:00-09:00
09:00-10:00
10:00-11:00
11:00-12:00
12:00-13:00
13:00-14:00
14:00-15:00
15:00-16:00
16:00-17:00
17:00-18:00
18:00-19:00
19:00-20:00

11th
08:00-09:00
09:00-10:00
10:00-11:00
11:00-12:00
12:00-13:00
13:00-14:00
14:00-15:00
15:00-16:00
16:00-17:00
17:00-18:00
18:00-19:00
19:00-20:00

12th
08:00-09:00
09:00-10:00
10:00-11:00
11:00-12:00
12:00-13:00
13:00-14:00
14:00-15:00
15:00-16:00
16:00-17:00
17:00-18:00
18:00-19:00
19:00-20:00

13th
08:00-09:00
09:00-10:00
10:00-11:00
11:00-12:00
12:00-13:00
13:00-14:00
14:00-15:00
15:00-16:00
16:00-17:00
17:00-18:00
18:00-19:00
19:00-20:00

14th
08:00-09:00
09:00-10:00
10:00-11:00
11:00-12:00
12:00-13:00
13:00-14:00
14:00-15:00
15:00-16:00
16:00-17:00
17:00-18:00
18:00-19:00
19:00-20:00

15th
08:00-09:00
09:00-10:00
10:00-11:00
11:00-12:00
12:00-13:00
13:00-14:00
14:00-15:00
15:00-16:00
16:00-17:00
17:00-18:00
18:00-19:00
19:00-20:00

16th
08:00-09:00
09:00-10:00
10:00-11:00
11:00-12:00
12:00-13:00
13:00-14:00
14:00-15:00
15:00-16:00
16:00-17:00
17:00-18:00
18:00-19:00
19:00-20:00

17th
08:00-09:00
09:00-10:00
10:00-11:00
11:00-12:00
12:00-13:00
13:00-14:00
14:00-15:00
15:00-16:00
16:00-17:00
17:00-18:00
18:00-19:00
19:00-20:00

18th
08:00-09:00
09:00-10:00
10:00-11:00
11:00-12:00
12:00-13:00
13:00-14:00
14:00-15:00
15:00-16:00
16:00-17:00
17:00-18:00
18:00-19:00
19:00-20:00

19th
08:00-09:00
09:00-10:00
10:00-11:00
11:00-12:00
12:00-13:00
13:00-14:00
14:00-15:00
15:00-16:00
16:00-17:00
17:00-18:00
18:00-19:00
19:00-20:00

20th
08:00-09:00
09:00-10:00
10:00-11:00
11:00-12:00
12:00-13:00
13:00-14:00
14:00-15:00
15:00-16:00
16:00-17:00
17:00-18:00
18:00-19:00
19:00-20:00

21st
08:00-09:00
09:00-10:00
10:00-11:00
11:00-12:00
12:00-13:00
13:00-14:00
14:00-15:00
15:00-16:00
16:00-17:00
17:00-18:00
18:00-19:00
19:00-20:00

22nd
08:00-09:00
09:00-10:00
10:00-11:00
11:00-12:00
12:00-13:00
13:00-14:00
14:00-15:00
15:00-16:00
16:00-17:00
17:00-18:00
18:00-19:00
19:00-20:00

23rd
08:00-09:00
09:00-10:00
10:00-11:00
11:00-12:00
12:00-13:00
13:00-14:00
14:00-15:00
15:00-16:00
16:00-17:00
17:00-18:00
18:00-19:00
19:00-20:00

24th
08:00-09:00
09:00-10:00
10:00-11:00
11:00-12:00
12:00-13:00
13:00-14:00
14:00-15:00
15:00-16:00
16:00-17:00
17:00-18:00
18:00-19:00
19:00-20:00

25th
08:00-09:00
09:00-10:00
10:00-11:00
11:00-12:00
12:00-13:00
13:00-14:00
14:00-15:00
15:00-16:00
16:00-17:00
17:00-18:00
18:00-19:00
19:00-20:00

26th
08:00-09:00
09:00-10:00
10:00-11:00
11:00-12:00
12:00-13:00
13:00-14:00
14:00-15:00
15:00-16:00
16:00-17:00
17:00-18:00
18:00-19:00
19:00-20:00

27th
08:00-09:00
09:00-10:00
10:00-11:00
11:00-12:00
12:00-13:00
13:00-14:00
14:00-15:00
15:00-16:00
16:00-17:00
17:00-18:00
18:00-19:00
19:00-20:00

28th
08:00-09:00
09:00-10:00
10:00-11:00
11:00-12:00
12:00-13:00
13:00-14:00
14:00-15:00
15:00-16:00
16:00-17:00
17:00-18:00
18:00-19:00
19:00-20:00

29th
08:00-09:00
09:00-10:00
10:00-11:00
11:00-12:00
12:00-13:00
13:00-14:00
14:00-15:00
15:00-16:00
16:00-17:00
17:00-18:00
18:00-19:00
19:00-20:00

30th
08:00-09:00
09:00-10:00
10:00-11:00
11:00-12:00
12:00-13:00
13:00-14:00
14:00-15:00
15:00-16:00
16:00-17:00
17:00-18:00
18:00-19:00
19:00-20:00