We regret we are no longer hiring out our kitchen on Cazenove Road. However in 2021 we will be offering hire slots at our beautiful new kitchen venue 'Liberty Hall' on Clapton Common E5. More coming soon.....
Our beautiful recycled kitchen is available for hire to workshop leaders and small scale food producers. As opposed to your hard earned money going to a faceless landlord all hire fees go to the Made In Hackney Local Kitchen project. Your fee allows us to continue delivering our vital program of free and pay-by-donation cooking classes to the local community.
The MIH kitchen demonstrate it's possible to have a beautiful domestic kitchen that doesn't cost the earth. Designed by Architecture For Humanity and pioneering Yorkshire based, recycled kitchen company Milestone Design, it uses eco-design features possible to emulate in any home kitchen.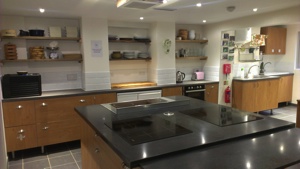 Please note the kitchen is a vegan space (no meat, fish, dairy or eggs) and is entirely electric (no gas).
You can check the availability of the kitchen below. Available time is shown in hourly slots highlighted green. Please be aware the grid is for guidance only and slots are not guaranteed to be available, so please get in touch to confirm.
There may also be some extra time available before or after available slots, where booked slots do not take up the whole hour, so please ask if you need some additional time - and we may be able to accommodate.
March 2021
Monday
Tuesday
Wednesday
Thursday
Friday
Saturday
Sunday

1st
08:00-09:00
09:00-10:00
10:00-11:00
11:00-12:00
12:00-13:00
13:00-14:00
14:00-15:00
15:00-16:00
16:00-17:00
17:00-18:00
18:00-19:00
19:00-20:00

2nd
08:00-09:00
09:00-10:00
10:00-11:00
11:00-12:00
12:00-13:00
13:00-14:00
14:00-15:00
15:00-16:00
16:00-17:00
17:00-18:00
18:00-19:00
19:00-20:00

3rd
08:00-09:00
09:00-10:00
10:00-11:00
11:00-12:00
12:00-13:00
13:00-14:00
14:00-15:00
15:00-16:00
16:00-17:00
17:00-18:00
18:00-19:00
19:00-20:00

4th
08:00-09:00
09:00-10:00
10:00-11:00
11:00-12:00
12:00-13:00
13:00-14:00
14:00-15:00
15:00-16:00
16:00-17:00
17:00-18:00
18:00-19:00
19:00-20:00

5th
08:00-09:00
09:00-10:00
10:00-11:00
11:00-12:00
12:00-13:00
13:00-14:00
14:00-15:00
15:00-16:00
16:00-17:00
17:00-18:00
18:00-19:00
19:00-20:00

6th
08:00-09:00
09:00-10:00
10:00-11:00
11:00-12:00
12:00-13:00
13:00-14:00
14:00-15:00
15:00-16:00
16:00-17:00
17:00-18:00
18:00-19:00
19:00-20:00

7th
08:00-09:00
09:00-10:00
10:00-11:00
11:00-12:00
12:00-13:00
13:00-14:00
14:00-15:00
15:00-16:00
16:00-17:00
17:00-18:00
18:00-19:00
19:00-20:00

8th
08:00-09:00
09:00-10:00
10:00-11:00
11:00-12:00
12:00-13:00
13:00-14:00
14:00-15:00
15:00-16:00
16:00-17:00
17:00-18:00
18:00-19:00
19:00-20:00

9th
08:00-09:00
09:00-10:00
10:00-11:00
11:00-12:00
12:00-13:00
13:00-14:00
14:00-15:00
15:00-16:00
16:00-17:00
17:00-18:00
18:00-19:00
19:00-20:00

10th
08:00-09:00
09:00-10:00
10:00-11:00
11:00-12:00
12:00-13:00
13:00-14:00
14:00-15:00
15:00-16:00
16:00-17:00
17:00-18:00
18:00-19:00
19:00-20:00

11th
08:00-09:00
09:00-10:00
10:00-11:00
11:00-12:00
12:00-13:00
13:00-14:00
14:00-15:00
15:00-16:00
16:00-17:00
17:00-18:00
18:00-19:00
19:00-20:00

12th
08:00-09:00
09:00-10:00
10:00-11:00
11:00-12:00
12:00-13:00
13:00-14:00
14:00-15:00
15:00-16:00
16:00-17:00
17:00-18:00
18:00-19:00
19:00-20:00

13th
08:00-09:00
09:00-10:00
10:00-11:00
11:00-12:00
12:00-13:00
13:00-14:00
14:00-15:00
15:00-16:00
16:00-17:00
17:00-18:00
18:00-19:00
19:00-20:00

14th
08:00-09:00
09:00-10:00
10:00-11:00
11:00-12:00
12:00-13:00
13:00-14:00
14:00-15:00
15:00-16:00
16:00-17:00
17:00-18:00
18:00-19:00
19:00-20:00

15th
08:00-09:00
09:00-10:00
10:00-11:00
11:00-12:00
12:00-13:00
13:00-14:00
14:00-15:00
15:00-16:00
16:00-17:00
17:00-18:00
18:00-19:00
19:00-20:00

16th
08:00-09:00
09:00-10:00
10:00-11:00
11:00-12:00
12:00-13:00
13:00-14:00
14:00-15:00
15:00-16:00
16:00-17:00
17:00-18:00
18:00-19:00
19:00-20:00

17th
08:00-09:00
09:00-10:00
10:00-11:00
11:00-12:00
12:00-13:00
13:00-14:00
14:00-15:00
15:00-16:00
16:00-17:00
17:00-18:00
18:00-19:00
19:00-20:00

18th
08:00-09:00
09:00-10:00
10:00-11:00
11:00-12:00
12:00-13:00
13:00-14:00
14:00-15:00
15:00-16:00
16:00-17:00
17:00-18:00
18:00-19:00
19:00-20:00

19th
08:00-09:00
09:00-10:00
10:00-11:00
11:00-12:00
12:00-13:00
13:00-14:00
14:00-15:00
15:00-16:00
16:00-17:00
17:00-18:00
18:00-19:00
19:00-20:00

20th
08:00-09:00
09:00-10:00
10:00-11:00
11:00-12:00
12:00-13:00
13:00-14:00
14:00-15:00
15:00-16:00
16:00-17:00
17:00-18:00
18:00-19:00
19:00-20:00

21st
08:00-09:00
09:00-10:00
10:00-11:00
11:00-12:00
12:00-13:00
13:00-14:00
14:00-15:00
15:00-16:00
16:00-17:00
17:00-18:00
18:00-19:00
19:00-20:00

22nd
08:00-09:00
09:00-10:00
10:00-11:00
11:00-12:00
12:00-13:00
13:00-14:00
14:00-15:00
15:00-16:00
16:00-17:00
17:00-18:00
18:00-19:00
19:00-20:00

23rd
08:00-09:00
09:00-10:00
10:00-11:00
11:00-12:00
12:00-13:00
13:00-14:00
14:00-15:00
15:00-16:00
16:00-17:00
17:00-18:00
18:00-19:00
19:00-20:00

24th
08:00-09:00
09:00-10:00
10:00-11:00
11:00-12:00
12:00-13:00
13:00-14:00
14:00-15:00
15:00-16:00
16:00-17:00
17:00-18:00
18:00-19:00
19:00-20:00

25th
08:00-09:00
09:00-10:00
10:00-11:00
11:00-12:00
12:00-13:00
13:00-14:00
14:00-15:00
15:00-16:00
16:00-17:00
17:00-18:00
18:00-19:00
19:00-20:00

26th
08:00-09:00
09:00-10:00
10:00-11:00
11:00-12:00
12:00-13:00
13:00-14:00
14:00-15:00
15:00-16:00
16:00-17:00
17:00-18:00
18:00-19:00
19:00-20:00

27th
08:00-09:00
09:00-10:00
10:00-11:00
11:00-12:00
12:00-13:00
13:00-14:00
14:00-15:00
15:00-16:00
16:00-17:00
17:00-18:00
18:00-19:00
19:00-20:00

28th
08:00-09:00
09:00-10:00
10:00-11:00
11:00-12:00
12:00-13:00
13:00-14:00
14:00-15:00
15:00-16:00
16:00-17:00
17:00-18:00
18:00-19:00
19:00-20:00

29th
08:00-09:00
09:00-10:00
10:00-11:00
11:00-12:00
12:00-13:00
13:00-14:00
14:00-15:00
15:00-16:00
16:00-17:00
17:00-18:00
18:00-19:00
19:00-20:00

30th
08:00-09:00
09:00-10:00
10:00-11:00
11:00-12:00
12:00-13:00
13:00-14:00
14:00-15:00
15:00-16:00
16:00-17:00
17:00-18:00
18:00-19:00
19:00-20:00

31st
08:00-09:00
09:00-10:00
10:00-11:00
11:00-12:00
12:00-13:00
13:00-14:00
14:00-15:00
15:00-16:00
16:00-17:00
17:00-18:00
18:00-19:00
19:00-20:00