Thanks to our new online Cook-Along sessions you can now join our incredible roster of teachers in a Made In Hackney cookery class from anywhere in the world. These classes were introduced during the COVID19 lockdown but have proved such a fantastic way of connecting to a global cooking community we're going to keep them going.
To join a class you need access to a smart phone or computer and a good Internet connection. We'll then beam the live class straight into your kitchen via the power of Zoom with all ingredients and equipment needed published in advance of the session. Brilliant right?
Classes we've held so far include Bibimbap Bowls, Bread Making, Caribbean Stew 'n' Dumplings, Mood Boosting Food, Oil Free Indian Cooking, Eating To Boost Immunity, South Indian Cuisine and more.
---
Our upcoming online cook-alongs are listed below or see our full calendar for all events.
Our Upcoming Online Cook-Alongs
Online Cook-Along - Vegan Ethiopian
6:30pm - 8:00pm
Join plant based Ethiopian chef Woin Tegegn of vegan caterers Ethiopic Kitchen to learn how to make delicious and healthy plant-based versions of authentic Ethiopian dishes with love, inspired by recipes handed down through generations . The class will include: How to make a delicious authentic spiced lentil stew; 'Kei Miser Wot' Make a tasty sautéed yellow cabbage, carrot and potato starter; 'Tikel Gomen' How to make aromatic Ethiopian Spiced tea Q&A Recipe handout Ingredients and equipment details are listed below About Woin Woin is a chef with a specialism in authentic Ethiopian cuisine...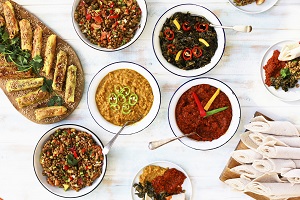 Online Cook-Along - Oil Free Indian Cooking
11:30am - 1:00pm
Join nutritionist Rohini Bajekal and her mother, Dr Nitu, for an introduction to oil-free Indian cooking that doesn't compromise on flavour . ....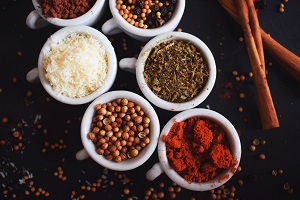 Online Cook-Along - Southern Indian
6:30pm - 8:00pm
Join plant based chef Sareta Puri for a tour of the taste, textures and aromas of plant-based Southern Indian cuisine, bursting with flavours from across this incredible region . The class will include: Making a delicious Tomato Dal How to make the perfect Citranna Rice Making tasty Coconut Rotis How to temper and spice dishes using aromatic mustard seeds, curry leaves and chillis to give your dishes an extra burst of flavour Q&A Recipe handout About Sareta Sareta Puri is a Scottish-Indian plant based chef who learned how to cook as a child from her chef father and has been mainly self-taught since...