Course - Budget Cooking: Meal Prep & Batch Cooking Lunchtime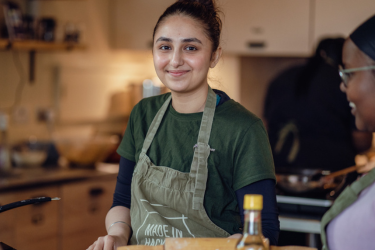 Date and Time
Thursday 19th October 2023
11:00am - 1:00pm
Cost
FREE (priority for carers living in Hackney)
Location
Made In Hackney, Liberty Hall (small black & white Tudor-style building by the common), 128 Clapton Common, Spring Hill, Clapton, London, E5 9AA
The Event
OUTSMART BUDGET COOKING: THE MAGIC OF MEAL PLANNING Learn more about food safety and proper knife handling. More importantly you will cook meals from scratch, become a food-planning whiz, and learn store ingredients like a pro. We'll show you how to plan a week of yummy meals. Ready to spice up cooking and ace your budget?
MULTIPLY YOUR MEALS Learn about stocking essential ingredients that'll turn your shopping into a budget-friendly marvel. And guess what? Pumping up your weekly shop not only saves cash but also shaves off precious time and cuts down on food waste. Plus be trained in batch cooking, a cooking hack that scores big on savings, time, and energy.
FEELING PECKISH? LET'S COOK UP SOME NUTRITIOUS SNACKS AND HEALTHY SWEETS Get savvy about crafting snacks and sweet treasures. Whether you're munching straight away or stashing for later (sometimes even weeks), we've got the secrets ready to roll. Remember, cutting costs and eating healthily doesn't mean waving goodbye to indulgence. Don't worry, we've got you covered!
Dates: Thursdays 11am-1pm [5/12/19 Oct] 2023. If you can't attend on all dates you are welcome to book individual dates.
To book on: please click on "BOOK NOW" and complete the online form., or if you don't have internet access call 020 8442 4266 and we can complete the form over the phone with you.
In the interest of fairness, please understand that we need to prioritise new participants for our free sessions. For this reason we can usually only consider applications for a maximum of 2 classes or a course in a 6 month period.
Please do not come to the class unless you have received a booking confirmation from us - and replied to accept it - to avoid being turned away, as places are limited. Please bear in mind that our classes usually have waiting lists, but places often eventually do become available. We will also prioritise those on waiting lists for future classes and courses.