Course - Cooking on a Budget 6 week course (evening)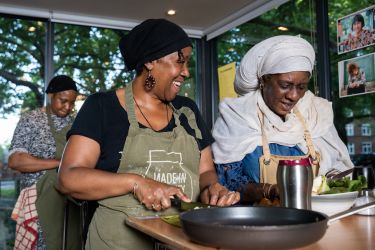 Date and Time
Thursday 20th July 2023
6:00pm - 8:00pm
Cost
FREE (for Hackney residents only). To book on please click on "BOOK NOW" and complete the online form.
Location
Made In Hackney, Liberty Hall (small black & white Tudor-style building by the common), 128 Clapton Common, Spring Hill, Clapton, London, E5 9AA
This a past event and is no longer avaliable.
Please see our calendar for upcoming events.
The Event
Learn how to shop for and make some healthy, low cost and tasty plant based recipes with fun and friendly cooking teacher Chef Mark Breen.
Sessions covers shopping, menu planning and budgeting, cost saving ideas, making bread, soups, using herbs and spices, and healthy takes on popular classics – including fast food and desserts. You'll work in small groups and enjoy a meal together.
Dates: Thursdays 29 June, 6/13/20/27 July 6-8pm
To book on: please click on "BOOK NOW" and complete the online form., or if you don't have internet access call 020 8442 4266 and we can complete the form over the phone with you.
This course funded by Hackney Council for Hackney residents
In the interest of fairness, please understand that we need to prioritise new participants for our free sessions. For this reason we can usually only consider applications for a maximum of 2 classes or a course in a 6 month period.
Please do not come to the class unless you have received a booking confirmation from us - and replied to accept it - to avoid being turned away, as places are limited. Please bear in mind that our classes usually have waiting lists, but places often eventually do become available. We will also prioritise those on waiting lists for future classes and courses.