Course - Tuesdays Cooking on a Budget, 6-week with Amandeep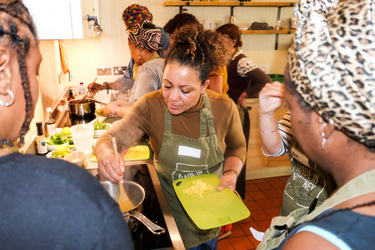 Date and Time
17/01/2023 11:00am - 07/03/2023 1:00pm
Cost
FREE (for Hackney residents only). To book on please click on "BOOK NOW" and complete the online form.
Location
Made In Hackney, Liberty Hall (black & white building by the common), 128 Clapton Common, Spring Hill, Clapton, London, E5 9AA, UK
This a past event and is no longer avaliable.
Please see our calendar for upcoming events.
The Event
Want to eat well but limited by budget and lack of cooking skills? Learn how to shop for and make some healthy, low cost and delicious plant based recipes with cookery teacher and caterer, Amandeep Verdding, from Biba Kitchen.
Sessions vary with seasons but usually covers shopping in local area, menu planning and budgeting, buying co-operatively, making bread, soups, cooking with herbs and spices, using lentils, using flour, and healthy takes on popular classics – including fast food and desserts.

Dates: Tuesdays 17/24/31 Jan, 7/21/28 Feb 2023, 11am-1pm
To book on: please complete this short online form bit.ly/MIHCOURSES or if you don't have internet access call 020 8442 4266 and we can complete the form over the phone with you.
This course is for Hackney funded by Hackney Council for Hackney residents
Made In Hackney uses cereals containing gluten namely: wheat (spelt and khorasan wheat), rye, barley, oats; peanuts; all other nuts; sesame; all other seeds; soybeans; celery and celeriac; mustard; sulphur dioxide/sulphites; lupin; tomatoes and other allergens in it's classes. Our food is freshly prepared in our busy cookery school kitchen that handles allergens, so we cannot guarantee that our food and drinks are allergen-free. Even in classes where these ingredients are not being used, they will be on site in our store rooms and our equipment will have previously come into contact with them. Participants attend at their own risk.