Live Online Cookery Class - Cooking with Jackfruit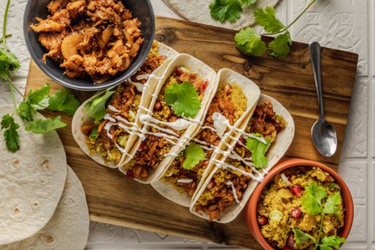 Date and Time
Thursday 26th May 2022
6:00pm - 8:00pm
Cost
Fee*: £20 (£10 Concessions**/ £5 Unwaged) All proceeds help fund our community meal service which continues to provide free nutritious, tasty meals to households struggling to access food and is still needed more than ever.
Location
The class will be held on Zoom. Zoom details will be provided in your booking confirmation email and in a reminder before the class, together with your recipes handout. If you have not received the reminder email by 4pm the day before the class please contact us at classes@madeinhackney.org. Do check your junk mail first!
The Event
Join plant based chef and nutritional therapist, Bruna Oliveira, online and live from Mexico, and learn how to cook some utterly delicious meals using jackfruit - a tropical tree fruit grown in Asia, Africa and South America which has become a beloved vegan staple...
This live interactive class will include:
How to get the best out of the versatile jackfruit for creating meaty textures full of flavour using wholefood ingredients and without gluten or soya
Learn how to make mouth-watering chipotle BBQ pulled jackfruit with a quick slaw
How to make spicy jackfruit tacos with a quick salsa, sour 'cream' and lettuce
Discover how to prepare a whole fresh jackfruit during a demo
Easy-to-follow recipe sheets provided to recreate the dishes again and again at home
For ingredients and equipment needed see below
About the chef: Bruna Oliveira
Bruna Oliveira graduated in physiotherapy in Brazil before moving to London in 2008, where she studied Naturopathy and Naturopathic Nutrition at CNM London, in order to pursue her passion for healthy and natural living. Bruna loves creating delicious recipes with the aim of inspiring people to transform their lives through making positive changes in their diet.
Refunds/transfers: we require a minimum of 7 days' notice for any cancellations or transfers once you have booked onto a class to enable us to try to resell your ticket.
Vouchers: To redeem a voucher purchased on our site, please contact us to book a place. If contacting us by email please attach your voucher. If telephoning, have your voucher to hand so you can quote the voucher number.
For information: classes@madeinhackney.org / 020 8442 4266 / WhatsApp message +44 07833685894
*
Have your ingredients ready, weighed out and chopped where necessary before the class starts to help you keep pace with the session and feel more relaxed. We also recommend printing out your handout or having it available to view on a separate device if possible.
EQUIPMENT LIST
Frying pan (2)
Blender
Chopping board
Knife
INGREDIENTS LIST
For the Jackfruit tacos carnitas
Corn tortillas or Wholegrain flatbread (small size). Alternatively, you can use Romaine lettuce instead of bread
For the Jackfruit Carnitas
1 can jack fruit 1 clove garlic, crushed
1 shallot (or small onion), finelly chopped
2 tablespoons orange juice
1 tablespoon lemon juice
1 teaspoon cumin powder
1 teaspoon dry chilli (of your preference)
¾ teaspoon salt (or to taste)
1 tablespoon olive or avocado oil
Black pepper
Avocado to serve (optional)
Sunflower Sour Cream
1/4 cup raw sunflower seeds
2 tablespoons fresh lemon juice
1/4 teaspoon sea salt
Quick Salsa
3 tomatoes (ripe)
½ onion
1 clove garlic
½ lime (or lemon), juice
½ chilli jalapeno
Coriander or parsley (optional)
Chipotle BBQ Pulled Jackfruit
2 burger buns or wholemeal pitta bread
1 can jackfruit
¼ cup veggie stock
½ cup orange juice
½ lemon, juiced
1 dried chipotle chilli
¼ onion, finelly chopped
2 cloves garlic, crushed
2-3 tablespoon coconut or brown sugar
3 tablespoon tomato paste
2 tablespoon tamari sauce
1 tablespoon olive or avocado oil
1 teaspoon dry oregano
¼ teaspoon cumin powder
½ teaspoon smoked paprika
¼ teaspoon liquid smoke (optional)
Salt and pepper
Simple Radish and Cabbage Slaw
¼ cup of shredded green or red cabbage
1 apple, shreded
½ red pepper, thinly sliced
2 radishes very thinly sliced
¼ red onion thinly sliced
1 lime, juiced
1 tablespoon sour cream (prepared during the class)
Salt and pepper
Coriander or parsley to serve (optional)