Live Online Cookery Class - Eat well, be well: cooking to improve your health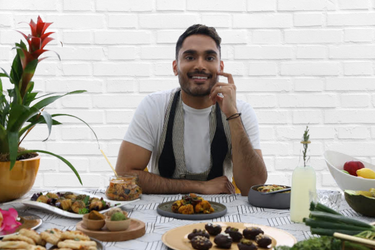 Date and Time
Thursday 15th September 2022
6:00pm - 8:00pm
Cost
FREE (for Hackney residents only)
Location
The class will be held on Zoom. Zoom details will be provided before the class, together with your recipe card. If you have not received the reminder email by 4pm the day before the class please contact us at classes@madeinhackney.org or send a message on WhatsApp to +44 7833 685894. Do check your junk mail first!
This a past event and is no longer avaliable.
Please see our calendar for upcoming events.
The Event
Join our teacher Dr Sunni Patel, an expert in culinary medicine, for fun online sessions learning how to cook a range of dishes using healthy ingredients and smart cooking techniques. Each session will focus on supporting a different aspect of your body's health: brain, gut, joints, immune system, skin and heart.
To join a class you need access to a smart phone or computer and a good Internet connection. We'll beam the live class straight into your kitchen via Zoom with all ingredients and equipment needed informed in advance of the session.
Beginners and children welcome. You can also sign up to collect your veggie ingredients from our cookery school in Upper Clapton, including some extras, all supplied by local surplus organisation Streetbox!
To book on: please complete this short online form bit.ly/MIHCOURSES or call 020 8442 4266
This course is funded by Hackney Council and is for Hackney residents