Masterclass - For the Love of Veg; Creative Mains with Big Veggies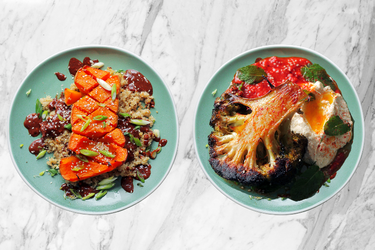 Date and Time
Saturday 25th June 2022
11:00am - 4:00pm
Cost
Single workstation: £125 / Double workstation: £230 inclusive of VAT. All proceeds help fund our community meal service which continues to provide free nutritious, tasty meals to households struggling to access food.
Location
Made In Hackney, Liberty Hall (black & white building by the common), 128 Clapton Common, Spring Hill, Clapton, London, E5 9AA, UK
This a past event and is no longer avaliable.
Please see our calendar for upcoming events.
The Event
This is a creative class like no other, actually the first of its kind for us as there is not a recipe in sight. By the end of the class feel equipped with the tools and techniques to create the perfect meal with any big veg!
Food explorer and writer, David Bez, will guide you through this uniquely innovative masterclass where he explores what he calls 'Big Veg', the hero of each dish. Learn how to transform those big veggies into tasty and surprising main courses, using the formula he applied to more than 100 recipes in his new book "Vegan Love".
Explore the creativity of a recipe-free class, and have the opportunity to pick which vegetable, side, grain and sauce to cook while simultaneously learning alternative techniques as each participant will make their own, self-curated meal. Armed with skills and encouragement from David, choose from Cauliflower, Squash, Cabbage or Aubergine as your 'Big Veg', you will become a pro at creating quick, easy, everyday meals that become rooted in using David's fool-proof formula of: a veg + a protein + a sauce + a topping = pure plant-based bliss!
Learn how to make veggies the star of your meal and infuse them with flavour by marinating them with spices, sauces and juices. This is the class that will give you the skills and knowledge to feel confident working with any of the big veggies. David will teach you how to maximise your flavours and textures by roasting them in a pot or the oven, elevating veggies to the next level and showing just how simple and tasty they can be.
The class will include:
Pick your own and learn how to transform a big veggie (the main)

Pick your own and learn how to cook the perfect protein side (a pulse or grain)

Transform your dish with a quick and simple sauce or cream or dressing of your choosing

How to garnish with the right topping (herbs and crunch)

Tips on how to cook without recipes, layering textures and flavours and how to time manage when cooking multiple dishes

Learn simple styling tricks to plate your food beautifully and capture a great shot

Opportunity to ask David questions and learn about his journey to plant-based living

And...receive your very own, complimentary copy of David Bez's latest book, "Vegan Love"!
About the chef: David Bez
David Bez, is a food explorer and writer, with four published books on the love of food. Originally from Milan, David has worked as Art Director and Graphic Designer since 2014, where his colleagues were always wowed by his lunches. This inspired him to create "Salad Pride"; a blog about his office lunches which became globally successful leading to a book deal and a cafe in London's Covent Garden, by the same name.
Refunds/transfers: we require a minimum of 7 days' notice for any cancellations or transfers once you have booked onto a class to enable us to try to resell your ticket.
Note: Please understand our charity needs time to enable us to try to resell your tickets as we rely heavily on the income generated. You are also welcome to give your ticket to a friend or family member in case of last minute illness (just email classes@madeinhackney.org to let us know). If the workstation you require (single or double) is not available, please let us know as we may be able to accommodate.
Vouchers: To redeem a voucher purchased on our site, please contact us to book a place. If contacting us by email please attach your voucher. If telephoning, have your voucher to hand so you can quote the voucher number.
For information: classes@madeinhackney.org / 020 8442 4266 / WhatsApp message +44 07833685894