Recorded Online Cookery Class - Gourmet Stress-Free Vegan Christmas masterclass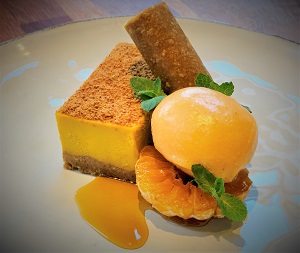 Date and Time
07/12/2021 3:00pm - 07/01/2022 7:00pm
Cost
Fee: £30 (£20 Concessions / £10 Unwaged). All proceeds help fund our community meal service which continues to provide free nutritious, tasty meals to households struggling to access food
Location
Zoom, details to be provided via email. Check your junk mail if need be!
The Event
Take the stress out of your Christmas by joining Michelin trained chef, Sarmado Sibley, to prepare an incredible show-stopping plant based Christmas dinner ahead of time - to allow you to relax on the day itself!.
This recording of a live class taking place on Sat 6 December will include:
Create a stunning festive vegan centrepiece, Chestnut, Sage & Onion Torte - to freeze and serve on Christmas Day
Learn how to make deliciously rich miso gravy to serve with your torte*
Make a gourmet plant based variation on a classic, Truffled Cauliflower Cheese, to enjoy during class as your dinner
How to add Michelin star garnishing techniques with Cavolo Nero Crisps - to store and enjoy on the day*
Make and style a gourmet plant based Christmas dessert, Spiced Pumpkin Cheesecake - this stunning dessert tastes even better after being frozen!
Learn how to make refined sugar-free Clementine gelato, to freeze and serve on the day*
Make dairy-free & refined sugar-free 'After Eight Mints' to delight your guests
Numbers will be limited in class
Opportunity to ask Sarmado questions
Recipe handout
N.B. This is an intermediate level class
*Sarmado will teach these dishes as demo sessions only
If you prefer to do the live version of this class please head to https://www.sarmadosibley.com/ to book on
About Sarmado
Sarmado Sibley is an internationally known world-class leader in plant-based food. He marries his Michelin star kitchen experience with a flair for flavour and a passion for nutrition. He is a consultant to several food outlets, including plant-based restaurants Nourish and Combe Grove Manor Hotel Spa, both in Bath. Sarmado teaches a variety of online gourmet cookery courses via his website: https://www.sarmadosibley.com/

INGREDIENTS LIST:
The miso gravy, cavolo nero crisps and the clementine gelato will be taught as demo sessions only, but you may wish to buy the ingredients now to make at a later date...
Chestnut, sage & onion torte:
300g chestnut mushrooms
200g peeled & cooked chestnuts
Two medium sized onions
1 bunch of sage
2 cloves garlic
1 cup of walnuts
1 tablespoon olive oil
Sea salt to taste
100g fresh potatoes ( floury variety )
2 tablespoons oat milk
1 tablespoon maple syrup
250g puff pastry
Miso gravy (demo only):
2 tablespoons brown rice miso
2 teaspoons vegan butter
1 teaspoon nutritional yeast
Dash of tamari
Sea salt to taste
Cavolo nero crisps (demo only):
1 bunch cavolo nero
1/8 cup of nutritional yeast
1/8 cup of tamari
1/8 cup of apple cider vinegar
1/8 cup of olive oil
Truffled cauliflower cheese:
1 small organic cauliflower
1 1/2 cups cashew nuts
1 dessertspoon truffle oil
1/2 cup of nutritional yeast
1/2 teaspoon sea salt
Salad to serve with your cauliflower cheese
Spiced pumpkin cheesecake:
1/4 cup of coconut flour
1 1/2 cups pecan nuts ( Walnuts can be substituted )
1/4 cup of oat flour
7 dried apricots
½ cup of raisins
2 tablespoons coconut sugar
1 teaspoon lemon juice
3 tablespoons coconut oil
1 3/4 cups cashew nuts
1 cup of diced pumpkin
1 cup of carrot juice (or orange juice)
1/4 cup maple syrup
1 tablespoon lemon juice
2 teaspoons lecithin (available at health food stores, can be optional)
1/2 cup of coconut oil
2 teaspoons mixed spice
Pinch of sea salt
Clementine gelato (demo only):
2 bananas
6 clementines
1 lime
After eight mints:
1 tablespoon coconut oil
1 tablespoon xylitol
5 drops food grade peppermint essential oil (or you can use peppermint extract)
1 1/2 cups cacao powder
1 cup of cacao butter
1/4 cup of coconut sugar
1 teaspoon vanilla powder
EQUIPMENT LIST:
Small saucepan
Medium saucepan
Saute pan
Sharp knife
Chopping board
Bowls
Mixing bowl
Whisk
Dehydrator or lowest setting on oven
Large baking tray
Blender
Food processor
Ovenproof dish
One 8 x 8 inch square cake tin
Parchment paper
Small rectangular dish
Non stick sheet
Storage box for the freezer
Fee*: £30 (£20 Concessions**/ £10 Unwaged) inclusive of VAT .
*All proceeds help fund our community meal service which has become a critical food support service delivering 70,000 free nutritious, tasty meals per year to households struggling to access food, and is needed now more than ever by our community.

** Concessionary rate available for students, pensioners, unemployed and low waged
Food allergies: if you have any food allergies please email details to classes@madeinhackney.org and we will suggest alternatives
Vouchers: To redeem a voucher purchased on our site, please contact us to book a place. If contacting us by email please attach your voucher. If telephoning, have your voucher to hand so you can quote the voucher number. N.B. For classes exceeding our regular price of £84 an additional fee will apply
Refunds: we require a minimum of 7 days' notice for any cancellations or transfers once you have booked onto a class.
For information: classes@madeinhackney.org / 020 8442 4266
Location: The class will be held on Zoom. Details will be provided in your booking confirmation email and in a reminder email the day before the class. If you have not received the reminder email by 4pm the day before the class please contact us at classes@madeinhackney.org. Do check your junk mail first!
---