Live Online Cookery Class - Gujarati Cuisine Masterclass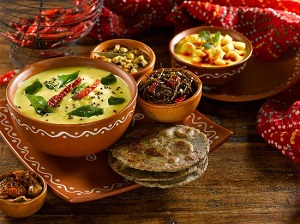 Date and Time
Saturday 2nd October 2021
4:30pm - 7:30pm
Cost
Fee*: £30 (£20 Concession** / £12 Unwaged) inclusive of VAT
Location
Zoom, details to be provided via email (usually the day before the class). Check your junk mail if need be!
This a past event and is no longer avaliable.
Please see our calendar for upcoming events.
The Event
"Love a Gujarati Thali and want to learn how to make it yourself? I'll show you everything you need to know to make all the elements of a delicious, authentic, tasting Thali, lassi to curry, pickle, sweet and more." Nishma Shah from Award-Winning Vegan Educators & Caterers Shambhu's"...
The live interative class will include:
The A-Z of curry making and how to cook rice, lentils and pulses
How to make a traditional pickle
How to prepare dairy-free lassi and a Gujarati dessert
How to make a millet flat bread
How to combine herbs and spices to create great flavours
Opportunity to ask Nishma questions
Recipe handout
If you live in local surplus organisation Streetbox's delivery area you can get your veggies and some extra goodies delivered for free! More info below*
For ingredients and equipment needed see below. There will be a short break half way through the class.
About Nishma
Nishma Shah is founder and chef of award-winning ethically-conscious London-based plant-based food business, Shambhu's. She provides plant-based catering and teaches plant-based cookery in a number of settings, drawing from her Indian and Kenyan culinary roots with the aim of showing how delicious, varied and nutritious plant-based food can be. She has been a masterclass teacher for Made In Hackney for over 5 years and has also taught plant-based cookery for many other organisations, both in the UK and abroad.
*GET YOUR VEGGIES DELIVERED FOR FREE
If you live in local surplus organisation Streetbox's delivery postcodes listed below and book by 5pm the Wed before the class you can get your veggies and some extra goodies delivered for free. You will be prompted to supply your full address when booking your ticket.
You must live in Streetbox's delivery postcodes: EC1, EC2, E1, E2, E3, E5, E8, E9, E10, E11, E15, E17, E18, E20, EN4, N1, N2, N3, N4, N5, N6, N7, N8, N9, N10, N11, N12, N13, N14, N15, N16, N17, N18, N19, N20, N21, N22, NW1, NW3, NW5
EQUIPMENT LIST
• Hand blender (not essential)
• Measuring jug
• Miniature nut mandolin (if available, not essential)
• Small mixing bowl (for pickle recipe)
• Mixing bowls x2
• Spoons
• Oven tray
• Greaseproof or baking paper
• Cereal packaging bag
• 3 saucepans (for curry, kadhi and khichdi)
• Spice grinder/ pestle & mortar
• 1 non-stick frying pan for roasting rotlo
• Lemon squeezer
• Box grater
• Wide bowl to knead the dough
• Chopping boards
• Measuring spoons
• Knives
• Scales
• Spatula
INGREDIENTS LIST:
Shrikhand
400g unflavoured Greek Style soya yoghurt
Sugar to taste
1½ teaspoon cardamom powder (approximately 3 cardamom pods)
8 strands saffron
4 almonds
4 pistachios
Carrot and Chilli Pickle
1 carrot (approximately 50g)
1 chilli or 1 long green pepper (mild)
¼ teaspoon oil
¼ teaspoon split mustard seeds
1 tablespoon lemon juice
Small pinch turmeric (Less than a ¼ teaspoon)
Salt to taste
Mung bean and red rice khichdi
80 grams red rice (unpolished) short grain variety
120 grams split mung beans
1½ teaspoon turmeric
1 tablespoon dairy-free spread (optional)
1¼ litres water
Salt to taste
Soya yoghurt kadhi
100 grams plain soya yoghurt
300 millilitres water
1 teaspoon rapeseed oil (optional)
¼ teaspoon mustard seeds
¼ teaspoon cumin seeds
3 fenugreek seeds
3 cloves
2 sticks of cinnamon (approximately 1 inch long)
3 curry leaves (optional)
4 grams gram flour (1 teaspoon)
¼ teaspoon turmeric
4 grams grated ginger
2 tablespoon lemon juice
¼ green chilli (or chilli flakes to taste)
Salt to taste
3 grams jaggery (or to taste) (optional)
3 sprigs coriander leaves to garnish
Ringra no oro (Roasted aubergine curry)
1 large aubergine
1 tablespoon olive oil (optional)
100 grams onions (i.e. ~1 onion)
12 tablespoons tomato passata
1 green chilli (depending on heat)
1 clove garlic
10 grams jaggery
1 tablespoon coriander & cumin powder
½ teaspoon cumin seeds
¼ teaspoon turmeric powder
¼ teaspoon asafoetida (optional)
Salt to taste
1 spring onion (optional)
2 sprigs coriander to garnish
Millet flour rotlo (a flatbread)
250 grams grey millet flour
200 millilitres water
Extra water in a glass
Soya lassi
200 grams soya yoghurt
400 millilitres water
1 teaspoon powdered dry roasted cumin seeds
1/2 teaspoon coriander leaves (optional)
Salt to taste
Fee*: £30 (£20 Concession** / £12 Unwaged) inclusive of VAT
*All funds raised go towards our community meal service providing free nutritious, tasty meals to households who need them during these challenging times.
**Concessionary rate available for students, pensioners and low waged
If you are able to donate to our crowdfunder please visit https://www.crowdfunder.co.uk/...
If you would like to be added to our FREE online community class mailing list - just drop a line to classes@madeinhackney.org. Please note that, in the interest of fairness, opportunities to attend free classes are limited.
Refunds: we require a minimum of 7 days' notice for any cancellations or transfers once you have booked onto a class.
For information: classes@madeinhackney.org / 020 8442 4266
Location: Zoom, details to be provided via email (usually the day before the class). Check your junk mail if need be!
Visit also Shambhu's