Masterclass - Vegan cooking for Gut Health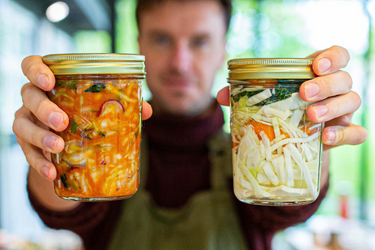 Date and Time
Saturday 9th July 2022
12:00pm - 5:00pm
Cost
Single workstation: £125 / Double workstation: £230 inclusive of VAT. All proceeds help fund our community meal service which continues to provide free nutritious, tasty meals to households struggling to access food.
Location
Made In Hackney, Liberty Hall (black & white building by the common), 128 Clapton Common, Spring Hill, Clapton, London, E5 9AA, UK
The Event
"An incredible 80% of our immune system lives in our gut. The more we learn about the gut the more we realise it affects every single aspect of our health, and it can be the route cause of many chronic diseases. I'll teach you the science of gut health and how to look after your gut microbiome through your diet, all while making some delicious gut-friendly food together..." Asa Linéa Simonsson from Linéa Nutrition.
This masterclass will include:
Learn to make gut-balancing sauerkraut and gut-soothing broth
Discover how to make gut-balancing healthy snacks and treats
Understanding what the best foods are for a balanced gut and healthy immune system
Learn about the gut brain connection and how your gut can affect your brain
The low down on prebiotics and probiotics
Know which foods to avoid for good gut health
Delicious organic, fibre-fuelled gut-friendly lunch
Extensive easy-to-follow recipe sheets provided to recreate the dishes again and again at home
About the chef: Asa
Asa is a trained nutritionist with a special interest in gut health and grew up making ferments in her native Sweden. Asa is also a naturopath and nurse and she runs a busy natural nutrition and health practice, Linéa Nutrition, as well as popular workshops and retreats.
Refunds/transfers: we require a minimum of 7 days' notice for any cancellations or transfers once you have booked onto a class to enable us to try to resell your ticket.
Note: Please understand our charity needs time to enable us to try to resell your tickets as we rely heavily on the income generated. You are also welcome to give your ticket to a friend or family member in case of last minute illness (just email classes@madeinhackney.org to let us know). If the workstation you require (single or double) is not available, please let us know as we may be able to accommodate.
Vouchers: To redeem a voucher purchased on our site, please contact us to book a place. If contacting us by email please attach your voucher. If telephoning, have your voucher to hand so you can quote the voucher number.
For information: classes@madeinhackney.org / 020 8442 4266 / WhatsApp message +44 07833685894
Made In Hackney uses cereals containing gluten namely: wheat (spelt and khorasan wheat), rye, barley, oats; peanuts; all other nuts; sesame; all other seeds; soybeans; celery and celeriac; mustard; sulphur dioxide/sulphites; lupin; tomatoes and other allergens in it's classes. Our food is freshly prepared in our busy cookery school kitchen that handles allergens, so we cannot guarantee that our food and drinks are allergen-free. Even in classes where these ingredients are not being used, they will be on site in our store rooms and our equipment will have previously come into contact with them. Participants attend at their own risk.