Masterclass - Indian Pickles: It's all about Āchār!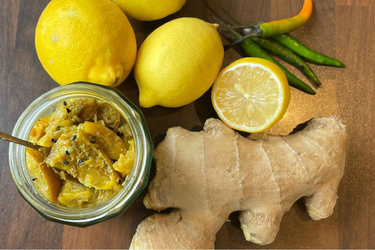 Date and Time
Sunday 9th October 2022
11:00am - 3:30pm
Cost
Single workstation: £99 / Double workstation: £178 inclusive of VAT. All proceeds help fund our Community Meal Service, which provides not just food but connection and care to people hit by crises.
Location
Made In Hackney, Liberty Hall (black & white building by the common), 128 Clapton Common, Spring Hill, Clapton, London, E5 9AA, UK
The Event
It's all about Āchār! Dive in and refine some top notch pickle making skills in this alluring class.
So what exactly is Āchār you ask? Āchār (sometimes spelled Achaar) is the Indian pickle sensation that is a perfect condiment adding tangy, sweet and salty heat to take any dish to the next level.
Simple and seasonal or exotic and bold, Achar creates minimal effort and maximum flavour whether you are eating them on their own or pairing the pickles to compliment a dish. The beauty is that you can add dynamic flavour to so many dishes from many cultures by adding Āchār as a companion.
Join Amandeep, our Indian specialist teacher for this provoking masterclass, learning to make various Āchārs, from a variety of fruits and vegetables. Pickles have a rich legacy in India and across many cultures. Amandeep's traditional pickling approach creating Āchār, is one that has been a part of Indian culture and history for many thousands of years. The salting and curing techniques are an ancient process that was historically created to preserve foods for long periods of time and to enjoy and keep travellers nourished on intrepid journeys.
As a store cupboard staple in most Indian homes, cracking open a jar and being lured in by the lingering aromas of chillies, spices, sweet fruits and refreshing crunchy veg makes Āchār a firm favourite to uplift a simple dish to become something extraordinary.
In this class you will explore many varieties, flavour combinations and bottle them up to take home with you (so don't forget to bring a few jars!). They are the perfect edible gift, a wonderful Christmas gift and yes the gift that keeps on giving on your own plate too!
To accompany your pickles you will make Paratha (delicious flakey flatbreads) and a plant based Raita (a classic creamy plant-based Indian yogurt dish).
Amandeep will treat you to a sumptuous spread of her homemade stuffed potato parathas with Āchār, Raita and a comforting spiced chai to fuel your learning while she shares personal nostalgia and colourful stories of the āchār making tradition and history.
This Masterclass will include:
Discover the beauty and simplicity of creating Āchār and how it can add abundant flavour and interest to accompany a variety dishes
Learn to make a sweet and seasonal Apple Āchār
Create a crunchy and seasonal Carrot & Cauliflower Āchār
Get into the spice and prepare a zesty and spicy Lemon, Ginger & Chilli Āchār
Explore techniques for making delicious parathas (Indian flatbreads) to enjoy with the pickles
Make a tempting plant-based Raita (yogurt dish) to compliment your meal
Watch Amandeep demonstrate how to create moreish, comforting and traditional stuffed Potato Aloo Parathas
Learn the skills and techniques to start your own pickling journey and have an abundance of tasty pickles to bottle up and take home
Amandeep will share family stories on the history of the dishes and pickling tradition and have the opportunity to ask questions
Enjoy a delicious, organic, plant-based lunch of homemade stuffed Potato Parathas and Amandeep's family recipe for a plant-based, Spiced Shai
Recipe handouts provided to recreate the dishes again and again at home.
*Please bring your own jars or container to take home your delicious pickle varieties to share with family and friends.
About the chef: Amandeep Verdding
Chef, professional caterer and nutritional therapist and long time Made in Hackney teacher, Amandeep will teach you how to make a delicious spread of Āchār classics, including authentic recipes that have been passed down in her family, sharing plenty of tips and tricks for pickling, tips for pairing your Āchār with various dishes, and the joys of making your own Indian flatbread and raita from scratch.
Refunds/transfers: we require a minimum of 7 days' notice for any cancellations or transfers once you have booked onto a class to enable us to try to resell your ticket.
Note: Please understand our charity needs time to enable us to try to resell your tickets as we rely heavily on the income generated. You are also welcome to give your ticket to a friend or family member in case of last minute illness (just email classes@madeinhackney.org to let us know). If the workstation you require (single or double) is not available, please let us know as we may be able to accommodate.
Vouchers: To redeem a voucher purchased on our site, please contact us to book a place. If contacting us by email please attach your voucher. If telephoning, have your voucher to hand so you can quote the voucher number.
For information: classes@madeinhackney.org / 020 8442 4266 / WhatsApp message +44 07833685894