Live Online Cookery Class - Inside-Out: Vegan Cooking for Healthy Glowing Skin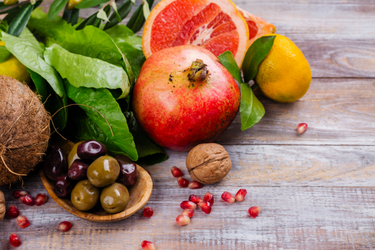 Date and Time
Wednesday 12th October 2022
6:00pm - 8:00pm
Cost
Ticket £20 inclusive of VAT. (£10 Concessions/ £5 Unwaged). All proceeds help fund our Community Meal Service, which provides not just food but connection and care to people hit by crises.
Location
The class will be held on Zoom. Zoom details will be provided before the class, together with your recipe card. If you have not received the reminder email by 4pm the day before the class please contact us at classes@madeinhackney.org or send a message on WhatsApp message +44 07833685894.
This a past event and is no longer avaliable.
Please see our calendar for upcoming events.
The Event
Join Culinary Medicine Coach and Plant-based chef Dr Sunni Patel alongside celebrity cosmetic and skin doctor Dr Vincent Wong to learn how to cook easy recipes that can help optimise your skin health. This online session will discuss the science around skin, skin health, myths and specific skin conditions such as acne, eczema and psoriasis as well as the role that food can play on skin health.
This live interactive class will include:
How to make the most of plant-based foods, their health benefits and the role they play in skin conditions.
Understand the causes and issues around common skin issues and conditions.
How to optimise your skin health linking diet, nutrition and quality of life.
You will make 2 dishes and have an opportunity to have an informal discussion with 2 passionate professionals on all things skin.
Easy-to-follow recipe sheets provided to recreate the dishes again and again at home.
About Dr Sunni Patel
Dr Sunni Patel is the founder of Dish Dash Deets – a company and platform focussed on health coaching, education and food. Using holistic health practices within aesthetic practices, Dr Sunni works with patients with skin issues with the support of their doctor to illustrate the power of diet, nutrition and treatments. He has been featured on the BBC, ITV and is called for comment regularly on BBC radio shows with regular slots on BBC Stoke and BBC Wales as well as leading press outlets. He is available for speaker sessions, recipe development and consultancy, workshops and coaching programs and can be contacted directly here.
About Dr Vincent Wong
Dr Vincent Wong is a celebrity aesthetics and cosmetic doctor based in London. Founder of his own private practice on Harley Street, and currently the national medical director for LASER Clinics UK, Dr Wong advocates for safety, awareness, and education for both patients and practitioners. He is a published author, global thought leader and seen on BBC, ITV and C4 on his work in the industry and skin health.
"I have seen first-hand the power of lifestyle, more importantly diet and nutrition when used in conjunction with skin treatments to bring out the best of my skin when I most need it. As a model with a lifestyle that sometimes isn't gut-healthy at the best of times. By taking the time to look at food and how to best bring out my health and navigate my gut issues/dysbiosis I have been able to see my skin clear up and be more predictable when I am out on the catwalk." Kacey Coleen-Lim, Fashion Model
Refunds/transfers: Please understand our charity needs time to resell your tickets as we rely heavily on the income generated by our fundraising classes. We require a minimum of 7 days' notice for any cancellations or transfers once you have booked onto a class.You are also welcome to give your ticket to a friend or family member in case of last minute illness (just email classes@madeinhackney.org to let us know).
Vouchers: To redeem a voucher purchased on our website, please contact us via email: classes@madeinhackney.org.
For information: classes@madeinhackney.org / 020 8442 4266 / WhatsApp message +44 07833685894
*
Have your ingredients ready, weighed out and chopped where necessary before the class starts to help you keep pace with the session and feel more relaxed. We also recommend printing out your handout or having it available to view on a separate device if possible.
INGREDIENTS LIST
For the The Ultimate Healthy Chilli (6 serves)
3 tablespoons olive oil
2 bell peppers (diced)
2 large carrots (diced)
3 celery sticks (diced)
2 medium onions (diced)
2 red chillies (sliced)
2 cloves garlic (minced)
1 teaspoon dried oregano
1 teaspoon ground cumin powder
1 teaspoon ground coriander powder
1 tablespoon cocoa powder (optional)
1 teaspoon ancho chilli powder (optional)
½ teaspoon cinnamon powder (optional)
¼ teaspoon chilli powder
¼ teaspoon ground black pepper
1 teaspoon liquid smoke (optional)
250g mushrooms (optional)
100g walnuts (optional)
1 can chopped tomatoes
1 can red kidney beans
1 can black beans/chickpeas
1 vegetable stock cube
For the The Ultimate Healthy Chilli OPTIONAL TOPPINGS
½ teaspoon paprika
1 red chilli (finely diced)
1 fresh tomato (finely diced)
1 small red onion (finely diced)
2 limes
50g fresh coriander
120g soya yoghurt
For the the Bircher Bonanza (serves 2)
100g oats
1 eating apple grated (including core but not seeds)
50g mixed seeds
25g almonds (chopped)
25g brazil nuts (chopped) – optional
50g sultanas/raisins
½ teaspoon sweet cinnamon powder
1 tablespoon baobab powder (optional)
2 tablespoons chia seeds (optional)
2 tablespoons hemp seeds (optional)
1 tablespoon tahini (optional)
1 tablespoon peanut butter
400ml oat/soya milk
For the the Bircher Bonanza OPTIONAL JAM TOPPING
150g berries (blueberries, strawberries, blackberries, or mixed)
1 tablespoon lemon juice
1 teaspoon vanilla extract
3 tablespoon maple syrup
3 tablespoon chia seeds
2-3 tbsp water