Masterclass - Intro to Sourdough Bread Making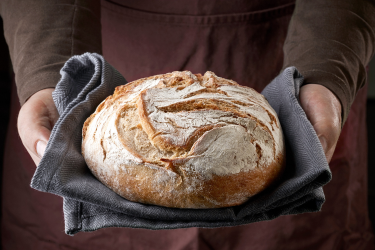 Date and Time
Saturday 23rd September 2023
11:00am - 4:00pm
Cost
Ticket £100 inclusive of VAT
Location
Made In Hackney, Liberty Hall (black & white building by the common), 128 Clapton Common, Spring Hill, Clapton, London, E5 9AA, UK
This a past event and is no longer avaliable.
Please see our calendar for upcoming events.
The Event
Would you like to be part of a community of cooks and chefs that know how to bake their own sourdough breads? Wait no further! Join this hands-on Masterclass and spend a day in our kitchen exploring the techniques behind baking sourdough breads.
This class will give you the skills for baking different types of sourdough bread with textures, colours and flavours that delight, and with your sourdough starter at your side, you will be connecting with other fellow bread lovers. It's an ideal way to make new baking buds while finding tasty healthy things to make at home.
The sessions will be fun, relaxed and supportive. You do not need any prior sourdough experience or knowledge. All skill levels are welcome, and all ingredients provided.
The masterclass will show you:
You will learn what is sourdough and how it works, health benefits, costs, and how to choose your flour
How to create and maintain a sourdough starter
Learn how to mix, fold and shape dough
How to bake good sourdough bread (including bread using rye flour)
Advice on fitting sourdough baking into your schedule
Your own starter and bread to take home
Receive extensive easy-to-follow recipe sheets provided to recreate the breads again and again at home
Enjoy an alfresco organic vegan lunch in our kitchen garden
Top off the experience with the stunning views across leafy Clapton Common as you cook and learn
This class will be a mixture of practical cooking, demos and time to ask questions. We are now returning to 'family style' cooking with everyone cooking and sharing workstations. This creates more of a communal and interactive experience, working together as a team. All ingredients and equipment needed for the class are provided.
About Mauro Strumendo
Mauro is an Italian chef who cultivated his culinary expertise through diverse experiences. Working in various London restaurants since 2012, he gained proficiency in French and British cuisine. In 2016, his culinary exploration took him to Indonesia, where he discovered an array of ingredients. A significant turning point came in 2018 when Mauro had the privilege of working with renowned vegetarian chef Malu' Simoes da Cunha at Montali Country House in Italy. This opportunity allowed him to fuse Italian, Brazilian, and Asian cuisines, creating a range of delectable dishes from scratch.
When you buy a Made In Hackney cookery class you enjoy an enriching culinary experience and help us fight hunger in our community.
Refunds/transfers: Please understand our charity needs time to resell your tickets as we rely heavily on the income generated by our fundraising classes. We require a minimum of 14 days' notice for any cancellations or transfers once you have booked onto a class.You are also welcome to give your ticket to a friend or family member in case of last minute illness (just email classes@madeinhackney.org to let us know).
Vouchers: To redeem a voucher purchased on our website, please contact us via email: classes@madeinhackney.org.
Note: This is a fundraising class and the proceeds help us fight hunger in our community. At Made In Hackney we believe access to good food is a human right - not a privilege. If you would like to learn more about our work, please click here.
For information: classes@madeinhackney.org / 020 8442 4266 / WhatsApp message +44 07833685894