Masterclass - Vegan Iranian Cuisine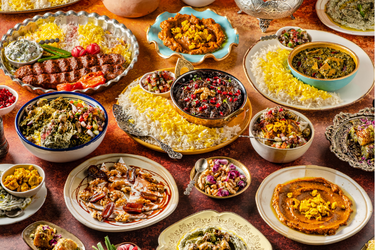 Date and Time
Saturday 6th May 2023
1:00pm - 5:00pm
Cost
Ticket £100 inclusive of VAT. £180 for 2 tickets purchased together. When you buy a Made In Hackney cookery class you enjoy an enriching culinary experience and help us fight hunger in our community.
Location
Made In Hackney, Liberty Hall (black & white building by the common), 128 Clapton Common, Spring Hill, Clapton, London, E5 9AA, UK
The Event
One of the cultural traits that immigrant communities pass down through generations is the heritage of their cuisine. In this context, food is so much more than just food, it is identity. The rituals and practices of creating and eating food become ways to connect, share and resist.
Mana, of the famous The Iranian Vegan, is a young woman from the Iranian diaspora based in London. Her mission is to tell a story with food that nourishes the soul, to showcase the depth and beauty of Iranian cuisine and prove that eating plant-based does not mean we need to leave our culture behind, or compromise on flavour - ever.
At The Vegan Iranian Masterclass you will…
Be welcomed by a refreshing glass of Sharbat Gol-ab, a Persian rosewater syrup summer cooler drink, while learning the stories behind Persian Cuisine
Learn how to make Sabzi Polo, a Persian fresh herb and garlic rice
Learn the technique for transforming tofu into a Vegan Persian To-Fish, a versatile skill that you will be able to put to use for a variety of occasions
Learn how to prepare gorgeous Shirazi and Mast-o-Khiar salads
Round off your sumptuous meal with homemade Shole-Zard, a delicate saffron rice pudding
Enjoy chatting with like-minded people over an al fresco vegan lunch in our kitchen garden, enjoying in the class and more
Top off the experience with the stunning views across leafy Clapton Common as you cook and learn
Receive easy-to-follow recipe sheets provided to recreate the dishes again and again at home
This class will be a mixture of practical cooking, demos and time to ask questions. We are now returning to 'family style' cooking with everyone cooking in groups and sharing workstations. This creates more of a communal and interactive experience, working together as a team. All ingredients and equipment needed for the class are provided.
About Mana Shamshiri
Born to immigrant parents, Mana Shamshiri, Vegan cook and anti-colonial activist, affirms her identity and ties to her Iranian heritage by recreating traditional dishes while remaining compassionate towards humans, animals, and the environment. "Food is so much more than food. It is a representation of ourselves and our identities. It is a vehicle to create conversation, break down barriers, foster understanding & cross-cultural acceptance. It is an offering of love, of nourishment, of growth."
Vouchers: To redeem a voucher purchased on our website, please contact us via email: classes@madeinhackney.org.
Refunds/transfers: Please understand our charity needs time to resell your tickets as we rely heavily on the income generated by our fundraising classes. We require a minimum of 14 days' notice for any cancellations or transfers once you have booked onto a class.You are also welcome to give your ticket to a friend or family member in case of last minute illness (just email classes@madeinhackney.org to let us know).
Note: This is a fundraising class and the proceeds help us fight hunger in our community. At Made In Hackney we believe access to good food is a human right - not a privilege. If you would like to learn more about our work, please click here.
For information: classes@madeinhackney.org / 020 8442 4266 / WhatsApp message +44 07833685894