Masterclass - Middle Eastern Feast - Valentine's Special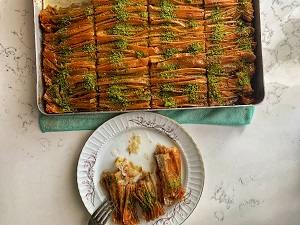 Date and Time
Saturday 12th February 2022
2:00pm - 7:00pm
Cost
Single workstation: £125 / Double workstation: £230 inclusive of VAT. All proceeds help fund our community meal service which continues to provide free nutritious, tasty meals to households struggling to access food
Location
Made In Hackney, Liberty Hall (black & white building by the common), 128 Clapton Common, Spring Hill, Clapton, London, E5 9AA, UK
This a past event and is no longer avaliable.
Please see our calendar for upcoming events.
The Event
"Food is a love language and a boundless way to connect with people. I'll teach you how to make dishes that have stood the test of time as they have been loved far and wide. We will look at the stories and traditions of the recipes, how they've travelled geographies and ages, and then how to make them to delight the eyes, hearts and stomachs of your loved ones." Melek Erdal, passionate chef and food story teller who loves to spend time with culinary masters to learn from their hands and hear their stories.
The class will include:
How to make three different styles of Turkish baklava
Learn to make tasty dolma, stuffed and wrapped seasonal vegetables using two different fillings
How to make beetroot hummus and carrot borani dips to enjoy with warm flatbreads made from scratch
Learning to cook 'by eye' and trusting your palette
How to plan and organise making multiple dishes
Delicious organic plant based dinner and a glass of wine (or kombucha if you prefer)
Kurdish tea/coffee to finish your meal
Recipe pack
About the chef: Melek
Melek is an Istanbul-born Kurdish chef, writer, cookery teacher and homegrown Hackney-ite. Her style of cooking is strongly influenced by her Kurdish and Alevi heritage and the broader Mediterranean and Middle East, as well as growing up in multicultural London. Having opened her cafe in Dalston in 2012, Melek has moved on to community activism working both on a local and international level both teaching cookery in communities and making films and writing about food culture. Melek is passionate about using food as a way to bring people together and communicate culture and history.
Fee:
All proceeds from our masterclasses help fund our community meal service which has become a critical food support service delivering 70,000 free nutritious, tasty meals per year to households struggling to access food, and is needed now more than ever by our community.
Single workstation: £125
Double workstation (share with someone from your household/ social bubble): £230
Prices include VAT
Note On Ticket Price Change
Apologies we have had to pause offering a concession rate for our paying in-person cookery classes. Due to the pandemic we cannot fit as many people in the kitchen which means classes generate less vital revenue needed to keep the charity going.
Refunds/transfers: we require a minimum of 7 days' notice for any cancellations or transfers once you have booked onto a class to enable us to try to resell your ticket.
Please understand our charity needs time to enable us to try to resell your tickets as we rely heavily on the income generated. You are also welcome to give your ticket to a friend or family member in case of last minute illness (just email classes@madeinhackney.org to let us know).
Vouchers: To redeem a voucher purchased on our site, please contact us to book a place. If contacting us by email please attach your voucher. If telephoning, have your voucher to hand so you can quote the voucher number.
For information: classes@madeinhackney.org / 020 8442 4266
Location: Made In Hackney, Liberty Hall*, 128 Clapton Common, Spring Hill, Clapton, London, E5 9AA, UK
*Liberty Hall is a black and white village hall building with a gable roof at the top of Spring Hill, just by the common
COVID-19 SAFETY
You will have your own set of equipment at your own workstation and our venue is well-ventilated.