Masterclass - Modern Vegan Caribbean; Small Plates, Big Tastes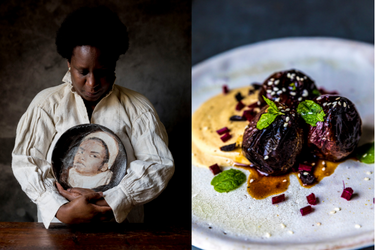 Date and Time
Saturday 2nd July 2022
11:00am - 4:00pm
Cost
Single workstation: £125 / Double workstation: £230 inclusive of VAT. All proceeds help fund our community meal service which continues to provide free nutritious, tasty meals to households struggling to access food.
Location
Made In Hackney, Liberty Hall (black & white building by the common), 128 Clapton Common, Spring Hill, Clapton, London, E5 9AA, UK
This a past event and is no longer avaliable.
Please see our calendar for upcoming events.
The Event
Get ready for some next-level creativity with Elainea Emmott; chef, food writer, photographer, and stylist. With Elainea as your guide, you'll learn how to cook inventively using both British produce and food from her Caribbean heritage. Create an array of stunning and beautifully delicious small plates in this class you won't want to miss!
Highly innovative, skilled in experimental vegan techniques and recipes, and creator of the Supper Club, "Our Seat Our Table", Elainea is a unique beacon of culinary diversity and nostalgia. She curates deeply moving food experiences and memories that resonate within the people she cooks for and with.
The masterclass will include:
Learn how to make deliciously crunchy zatar okra fries
Create a creamy plantain hummus with roasted red onions
Discover how to cook tofu in a flavoursome sweet scotch bonnet and soy sauce in a demonstration with fiery tasters
Learn how to cook a fragrant and mouth-watering sweet potato curry with aubergine and spinach
Witness the magic of making decadently smooth sweet potato ice cream to enjoy as your end of class delight
A chance to experience how a real expert in food styling gets creative, showing you how to plate your food beautifully and capture the perfect photo
Opportunity to ask Elainea questions
By the end of the class, enjoy a delicious, plant-based meal of dreams
Easy-to-follow recipe sheets provided to recreate the dishes again and again at home

About the chef, Elainea Emmott:
Elainea Emmott is a chef, food writer, activist, and photographer; using the mediums of food and photography to share complex stories whilst weaving heritage, diversity, and innovation onto every plate. Known for wowing audiences on Channel 4's, Crazy Delicious, Elainea's exuberant imagination and flavour combinations quickly caught the attention of judge Heston Blumenthal. Scouted from her Instagram @emmottelainea, the experience began Elainea's journey into food.
Highly creative, skilled in experimental vegan techniques and recipes, Elaine takes people on a journey through food, photography and community with all of her projects. An impassioned activist and photographer, Emmott has captured imagery from the Women's March in London, UK Black Pride and Black Lives Matter among various causes that she advocates. Her food photography is envious and features the simplest of seasonal produce with authenticity and care. The best part is, almost all of what she cooks is achievable on a budget.
Refunds/transfers: we require a minimum of 7 days' notice for any cancellations or transfers once you have booked onto a class to enable us to try to resell your ticket.
Note: Please understand our charity needs time to enable us to try to resell your tickets as we rely heavily on the income generated. You are also welcome to give your ticket to a friend or family member in case of last minute illness (just email classes@madeinhackney.org to let us know). If the workstation you require (single or double) is not available, please let us know as we may be able to accommodate.
Vouchers: To redeem a voucher purchased on our site, please contact us to book a place. If contacting us by email please attach your voucher. If telephoning, have your voucher to hand so you can quote the voucher number.
For information: classes@madeinhackney.org / 020 8442 4266 / WhatsApp message +44 07833685894