Live Online Cookery Class - Oil-Free Indian Cooking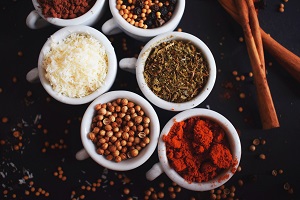 Date and Time
Thursday 24th September 2020
6:30pm - 8:00pm
Cost
Fee: Suggested donation £20 but any donation amounts accepted. All funds raised go towards our community meal service providing free nutritious, tasty meals to households who need them during these challenging times.
Location
Zoom, details to be provided via email (usually the day before the class). Check your junk mail if need be!
This a past event and is no longer avaliable.
Please see our calendar for upcoming events.
The Event
Join nutritionist Rohini Bajekal and her mother, Dr Nitu, to learn how to make healthy and delicious oil-free Indian dishes which don't compromise on flavour....
You'll learn:
How to make a hearty Kidney Bean and Sweet Potato Curry served with Cumin Spiced Pulao Rice
Make Pepper Mushroom and Peas, a versatile side dish, and a refreshing plant based Cucumber Mint Raita
How to dry roast spices for an oil-free tadka (traditional Indian seasoning for dishes), or tempering without oil
How to create delicious and healthy Indian dishes without oil or animal products
The benefits of a whole foods plant-based diet and how to prioritise legumes in your diet
This class would be especially useful for anyone with health conditions such as Type 2 diabetes, or anyone who would love to learn some easy, healthy and affordable Indian recipes.

For ingredients and equipment needed see below
About Rohini
Outside of running her own nutrition practice, Rohini Bajekal is an Advisory Board Member and Nutritionist for Plant-Based Health Professionals UK, a Community Interest Group dedicated to the promotion of a whole foods plant-based diet for optimal health and wellbeing. Rohini is also Brand Manager for Women for Women's Health UK, a voluntary service set up to empower women of all ages to make lifestyle choices that will help improve their own health as well as that of their families. Rohini loves sharing the benefits of eating more plants and working with others to create delicious food, posting nutrition tips and recipes every day on Instagram @rohinibajekal

Rohini Bajekal: MA Oxon, MSc Nutrition and Food Sciences, Dip IBLM/ BSLM, Nutritionist and International Board-Certified Lifestyle Medicine Professional
www.rohinibajekal.com
About Dr Nitu
Dr Nitu Bajekal is a consultant obstetrician and gynaecologist for 20 years on the NHS with over 35 years of clinical experience in women's health. She is also one of the first US board-certified Lifestyle Medicine Physicians in the UK. She is the founder of Women for Women's Health, a voluntary service set up in 2014 to educate and empower women to make dietary and lifestyle choices to help improve their own and their families' health. Dr Nitu is passionate about educating the public and doctors about women's health, plant based nutrition and lifestyle medicine, as she firmly believes these go hand in hand.
Dr Nitu Bajekal: MD FCOG Dip IBLM, Consultant Obstetrician and Gynaecologist and Ambassador for Made in Hackney. Follow @drnitubajekal on Instagram for recipes and tips on nutrition and women's health with many more free resources at www.nitubajekal.com
INGREDIENTS LIST
KIDNEY BEAN AND SWEET POTATO CURRY
Serves 4-6
INGREDIENTS:
3 cans of red kidney beans (rajma in Hindi), rinsed and drained (or same amount cooked from scratch)
2 medium sized red onions, peeled and diced
2 inch large chunk of fresh ginger root, grated
5-6 large cloves of garlic, grated
2-3 green chillies, chopped fine or slit long if you prefer less spicy
3-4 large raw tomatoes, chopped
1 can of chopped tomatoes
2 large sweet potatoes, chopped into large cubes
A bag of chopped kale or spinach (frozen is ok too)
A bunch of fresh coriander leaves with stalks, chopped
A heaped teaspoon of cumin seeds
1 heaped teaspoon of ground cumin
1 heaped teaspoon of ground coriander
1 heaped teaspoon of red chilli powder
1 heaped teaspoon of turmeric powder
A pinch of Asafoetida (hing)
A pinch of ground pepper powder.
A teaspoon of coconut sugar or jaggery
1 tablespoon of amchoor (dried mango powder) Or Pomegranate powder (Anardana powder) - optional
2-3 cups of hot water
Sea salt to taste
PEPPER MUSHROOM AND PEAS
Serves 2-4
INGREDIENTS:
500g of chestnut or button mushrooms or any mushrooms chopped into quarters
One teaspoon of extra virgin olive oil or canola oil which is thought to increase antioxidant activity (optional)
1 teaspoon of ground cumin powder
1 teaspoon of black pepper powder
A pinch of hing (asafoetida) - optional
1 green chilli, slit lengthwise
1 small cup of frozen or fresh peas
Salt to taste
Handful of fresh basil leaves for garnish - optional
CUMIN SPICED PULAO RICE (JEERA PULAO)
Serves 2-4
METHOD FOR COOKING BROWN RICE IDEALLY THE DAY BEFORE:
INGREDIENTS:
1 cup brown rice
2 cups water
METHOD:
Thoroughly rinse the brown rice in a sieve.
Add to the stove, bring to the boil and then lower to simmer.
Cook for around 20 minutes with the lid on on low heat, checking occasionally.
Cool and then refrigerate.
INGREDIENTS:
2 cups pre-cooked brown rice (cooked beforehand)
1 tablespoon ground cumin
1 small onion, cut length wise into strips (the way you cut them for caramelised onions)
1 small handful of cashew nuts
1-2 bay leaves (fresh or dry)
Sea salt to taste
CUCUMBER MINT RAITA
Serves 2-4
INGREDIENTS:
1/2 cucumber grated or 1 small can of unsweetened sweetcorn 250 g, rinsed and drained
250 ml of soya yoghurt
4 tablespoons of soya milk
1 tablespoon of garden mint sauce (or 1 tbsp of finely chopped fresh mint)
Optional: pinch of ground cumin
EQUIPMENT LIST
Sieve to wash the rice
One medium saucepan with lid for the rice
One medium saucepan with lid for the mushroom dish
Large pan for the Kidney Bean curry
Kettle or extra pan to boil water
Teaspoon, tablespoon and cup measures
Wooden utensils – spoon
Knife for chopping vegetables
Ladle
A few teaspoons
Can opener (if not cooking lentils from scratch)
Chopping board
Grater
Large knife
Refunds: we require a minimum of 24 hours' notice for any cancellations or transfers once you have booked onto a class.
For information: classes@madeinhackney.org / 020 8442 4266
Location: Zoom, details to be provided via email (usually the day before the class). Check your junk mail if need be!
---