Online Cookery Class - Online Cookery Class: Gluten Free Baking (7 day recording)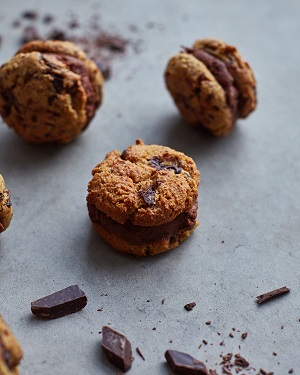 Date and Time
Thursday 6th May 2021
7:00pm - 8:00pm
Cost
£20 Standard / £10 Concessions**/ £5 Unwaged. The recording will be valid for a minimum of 7 days
Location
Zoom, details to be provided via email. Check your junk mail if need be!
This a past event and is no longer avaliable.
Please see our calendar for upcoming events.
The Event
Join Lauren Lovatt, founder of the plant based culinary school, Plant Academy, to learn some incredible gluten free recipes that are designed to be used time and time again throughout the seasons. Lauren loves to create food that everyone can enjoy, whether they have an allergy, intolerance or otherwise. She will teach you the joy of gluten free baking and living - and that without gluten you won't miss a thing.
This recording of a live interactive class will include:
Learn to make sweet or savoury shortcrust pastry (then make one cheese tart and one jam tart)
Make delicious chocolate & peanut cupcakes using a secret ingredient - sweet potato
How to make more-ish hemp choc chip cookies
How to make versatile tasty coconut flatbreads
The cookies and cupcakes will store for a week and you can freeze the tarts if you wish
Recording valid for minimum of 7 days
Recipe handout included containing bonus recipes
For ingredients and equipment needed see below
About Lauren
Lauren Lovatt is a plant based gluten free chef and Entrepreneur. She is the founder of the Plant Academy, a London-based culinary school inspiring passion through plants to learn how to boost your mood with food, and has always inspired by food that not only nourishes our bodies but nurtures our mental health as well. Lauren has worked on many gluten free projects including restaurants, pop-up dinners and menu consultancy. Lauren has openly shared her journey with mental health over the years which led her to discover this passion to inspire others through food. With everything she does driven by a burning desire to share that food, not only the ingredients you eat but the act of cooking and coming together around a table can change everything in terms of our mental health. Turning our preconceptions of mental health upside down and sharing the true flavour of Mind Food.
Photo credit: Sara Kiyo Popowa of Shisodelicious
INGREDIENTS LIST
Sweet or savoury shortcrust pastry (then make one cheese tart and one jam)
200g Chickpea Flour
200g Tapioca Flour
100g cold Vegan Butter
1⁄4 cup cold Water
1⁄2 teaspoon sea salt
150g soaked and rinsed Cashews
450g filtered Water
60g Chickpea Flour
30ml Olive Oil
2 tablespoon Dijon Mustard
1 tablespoon Nutritional Yeast
1⁄2 teaspoon Salt
100g frozen berries
30g coconut sugar (or you can use rapadura or just brown sugar if you can't get hold of coconut sugar)
1 sprig rosemary
1/2 handful leaves
Chocolate and peanut cupcakes
100g gluten free flour
75g cocoa powder
100ml plant based milk
75g olive oil
100g coconut/rapadura sugar (or brown sugar if you can't get hold of coconut sugar)
100g sweet potato
2 tablespoon peanuts
1 teaspoon baking soda
1 teaspoon apple cider vinegar
Cupcake peanut butter frosting
100g peanut butter
100g plain vegan chocolate, melted
100ml plant based milk, at room temperature
Hemp cookies
50g vegan butter
50g coconut sugar
50g gf oats
2 tablespoon tahini
2 tablespoon hemp seeds
1 tablespoon miso or 1/8th teaspoon salt
50g vegan, plain white or dark chocolate
Loaded flatbreads
100g buckwheat flour
100g plant based yoghurt
1 clove garlic
250g squash
50g tahini
1 lemon
2 tablespoons olive oil
2 tablespoons pumpkin seeds
1 teaspoon tamari
1 teaspoon chilli flakes
1/2 handful salad leaves
EQUIPMENT LIST
Small saucepan
A selection of baking trays
A cupcake tray
Tart tins
An electric whisk or hand whisk
A selection of mixing bowls
A chef knife
Baking paper
Spoon
Fee*: £20 Standard / £10 Concessions**/ £5 Unwaged. The recording will be valid for a minimum of 7 days
*All funds raised go towards our community meal service providing free nutritious, tasty meals to households who need them during these challenging times.
**Concessionary rate available for students, pensioners and low waged
If you are able to donate to our crowdfunder please visit https://www.crowdfunder.co.uk/...
If you would like to be added to our FREE online community class mailing list - just drop a line to classes@madeinhackney.org. Please note that, in the interest of fairness, opportunities to attend free classes are limited.
For information: classes@madeinhackney.org / 020 8442 4266
Location: Zoom, details to be provided via email (usually the day before the class). Check your junk mail if need be!
---