Community Class - ONLINE: Gut-Brain Connection with Dr. Sunni Patel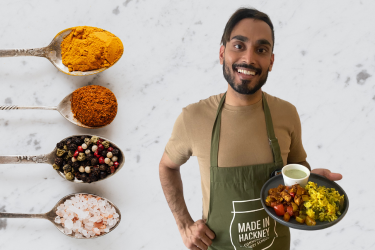 Date and Time
Wednesday 6th December 2023
6:00pm - 8:00pm
Cost
Free
Location
The class will be held on Zoom. Zoom details will be provided before the class, together with your recipe card. If you have not received the reminder email by 4pm the day before the class please contact us at classes@madeinhackney.org or send a message on WhatsApp message +44 07833685894.
The Event
Join Lifestyle Medicine Coach and Plant-based chef Dr Sunni Patel and discover the secrets of the gut-brain connection for a healthier and more vibrant life.
In this enjoyable journey, Dr. Sunni will break down the science of the gut-brain connection in a simple and relatable way, steering you away from confusing health trends. Get ready for an enlightening adventure as he shows you how everyday food can effortlessly contribute to your overall well-being, making it easier for everyone to embrace a lively and invigorating lifestyle.
Class journey:
Discover the amazing connection between your gut and brain, and how simple changes can make a big difference
Gain insights into harnessing the potential of plant-based foods, understanding their wellbeing advantages, and their significant impact on brain health
Craft a delectable Spicy Chickpea and Vegetable Stew, as well as a tantalising Blueberry Lemon Yoghurt Cake, all the while mastering the fundamental components for sustaining a vibrant brain
Establish links between diet, nutrition, and overall quality of life to effectively enhance vagus nerve, hormone, and neurotransmitter support
Opportunity to ask questions
General knife and cooking techniques alongside kitchen safety
Easy-to-follow recipe sheets provided to recreate the dishes again and again at home
About Dr Sunni Patel
Dr Sunni Patel is the founder of Dish Dash Deets – a company and platform focussed on health coaching, education, and food with a mission to support as many people as possible on easy and practical holistic wellbeing. He has been featured on the BBC, ITV and is called for comment regularly on BBC radio shows with regular slots on BBC Stoke and BBC Wales as well as leading press outlets. He is available for speaker sessions, recipe development and consultancy, workshops and coaching programs and can be contacted directly here.
Have your ingredients ready, weighed out and chopped where necessary before the class starts to help you keep pace with the session and feel more relaxed. We also recommend printing out your handout or having it available to view on a separate device if possible.
EQUIPMENT LIST
Large pot or Dutch oven
Wooden spoon or spatula
Cutting board
Knives
Measuring cups and spoons
Mixing bowls
Whisk
Cake pan (9-inch round)
Parchment paper
Cooling rack
Wire whisk or fork (for glaze)
Small bowl (for glaze)
Lemon zester or fine grater (for lemon zest)
Citrus juicer or reamer (for lemon juice)
INGREDIENTS LIST
Olive oil
1 onion, diced
3 cloves garlic, minced
2 carrots, diced
2 celery stalks, diced
1 bell pepper, diced
1 courgette, diced
1 can diced tomatoes
1 can green lentils, drained and rinsed
1 vegetable stock cube
4 cups hot water
2 teaspoons ground cumin
1 teaspoon ground coriander
1 teaspoon smoked paprika
½ teaspoon turmeric
Salt and pepper to taste
Fresh coriander, chopped (for garnish)
1 ½ cups almond flour
½ cup all-purpose flour
1 teaspoon baking powder
¼ teaspoon baking soda
¼ teaspoon salt
1 cup plain vegan yogurt
½ cup maple syrup
2 tablespoons lemon juice
Zest of 1 lemon
1 teaspoon vanilla extract
1 cup fresh blueberries
Optional Ingredients
¼ cup cocoa powder (unsweetened)
2 tablespoons maple syrup (or sweetener of your choice)
2-3 tablespoons plant-based milk (such as almond or soy milk)
1/2 teaspoon vanilla extract
Pinch of salt
Note: This is a fundraising class and the proceeds help us fight hunger in our community. We run free community classes for people on low incomes, with health challenges or have other support needs. If you'd like to join this group email us classes@madeinhackney.org
For information: classes@madeinhackney.org / WhatsApp message +44 07833685894