Live Online Cookery Class - Palestinian Cuisine with celebrity chef Sami Tamimi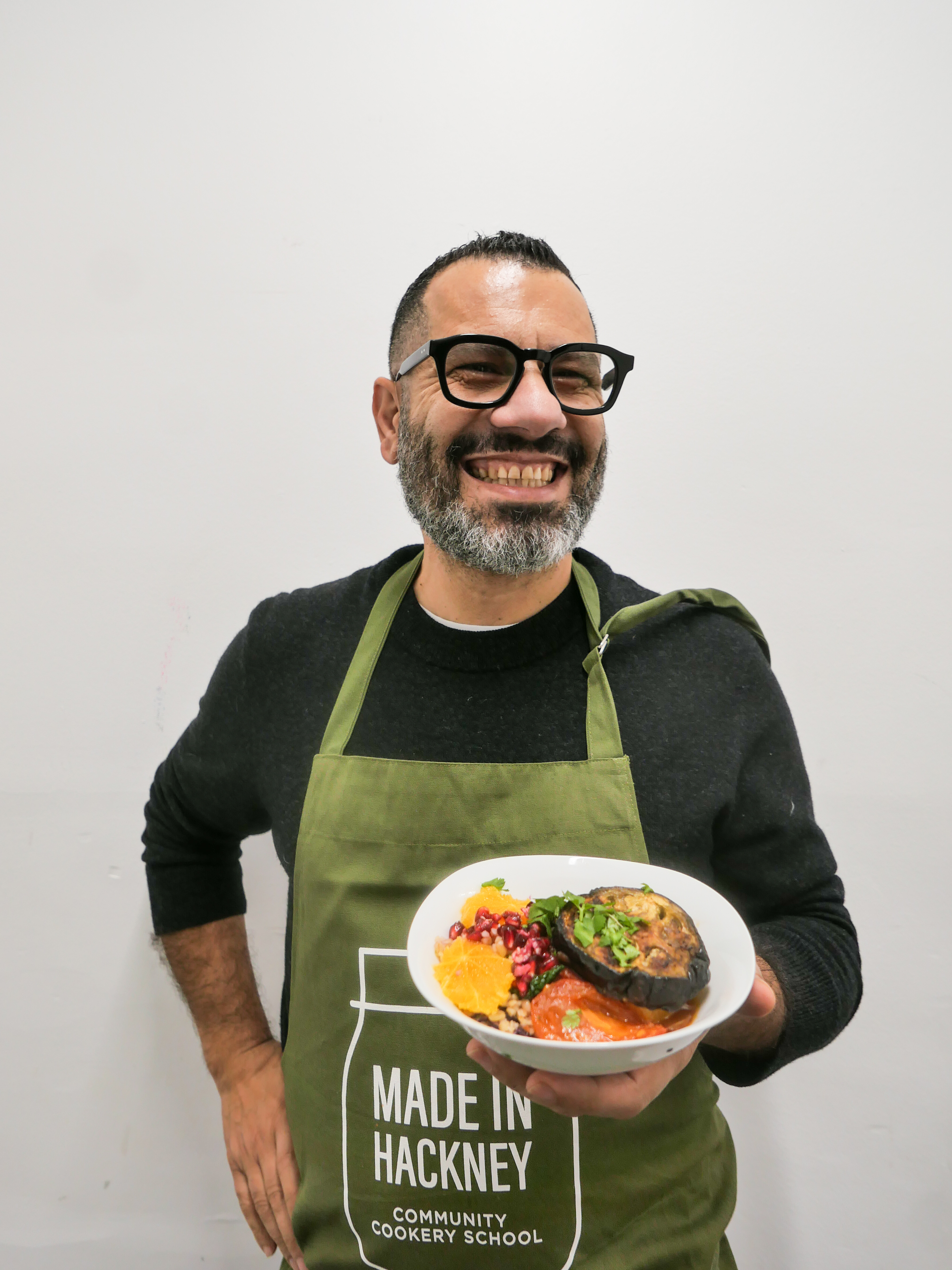 Date and Time
Friday 11th February 2022
6:00pm - 8:00pm
Cost
Fee*: £35 All proceeds help fund our community meal service which continues to provide free nutritious, tasty meals to households struggling to access food.
Location
Zoom details will be provided in your booking confirmation email and in a reminder the day before the class, together with your recipe handout, in an email titled 'REMINDER & IMPORTANT INFO: Your Made In Hackney online class'.
If you have not received the reminder email by 4pm the day before the class please contact us at classes@madeinhackney.org. Do check your junk mail first!
This a past event and is no longer avaliable.
Please see our calendar for upcoming events.
The Event
Join our special guest chef Sami Tamimi, one of the business partners who founded Ottolenghi and an award-winning author, at this exciting class to learn how to prepare a mouth-watering Palestinian meal using recipes from his bestselling cookbook Falastin...
This live interactive class will include:
How to make musaqa'a, a tasty Palestinian aubergine, chickpea & tomato bake
How to make a delicious salad or side dish; winter tabbouleh with a blood orange dressing
Learn about Palestinian cuisine and the stories behind the food
An opportunity to ask Sami your questions
Hear about Sami's cookbook Falastin described by his co-author Tara Wigley as "Sami's love letter home"
Recipe handout
For ingredients and equipment needed see below
About the chef: Sami Tamimi
Sami Tamimi (Chef and award-winning Author) was born and raised in Jerusalem. He was immersed in food from childhood. He started his career as commis-chef in a Jerusalem hotel and worked his way up, through many restaurants and ethnic traditions, to become head chef of Lilith, one of the top restaurants in Tel Aviv in the 1990s. Sami moved to London in 1997 and worked at Baker and Spice as head chef, where he set up a traiteur section with a rich Middle-Eastern and Mediterranean spread. In 2002 he partnered with Noam Bar and Yotam Ottolenghi to set up Ottolenghi in Notting Hill. The company now has 4 stores and 3 restaurants: NOPI, Ottolenghi Spitalfieds and ROVI, all in London. Alongside Yotam Ottolenghi and Tara Wigley, Sami Tamimi is co-author of three bestselling cookbooks:
Ottolenghi: The Cookbook, Jerusalem: A Cookbook and Falastin: A cookbook.
Image by Tamar Matsafi
Fee*: £35
This is a flat rate for this special guest chef fundraising event
*All proceeds help fund our community meal service which has become a critical food support service delivering 70,000 free nutritious, tasty meals per year to households struggling to access food, and is needed now more than ever by our community. By supporting our fundraising programme you have an opportunity to learn new skills, support a worthy cause, and enjoy delicious food!
Refunds: we require a minimum of 7 days' notice for any cancellations or transfers once you have booked onto a class.
For information: classes@madeinhackney.org / 020 8442 4266
INGREDIENTS LIST
Have your ingredients ready, weighed out and chopped where necessary before the class starts to help you keep pace with the session and feel more relaxed.
We also recommend printing out your handout or having it available to view on a separate device if possible.
Musaqa'a Aubergine, chickpea and tomato bake (Serves four, as a main, six as a side)
5 medium aubergines (1.25kg)
120ml olive oil
1 onion, finely chopped (160g)
6 garlic cloves, crushed
1 tsp chilli flakes
1 tsp ground cumin
½ tsp ground cinnamon
1½ tsp tomato paste
2 green peppers, deseeded and cut into 3cm chunks (200g)
1 tin chickpeas, drained (240g)
1 tin chopped tomatoes
1½ tsp caster sugar
15g coriander, roughly chopped, plus 5g extra to serve
4 plum tomatoes, trimmed and sliced into 1½ cm-thick rounds (350g)
Salt and black pepper
Winter tabbouleh with a blood orange dressing (Serves six)
200g bulgur (Medium or coarse ground. wholewheat or normal bulgur can be used.)
½ tsp ground cinnamon
½ tsp ground allspice (same as pimento)
1 tbsp olive oil
225ml boiling water
250g cavolo nero, stems discarded (or saved to chop up and pan-fry for another dish) and leaves roughly shredded (150g)
½ a small head of red cabbage, core cut out and discarded, then thinly sliced by hand or on a mandolin (550g)
40g parsley leaves, roughly chopped
25g mint leaves, roughly torn
6 spring onions, finely sliced (90g)
4 blood oranges (or 2 regular oranges, as an alternative) (500g), peeled and sliced into ½cm-thick rounds
85g pomegranate seeds (from ½ a pomegranate)
Blood orange dressing
1 blood (or regular) orange, squeezed to get 50ml of juice
1 lemon, squeezed to get 30ml juice
¼ tsp ground cinnamon
¼ tsp allspice
2 tsp pomegranate molasses (or substitute for balsamic vinegar or molasses + vinegar)
1 tsp caster sugar
130ml olive oil
Salt and black pepper
EQUIPMENT LIST
1 large knife
1 small sharp knife
1 chopping board
1 vegetable peeler
1 garlic crusher
1 large mixing spoon
1 medium sauté pan with a lid
1 small whisk
1 medium bowls
2 large mixing bowl
1 Large oven tray
Parchment paper
1 large saucepan or sauté pan
1 large baking dish 20 X 30cm
Foil paper