Live Online Cookery Class - Plant Based Cooking for Hormonal Health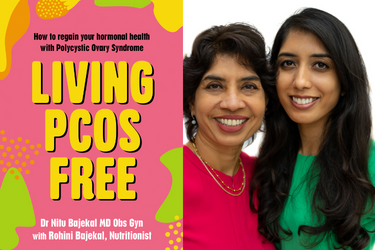 Date and Time
Thursday 2nd March 2023
6:30pm - 7:45pm
Cost
Ticket £25 inclusive of VAT. When you buy a Made In Hackney cookery class you enjoy an enriching culinary experience and help us fight hunger in our community.
Location
The class will be held on Zoom. Zoom details will be provided before the class, together with your recipe card. If you have not received the reminder email by 4pm the day before the class please contact us at classes@madeinhackney.org or send a message on WhatsApp message +44 07833685894.
The Event
Join the co-authors of brand new book, Living PCOS Free, nutritionist Rohini Bajekal and her mother, Senior Consultant Gynaecologist, Dr Nitu, for a virtual plant-based cooking class for hormonal health. This class would be especially useful for anyone wishing to improve their hormonal health, especially those with irregular, painful and/or heavy periods, PCOS, fibroids or in the perimenopause/ menopause.
This live interactive class will include:
How to make 3 simple yet delicious recipes with different hormonal health benefits from the Bajekal family kitchen, featured in their brand new book Living PCOS Free
Making a delicately spiced paprika hummus to enjoy any time and a tasty Greek bean stew
The option to make a wonderfully umami miso noodle vegetable soup - or simply watch as a demo and make another time
Learn all about the benefits of a whole foods plant-based diet for hormonal health and how to prioritise legumes in your diet
Discover why soya is so beneficial for reproductive health especially for conditions such as PCOS and during the perimenopause / menopause
Live Q&A with discussion on foods to include in your diet for improving hormonal health and to help with period pain
Recipe pack with extra recipes and class notes will be provided to recreate the dishes again and again at home
About Rohini:
Outside of running her own nutrition practice, Rohini Bajekal is an Advisory Board Member and Nutritionist for Plant-Based Health Professionals UK, a Community Interest Group dedicated to the promotion of a whole foods plant-based diet for optimal health and wellbeing. Rohini is also Brand Manager for Women for Women's Health UK, a voluntary service set up to empower women of all ages to make lifestyle choices that will help improve their own health as well as that of their families. Rohini loves sharing the benefits of eating more plants and working with others to create delicious food, posting nutrition tips and recipes every day on Instagram @rohinibajekal

Rohini Bajekal: MA Oxon, MSc Nutrition and Food Sciences, Dip IBLM/ BSLM, Nutritionist and International Board-Certified Lifestyle Medicine Professional
www.rohinibajekal.com
About Dr Nitu:
Dr Nitu Bajekal is a consultant obstetrician and gynaecologist for 20 years on the NHS with over 35 years of clinical experience in women's health. She is also one of the first US board-certified Lifestyle Medicine Physicians in the UK. She is the founder of Women for Women's Health, a voluntary service set up in 2014 to educate and empower women to make dietary and lifestyle choices to help improve their own and their families' health. Dr Nitu is passionate about educating the public and doctors about women's health, plant based nutrition and lifestyle medicine, as she firmly believes these go hand in hand.
Dr Nitu Bajekal: MD FCOG Dip IBLM, Consultant Obstetrician and Gynaecologist and Ambassador for Made in Hackney. Follow @drnitubajekal on Instagram for recipes and tips on nutrition and women's health with many more free resources at www.nitubajekal.com
Refunds/transfers: Please understand our charity needs time to resell your tickets as we rely heavily on the income generated by our fundraising classes. We require a minimum of 7 days' notice for any cancellations or transfers once you have booked onto a class.You are also welcome to give your ticket to a friend or family member in case of last minute illness (just email classes@madeinhackney.org to let us know).
Vouchers: To redeem a voucher purchased on our website, please contact us via email: classes@madeinhackney.org.
Note: This is a fundraising class and the proceeds help us fight hunger in our community. We run free community classes for people on low incomes, with health challenges or have other support needs. If you'd like to join this group email us at classes@madeinhackney.org
For information: classes@madeinhackney.org / 020 8442 4266 / WhatsApp message +44 07833685894
*
Have your ingredients ready, weighed out and chopped where necessary before the class starts to help you keep pace with the session and feel more relaxed. We also recommend printing out your handout or having it available to view on a separate device if possible.
INGREDIENTS LIST
Paprika hummus (serves 4)
1 can of chickpeas, drained and rinsed but set the aquafaba aside
1 can of cannellini beans, drained and discard aquafaba
4 cloves of raw garlic
1/2 teaspoon of black pepper
1/2 teaspoon of sea salt
1/2 tsp of cumin powder
Juice of 2 lemons
2 tablespoons tahini (or you can use sunflower seed butter which is more economical)
1/2 tsp of paprika for dressing
1-2 tbsp of extra virgin olive oil (optional)
Greek Bean Stew (serves 2-4)
1 teaspoon extra virgin olive oil or water/ vegetable stock if oil-free
1 medium onion
2 garlic cloves, crushed and diced
1 red chilli, diced finely (optional)
2 carrots, diced
A can of chopped tomatoes
A can of cannellini beans or a similar white bean
1 tablespoon concentrated tomato paste (or ketchup)
1 red bell pepper, diced
1 celery stick, diced
1 vegan stock cube
1 bay leaf
1 ⁄2 tsp ground cinnamon
1 tsp dried basil (optional)
½ tsp pepper
1 teaspoon sea salt (optional)
Freshly ground black pepper
Bunch of spinach leaves, chopped
Miso Noodle Vegetable soup (serves 2-4) - OPTIONAL (YOU CAN MAKE IN CLASS OR WATCH AS A DEMO AND MAKE ANOTHER TIME)
1 large red onion, diced
4 cloves of garlic, crushed and diced
1 hot red chilli
1 tablespoon of grated ginger
2 cups of chestnut mushrooms, sliced (or mixed mushrooms if you prefer)
1 red bell pepper, diced
1 block pre-cooked tofu, marinated and diced into cubes (or marinate and bake at home)
3-4 cups of low sodium vegetable stock
1 tablespoon of dark brown miso paste
1 tablespoon rice vinegar
3 pak choi, trimmed and chopped (also called bok choy sometimes)
1 tablespoon sesame seeds
1 teaspoon coconut sugar (optional)
1 tablespoon dulse or nori seaweed flakes (optional)
200g of soba (buckwheat) noodles
EQUIPMENT LIST
Sieve to wash the beans
Blender/ Food Processor for the Hummus
One medium saucepan with lid for the Greek Bean Stew
One medium saucepan with lid for the Miso Noodle Soup
One small or medium sauce pan to cook the noodles for the soup
Kettle or extra pan to boil water
Teaspoon, tablespoon and cup measures
Chopping board
Wooden utensils – spoon
Knife for chopping vegetables and herbs
Ladle
Can opener (for tomatoes and beans)
Grater/ Mincer