Community Class - Plant Based Tapas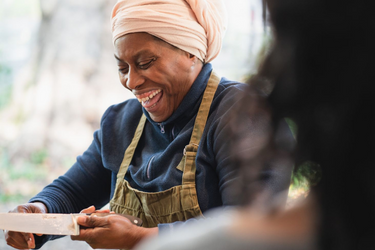 Date and Time
Sunday 25th June 2023
2:30pm - 5:00pm
Cost
FREE. To book on please click on "buy ticket" and complete the online form.
Location
Made In Hackney, Liberty Hall (small black & white building by the common), 128 Clapton Common, Spring Hill, Clapton, London, E5 9AA, UK
The Event
Join cooking teacher and chef Jordan for a fun summery session to learn how to make some tasty Spanish tapas including patatas bravas, stuffed peppers, garbanzo and mushroom tapenade. Mmmm!
To book on: please click on "BOOK NOW" and complete the online form., or if you don't have internet access call 020 8442 4266 and we can complete the form over the phone with you.
In the interest of fairness, please understand that we need to prioritise new participants for our free sessions. For this reason we can usually only consider applications for a maximum of 2 classes or a course in a 6 month period.
Please do not come to the class unless you have received a booking confirmation from us - and replied to accept it - to avoid being turned away, as places are limited. Please bear in mind that our classes usually have waiting lists, but places often eventually do become available. We will also prioritise those on waiting lists for future classes and courses.
Our kitchen is wheelchair accessible. Except for our family classes and youth club, our community sessions are not aimed at children. However children are welcome at all our classes by arrangement in advance. Children have to be supervised by their adults at all times.
Made In Hackney uses cereals containing gluten namely: wheat (spelt and khorasan wheat), rye, barley, oats; peanuts; all other nuts; sesame; all other seeds; soybeans; celery and celeriac; mustard; sulphur dioxide/sulphites; lupin; tomatoes and other allergens in it's classes. Our food is freshly prepared in our busy cookery school kitchen that handles allergens, so we cannot guarantee that our food and drinks are allergen-free. Even in classes where these ingredients are not being used, they will be on site in our store rooms and our equipment will have previously come into contact with them. Participants attend at their own risk.