Masterclass - Sami Tamimi, The Ultimate Palestinian Falafel Experience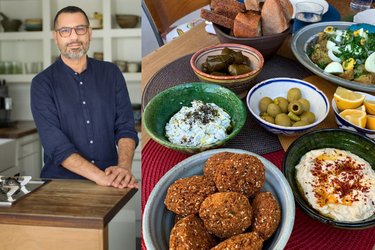 Date and Time
Sunday 27th November 2022
9:30am - 3:30pm
Cost
£150 inclusive of VAT. This is a flat rate for this special fundraising event. All proceeds help fund our Community Meal Service, which provides not just food but connection and care to people hit by crises.
Location
Leiths School of Food and Wine: 16-20 Wendell Road, London, W12 9RT
The Event
Join us for a truly special celebrity chef fundraising Masterclass with British-Palestinian, multi-award-winning chef, Sami Tamimi.
Sami, co-founder and partner in the renowned Ottolenghi collection of restaurants, presents a live and interactive cooking class in collaboration with Made in Hackney, hosted by Leiths School of Food & Wine in West London.
'The Ultimate Palestinian Falafel Experience' brings elements of colour, flavour and plant-based deliciousness with this much-loved staple from the Middle East and North Africa. Sami will share his secrets and skills to create a falafel feast that will linger on your tastebuds and in your food memories.
This hand held street food is so versatile as it's eaten on the go or made into a colourful and flavoursome plated feast for the senses. Think warm and crunchy chickpea patties dappled with fresh herbs, stuffed into a freshly baked pita or flatbread. An assortment of moreish condiments top off the experience such as fresh herby salads, pickled vegetables, tahini and a stunning, fermented chilli sauce. Served as part of breakfast spread or plated for lunch, dinner or a quick snack, this is a dish that wows at any time and at any occasion.
All proceeds from this Celeb Chef fundraising class will help support Made in Hackney's free community cooking classes and meal service, which provides nutritious, tasty meals to households who are struggling to access food.
In this interactive class, you will be making homemade falafel, pita bread, red shatta (fermented chilli sauce), tahini sauce and a quintessential Middle Eastern chopped salad.
Be welcomed with a morning coffee, tea and plant-based biscuits kindly provided by Planet Organic
Learn how to make an impressive green, herby falafel of dreams
Make your own simple yet moreish pita bread from scratch
Elevate your plate by discovering the secrets of red shatta (a popular fermented chilli sauce) to take home (bring a 200ml jar to take some home or add on as an extra when purchasing your ticket)
Discover how to make a traditional Middle Eastern chopped salad that adds flavour, colour and that oh-so-important crunch
Create your own tahini & parsley sauce to dazzle your guests and make your falafel one to remember
A chance to ask questions and gather hints and tips from celebrated chef, Sami Tamimi
Enjoy your Falafel as a fabulous sit down lunch with Sami and your fellow participants and finish with a special sweet plant-based treat from the legendary Ottolenghi restaurant
A glass of red or white wine will be served with the meal and a glass of Prosecco with your dessert
You can purchase Sami's book as an add-on when you purchase your ticket and he'll even sign it for you on the day. If you would like to bring your own book Sami will of course sign those too!
Take home a goody bag kindly donated by Planet Organic, filled with treats, (and exciting surprises)
We always advise our guests to bring a food container to take home your creations as we aim to keep waste to a minimum. Please bring a 200ml jar for your sauce or add on when purchasing your ticket.
Sami has so graciously and continuously supported Made in Hackney in working with Londoners to grow, cook and eat more plant-based food, while providing over 1200 culturally varied meals a week to people in need. We appreciate all the support to keep it going. Learn a new skill in the kitchen and support a community. We believe everyone should have access to healthy, delicious food that's good for people and the planet.
About the chef: Sami Tamimi
Sami Tamimi (Chef and award-winning Author) was born and raised in Jerusalem. He was immersed in food from childhood. Starting his career as a commis-chef in a Jerusalem hotel, he worked his way up through many restaurants and ethnic traditions to become head chef of Lilith; one of the top restaurants in Tel Aviv in the 1990s.
Sami moved to London in 1997 and worked at Baker and Spice as head chef, where he set up a traiteur section with a rich Middle-Eastern and Mediterranean spread. In 2002 he partnered with Noam Bar and Yotam Ottolenghi to set up Ottolenghi in Notting Hill. The company now has 4 stores and 3 restaurants: NOPI, Ottolenghi Spitalfieds and ROVI, all in London. Alongside Yotam Ottolenghi and Tara Wigley, Sami Tamimi is co-author of three bestselling cookbooks:
Ottolenghi: The Cookbook
Jerusalem: A Cookbook
Falastin: A cookbook
Refunds/transfers: we require a minimum of 7 days' notice for any cancellations or transfers once you have booked onto a class to enable us to try to resell your ticket.
Note: Please understand our charity needs time to enable us to try to resell your tickets as we rely heavily on the income generated. You are also welcome to give your ticket to a friend or family member in case of last minute illness (just email classes@madeinhackney.org to let us know). If the workstation you require (single or double) is not available, please let us know as we may be able to accommodate.
Vouchers: To redeem a voucher purchased on our site, please contact us to book a place. If contacting us by email please attach your voucher. If telephoning, have your voucher to hand so you can quote the voucher number.
For information: classes@madeinhackney.org / 020 8442 4266 / WhatsApp message +44 07833685894
With special thanks to Leiths School of Food & Wine for hosting this fundraising event.
Founded by Caroline Waldegrave and Prue Leith in 1975, Leiths School of Food & Wine is the UK's leading cookery school that teaches professional chef diplomas and home-cook courses and classes, both in-school and online. The London cooking school based in Chiswick includes state of the art professional kitchens and equipment to help you discover your culinary potential and hosts a range of leading guest chefs including Atul Kochhar, Ching-He Huang, Honey & Co, Andi Oliver and Edd Kimber.