Recorded Online Cookery Class - Sandor Katz's Fermentation Journeys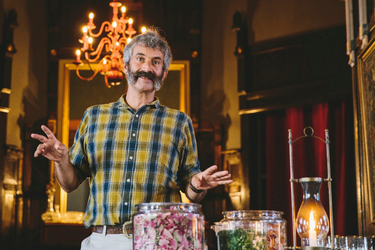 Date and Time
25/02/2023 6:00pm - 23/05/2023 8:00pm
Cost
Ticket £20 inclusive of VAT. When you buy a Made In Hackney cookery class you enjoy an enriching culinary experience and help us fight hunger in our community.
Location
Zoom, details to be provided via email the day after the live class.
The Event
For the past two decades, fermentation revivalist and bestselling author Sandor Katz has travelled the world, both teaching and learning about the many varied fascinating ways to create delicious and nutritious fermented foods and beverages. Wherever he's gone, he has gleaned valuable insights into the cultures and traditions of local and indigenous peoples, making a huge variety of fermented foods and beverages, some widely-known, others more obscure. Sandor is arguably the world's most experienced and respected advocate of all things fermented.
Sandor passionately believes that the magical power of fermentation belongs to everyone, everywhere, and his mission is to demystify a process that has played an important cultural and ritualistic role in human life for millennia. This webinar - highlighting processes and recipes from Sandor's latest book Fermentation Journeys - offers you the opportunity to learn how to ferment veggies at home, from who The New York Times calls "one of the unlikely rock stars of the American food scene."
Whether you are an experienced fermenter, or just starting out, this is a webinar you don't want to miss!
THIS IS A PURCHASE OF A RECORDED CLASS AND ONCE YOU RECEIVE YOUR EMAIL CONFIRMATION YOU CAN ACCESS THE CLASS AT ANY TIME FROM THEN UNTIL YOUR TICKET EXPIRES. YOU CAN PAUSE, CONTINUE, AND WATCH AGAIN AT YOUR CONVENIENCE.
This recording of a live webinar includes:
Learning the practical and nutritional benefits of fermented foods
The in-class fermentation project will be Chinese pao cai / pao tsai (vegetables fermented in a spiced perpetual brine)
In addition to preparing this amazing ferment, Sandor will tell stories about local customs that surround particular ferments, and experimenters he has met on his journeys
Receive easy-to-follow recipe sheets provided to recreate the dishes again and again at home
Receive a 30% discount code for all of Sandor's books on the Chelsea Green website after booking
Zoom, details to be provided via email the day after the live class
About Sandor Katz:
Sandor Ellix Katz is a fermentation revivalist. A self-taught experimentalist who lives in rural Tennessee, his explorations in fermentation developed out of his overlapping interests in cooking, nutrition, and gardening. The hundreds of fermentation workshops he has taught around the world have helped catalyse a broad revival of the fermentation arts. Katz's award-winning book The Art of Fermentation remains a classic and the first guide of its kind. Perfect for cooks, food lovers, fermentation enthusiasts, farmers and foragers alike!
When you buy a Made In Hackney cookery class you enjoy an enriching culinary experience and help us fight hunger in our community.
*
Have your ingredients ready, weighed out and chopped where necessary to help you keep pace with the session and feel more relaxed. We also recommend printing out your handout or having it available to view on a separate device if possible.
INGREDIENTS LIST
Equipment:
1 Litre Jar or another vessel
Chopping Board
Knife
Ingredients:
Salt, 1 tablespoon or more
Sugar (Mrs. Ding uses malt sugar but any sugar works fine), 1 tablespoon or more
Ginger Root (fresh), about 3 slices (to taste)
Sichuan peppercorns, about 2 teaspoons (to taste)
Dried chilies (small), about 5 (to taste)
Black cardamom pods, about 2 (to taste)
Star anise pods, about 2 (to taste)
Dried or shredded licorice, about ½ teaspoon (to taste, optional)
About 500 grams firm vegetables for pickling (one or any combination of the following: radish, cabbage, onion, carrot, green beans, celery,, or try others), cut into medium-sized chunks (big enough to easily find and remove from the brine, but with enough surface area to allow the brine to quickly penetrate)
Vouchers: If you need assistance to redeem a voucher purchased on our website, please contact us via email: classes@madeinhackney.org.
Note: This is a fundraising class and the proceeds help us fight hunger in our community. At Made In Hackney we believe access to good food is a human right - not a privilege.
For information: classes@madeinhackney.org / 020 8442 4266 / WhatsApp message +44 07833685894