Recorded Online Cookery Class - Steamed Baos & Spring Rolls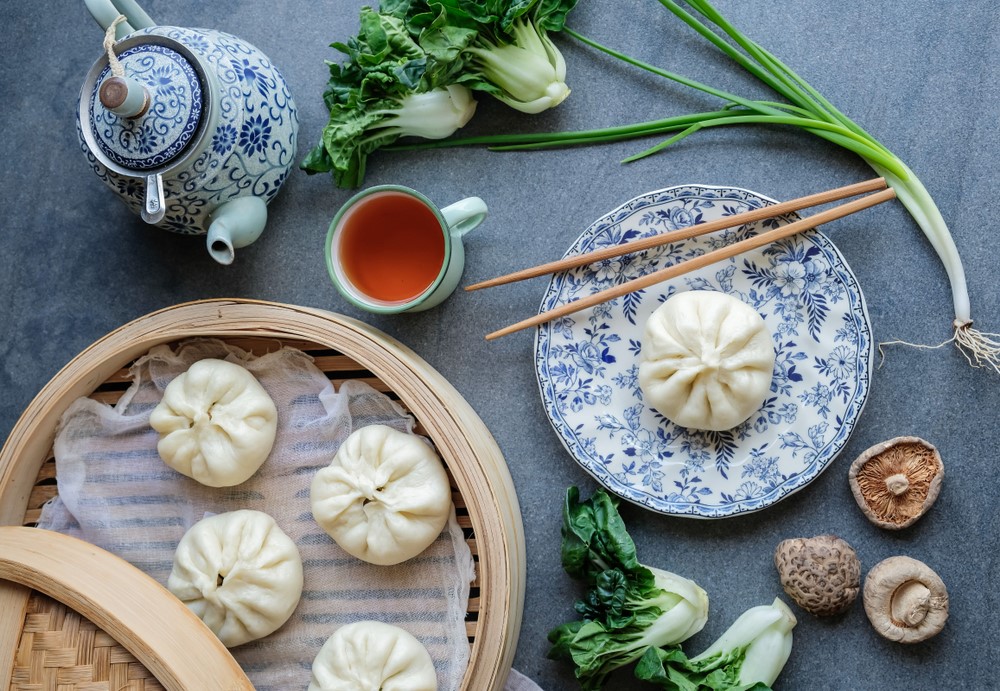 Date and Time
Tuesday 9th November 2021
6:00pm - 8:00pm
Cost
Fee*: £15 Standard / £7.50 Concessions**/ £3 Unwaged All proceeds help fund our community meal service which continues to provide free nutritious, tasty meals to households struggling to access food
Location
Zoom, details to be provided via email. Check your junk mail if need be!
This a past event and is no longer avaliable.
Please see our calendar for upcoming events.
The Event
Join Kieumy Pham Thai, a plant-based certified cookery teacher and specialist in Asian cooking and founder of social enterprise BOM PURE ASIAN FOOD to learn how to make vegan versions of the fluffy steamed bao buns enjoyed across Asia, and classic yet healthier crispy spring rolls. This is a child-friendly class so get the whole family involved!
The class will include:
Learn how to make your own steamed bao buns from scratch using natural ingredients
Discover the secret to making a dough to create fluffy and soft baos
Understanding the proving and steaming processes
How to make golden crispy spring rolls without deep-frying
Prepare mouth-watering fillings that will please even the most hardened carnivores
Presentation skills
Recipe handout
For ingredients and equipment needed see below
About Kieumy
Kieumy was born and raised in France by Vietnamese parents, and she lived in Asia for more than a decade. She trained at Ferrandi, a renowned cookery school in Paris, and later as a Natural Chef and Plant-Based Chef in London. Her style of cooking is strongly influenced by her French-Asian Oriental background and extensive travels. Kieumy is passionate about healthy seasonal food which is good for people and kind to the planet. She founded BOM (Beautiful Wholesome Meals), a social enterprise which employs and trains up refugee women, teaching people to make more conscious choices about the food they eat through sustainable culinary activities.
INGREDIENTS LIST
SPRING ROLLS (4 people)
(Makes 8 long spring rolls or 16 small spring rolls)
20g cellophane noodles* (also called mung beans noodles) (optional)
300g cabbage (white or napa)
100g brown chestnut mushrooms, cut finely or 6 dried shiitake mushrooms soaked for 1 hour
1 medium carrot, grated
2 teaspoons garlic, minced
4 stalks green onions, sliced
2-3 tablespoons soy sauce
1 teaspoon coconut sugar or Xylitol (or brown sugar)
8 spring roll wrappers or filo pastry (can be found in the frozen section of larger supermarkets and Asian supermarkets or you can use filo pastry which can be found in the fresh section of most supermarkets)
Some cornflour mixed with water
Oil for cooking and brushing
*sold in Asian / Korean / chinese supermarkets
Dipping sauce
2 tablespoons soy sauce
2 tablespoons lemon juice
2 tablespoons coconut sugar or Xylitol (or brown sugar)
4 tablespoons water
Red chilli (optional)
Garnishing
8 large leaves of lettuce
Small bunch of fresh mint (optional)
Small bunch of fresh coriander
Steamed Buns
(Makes 10 buns)
Ingredients for the dough :
250g Plain flour
30g coconut sugar or Xylitol (or brown sugar)
3.5g Dried Yeast (2 teaspoon)
1.5g Baking Powder
125g luke warm water
5g Sunflower Oil
Filling
250g mixed greens (leeks and/or spinach and/or spring greens and/or kale)
100g carrots
30g spring onions
10g coriander
100g extra firm tofu (Tofoo brand found in Waitrose and Sainsbury and health food shops)
Seasoning for the filling
1 teaspoon minced garlic
1 teaspoon grated ginger
1 long red chilli chopped (and deseeded)
1.5 tablespoons black vinegar (can be replaced by rice vinegar)
2.5 tablespoons light soy sauce
EQUIPMENT LIST
Medium frying pan
Sheet pan (tray)
Mixing bowls
Spoons
Chopping board and knives
Small bowls for the dipping sauce
Serving plates
Scales
Sieve
Tea towel
Food processor (optional if you want to chop quickly)
Rolling pin
Large non stick pan
Steamer or a plate that can fit in a pot with a lid
Fee*: £15 Standard / £7.50 Concessions**/ £3 Unwaged
*All proceeds help fund our community meal service which has become a critical food support service delivering 70,000 free nutritious, tasty meals per year to households struggling to access food, and is needed now more than ever by our community.
**Concessionary rate available for students, pensioners and low waged
If you are able to donate to our crowdfunder please visit https://www.crowdfunder.co.uk/...
If you would like to be added to our FREE online community class mailing list - just drop a line to classes@madeinhackney.org. Please note that, in the interest of fairness, opportunities to attend free classes are limited.
Refunds: we require a minimum of 24 hours' notice for any cancellations or transfers once you have booked onto a class.
For information: classes@madeinhackney.org / 020 8442 4266

Location: Zoom, details to be provided via email (usually the day before the class). Check your junk mail if need be!