Masterclass - Summer Vegan Barbecue Feast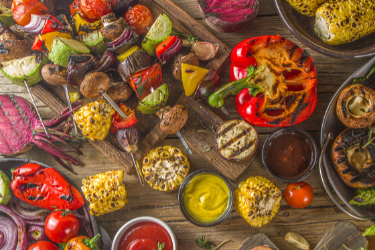 Date and Time
Sunday 5th September 2021
1:00pm - 3:30pm
Cost
£50 inclusive of VAT. All proceeds help fund our community meal service which continues to provide free nutritious, tasty meals to households struggling to access food.
Location
Made In Hackney, Liberty Hall (black & white building by the common), 128 Clapton Common, Spring Hill, Clapton, London, E5 9AA, UK
This a past event and is no longer avaliable.
Please see our calendar for upcoming events.
The Event
Do you want to be able to cook a vegan barbecue that would please everyone and also have fun with like minded people in the process? Look no further…
For many, barbecues have been historically known to be meat led; but guess what? Cooking with fire intensifies the flavour of vegetables, creating new flavour molecules and aromas. Chef Vivianne Pontes will lead you through a journey of the senses with an international selection of fire-cooked dishes such as yakitori / kushiyaki, choripán, Brazilian bbq skewers, eryngii on the barbie, as well as marinades and sides.
Let's cook together and create a Vegan Barbecue Feast to remember; packing in loads of flavour, colour, textures and deliciousness. Can you feel your taste buds tingling?
The class will include:
Learn the techniques for cooking different types of vegetables on the fire, working with textures, colours and flavours that delight.
Explore exciting side dishes to complement, refresh and add flecks of magic to the experience.
Learn how to make a selection of tasty marinades and understand how to bring umami to the feast!
Understand the importance of selecting the wood/charcoal, how to light the fire, and how to keep the embers burning at the perfect temperature.
Top off the experience with the stunning views across leafy Clapton Common in our back garden.
Make friends, swap your BBQ & flavour ideas from your favourite grilling memories.
This class will give you the skills to make joyous, scrumptious and versatile crowd-pleasers that even the most ardent omnivore would enjoy.
About Vivianne Pontes
Food researcher Vivianne Pontes experiences food through many walks of life and adventures. She graduated with a Biochemistry and Molecular Biology degree which has developed and enriched her Food Science perspective. But through her travels and the exciting melting pot of foods in her native Brazil, she explored the intimate cultural foundations and many shared elements and overlays that form the basis of many dishes. She has written extensively about food and produced some pioneering content about aquafaba on the internet. Vivianne experienced the professional side of the food industry working as a head chef and consultant for pubs and restaurants in the UK. She never stops researching and experimenting with food & flavours. Lucky for us, she landed at Made in Hackney where she assists on the classes programme and sometimes pops in to run her own classes which have been hugely popular with our community. When asked where she got this deep love for food, she replied: "Because I am always hungry; for food, for knowledge, for sharing."
Refunds/transfers: we require a minimum of 7 days' notice for any cancellations or transfers once you have booked onto a class to enable us to try to resell your ticket.
Note: Please understand our charity needs time to enable us to try to resell your tickets as we rely heavily on the income generated. You are also welcome to give your ticket to a friend or family member in case of last minute illness (just email classes@madeinhackney.org to let us know). If the workstation you require (single or double) is not available, please let us know as we may be able to accommodate.
Vouchers: To redeem a voucher purchased on our site, please contact us to book a place. If contacting us by email please attach your voucher. If telephoning, have your voucher to hand so you can quote the voucher number.
For information: classes@madeinhackney.org / 020 8442 4266 / WhatsApp message +44 07833685894