Recorded Online Cookery Class - Vegan Carnival Street Food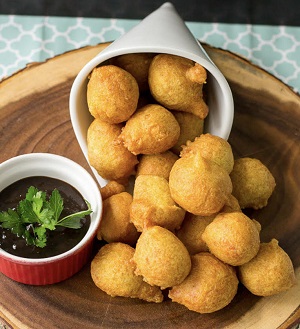 Date and Time
Sunday 24th October 2021
6:00pm - 8:00pm
Cost
Fee*: £15 Standard / £7.50 Concessions**/ £3 Unwaged
Location
Zoom, details to be provided via email (usually the day before the class). Check your junk mail if need be!
This a past event and is no longer avaliable.
Please see our calendar for upcoming events.
The Event
Join supremely talented plant based chef and TV personality, Michael Ninvalle, to learn how to make tasty carnival-style dishes packed with authentic flavours from the Caribbean...
This recording of a live class will include:
Make melt-in-your-mouth authentic pholorie, deep fried spicy split pea dough served with tangy tamarind sauce - a very popular street snack throughout the Caribbean
Learn to make a nourishing coconut corn soup with yellow split peas, bursting with flavour
How to make chow, a wonderfully refreshing traditional dish from Trinidad made with fruit, spices and fresh herbs using your choice of mango, pineapple or cucumber
Carnival music and optional whining (dancing) included!
Get the low down on Caribbean herbs and spices
Plating and presentation
Link to recording valid for 7 days
Recipe handout with bonus recipes
For ingredients and equipment needed see below
About Michael
Chef Ninvalle is a plant based chef, television personality, and soon-to-be author with the release of his anticipated first cookbook. He has had various cooking shows produced by Synergy TV in the Caribbean where he was born and lived most of his life. He now lives in London where he has cheffed in a Michelin star restaurant and now works as a restaurant head chef, as well as a private chef for the rich and famous.
INGREDIENTS LIST:
PHOLOURIE (1 serving) - at least for Michael, but if you can refrain from having all it can easily be shared between 3 people!
2 cups flour (preferably self-raising flour)
1/2 cup chickpea flour (gram flour)
1/4 teaspoon jeera (cumin)
2 teaspoon salt
2 teaspoon turmeric
2 teaspoon yeast
1 1/2 tablespoon baking powder
1 1/2- 2 cups warm water (to be added little at a time)
1 teaspoon minced coriander
3 cups oil (frying) coconut oil is an option
CORN SOUP (3 servings)
2 heads of corn (or 4 fresh corn cobettes, tinned sweetcorn not suitable for this recipe)
1 onion large
4 garlic pieces
Celery (25g)
1 bunch coriander
1 piece of ginger
1 scotch bonnet (optional heat)
1 1/2 cup yellow split peas (we strongly recommend these are soaked overnight, or if that's not possible put on to boil at least an hour before the class)
1 large carrot (peeled and thinly sliced rings)
2 potatoes peeled and cubed (optional)
2 tins coconut milk
3 veg stock cubes.
Salt and pepper to taste
2 cups water
TRINI CHOW (2 servings)
Fruit of choice (2 mangoes, 1 pineapple or 2 cucumbers)
Green seasoning (3 cloves garlic, 1/2 onion, thyme, shadow beni (coriander/cilantro)
1 Scotch bonnet pepper
Sea salt, pepper
SAUCES:
TAMARIND SAUCE
1 tube tamarind paste
5 cloves garlic
2 teaspoons sea salt
Green seasoning
Coconut sugar to taste (or use brown sugar)
Fresh chopped coriander to top near the end
BONUS OPTIONAL RECIPE INGREDIENTS TO MAKE IN YOUR OWN TIME IF YOU WISH:
MANGO SAUCE: used in doubles and pholourie
2 raw, green, firm mangoes
4 cups water, more if water evaporates quickly
Xylitol or Stevia to taste (or use sugar)
2 teaspoons anchar massala (garam masala/cumin)
2 teaspoons toasted ground cumin (geera)
1/4 teaspoon turmeric
1 teaspoon sea salt, or more to taste
Optional but highly recommended
2 cloves garlic
1 teaspoon ground bandhania(cilantro)
hot pepper, finely chopped scotch bonnet
CHADON BENI SAUCE (GREEN HERB SAUCE)
2 cups fresh herbs (coriander and parsley)
1 cup water
3 Garlic cloves
1 Scotch bonnet pepper (or any type of chilli pepper), chopped rough
Half a lime
Sea salt (pinch)
EQUIPMENT LIST
Medium to large Pots for cooking/frying x4
Peeler
Knifes
Can opener
Bowls x3
Chopping board
Spoons
Blender
Measuring cups/spoons
Fee*: £15 Standard / £7.50 Concessions**/ £3 Unwaged
*All funds raised go towards our community meal service providing free nutritious, tasty meals to households who need them during these challenging times.
**Concessionary rate available for students, pensioners and low waged
If you are able to donate to our crowdfunder please visit https://www.crowdfunder.co.uk/...
If you would like to be added to our FREE online community class mailing list - just drop a line to classes@madeinhackney.org. Please note that, in the interest of fairness, opportunities to attend free classes are limited.
Refunds: we require a minimum of 24 hours' notice for any cancellations or transfers once you have booked onto a class.
For information: classes@madeinhackney.org / 020 8442 4266
Location: Zoom, details to be provided via email (usually the day before the class). Check your junk mail if need be!