Online Cook-Along - Vegan Cheese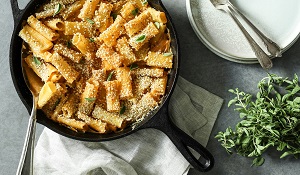 Date and Time
Thursday 1st October 2020
4:00pm - 6:00pm
Cost
Suggested donation £20 but any donation amounts accepted. All funds raised go towards our community meal service providing free nutritious, tasty meals to households who need them during these challenging times.
Location
Zoom, details to be provided via email (usually the day before the class). Check your junk mail if need be!
The Event
Let vegan cheese producer Bruna Oliveira show you how to whip up a quick, easy and delicious cheesey dish from 100% plant-based ingredients. You'll also discover how to create the amazing textures, flavours and health benefits of raw, fermented nut cheese.

In this class you will learn how to make:
A quick, easy and nutritious Vegan Parmesan
A delicious Plant Powered Mac n Cheese
A gorgeous Fermented Almond Ricotta with herbs (ready to eat within 48 hours)
For ingredients and equipment needed see below
About Bruna
Bruna Oliveira is the founder of London Nut Cheese Co and studied Naturopathy and Naturopathic Nutrition at CNM London in order to pursue her passion for healthy and natural living. Bruna loves creating delicious recipes with the aim of inspiring people to transform their lives through making positive changes in their diet.
Fee: Suggested donation £20 but any donation amounts accepted. All money raised will be used to provide free healthy eating cookery classes for community groups across the capital.
INGREDIENTS LIST
300g ground almonds
300g blanched almonds (or otherwise cashew nuts or sunflower seeds, but bear in mind sunflower seeds have quite a strong flavour)
1 pot nutritional yeast
15g garlic powder (or otherwise fresh garlic to taste)
Sea salt
Dried oregano
Whole grain or gluten free pasta (like penne)
½ head broccoli
½ head cauliflower
200g raw cashew nuts (whole or pieces)
500ml plant based milk
50g tapioca flour (or cornflour)
1 small jar roasted red peppers (or use tomato paste to add flavour)
30ml olive oil
15ml miso paste (optional)
1 lemon
10g mustard powder (or use regular mustard)
10g onion powder
5g smoked paprika
15ml apple cider vinegar (or white vinegar)
1 clove garlic
1 vegan probiotic capsule (any vegan probiotic capsule with at least 1 billion CFU. If your capsules contain less you can use 2 capsules instead of one).
1/2 bunch parsley (optional)
EQUIPMENT LIST
2 medium bowls
1 small bowl
Blender
Cooking pot (large)
Pyrex dish (large)
Sieve
Muslin cloth/nut milk bag/cheesecloth
Measuring spoons and cups
Refunds: we require a minimum of 24 hours' notice for any cancellations or transfers once you have booked onto a class. Unfortunately we cannot share recordings of classes as they also feature participants and we do not have their permission.
For information: classes@madeinhackney.org / 020 8442 4266
Location: Zoom, details to be provided via email (usually the day before the class)
---
Made In Hackney uses cereals containing gluten namely: wheat (spelt and khorasan wheat), rye, barley, oats; peanuts; all other nuts; sesame; all other seeds; soybeans; celery and celeriac; mustard; sulphur dioxide/sulphites; lupin; tomatoes and other allergens in it's classes. Our food is freshly prepared in our busy cookery school kitchen that handles allergens, so we cannot guarantee that our food and drinks are allergen-free. Even in classes where these ingredients are not being used, they will be on site in our store rooms and our equipment will have previously come into contact with them. Participants attend at their own risk.