Live Online Cookery Class - Vegan Cooking for Gut Health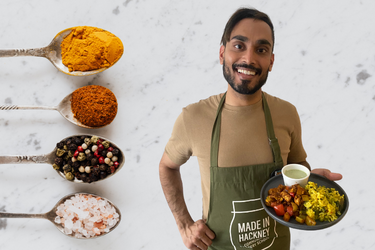 Date and Time
Wednesday 26th April 2023
6:00pm - 8:00pm
Cost
Ticket £25 inclusive of VAT. When you buy a Made In Hackney cookery class you enjoy an enriching culinary experience and help us fight hunger in our community.
Location
The class will be held on Zoom. Zoom details will be provided before the class, together with your recipe card. If you have not received the reminder email by 4pm the day before the class please contact us at classes@madeinhackney.org or send a message on WhatsApp message +44 07833685894.
The Event
Join Lifestyle Medicine Coach and Plant-based chef Dr Sunni Patel to learn how to cook simple recipes that can help to optimise the gut, the microbiome and overall health.
This online class will discuss the science around plant based foods and gut health, myths and fads as well as the role that food can play. You will learn how to cook 2 gut health supporting dishes and there will also be an opportunity to have informal discussion throughout on all things gut health!
You'll learn:
How to make the most of plant-based foods, their health benefits and the role they play in the gut
How to make a tasty and highly nutritious Italian-inspired gut supporting soup containing high levels of fibre and polyphenols
Learn to make a very delicious and easy refined sugar-free cacao chia pudding, highly beneficial to gut health
Understand the causes and issues around common gut health issues and conditions
Linking diet, nutrition and quality of life to optimise gut health
Opportunity to ask general questions and understand gut health
General knife and cooking techniques alongside kitchen safety
Easy-to-follow recipe sheets provided to recreate the dishes again and again at home
About Dr Sunni Patel
Dr Sunni Patel is the founder of Dish Dash Deets – a company and platform focussed on health coaching, education, and food with a mission to support as many people as possible on easy and practical holistic wellbeing. He has been featured on the BBC, ITV and is called for comment regularly on BBC radio shows with regular slots on BBC Stoke and BBC Wales as well as leading press outlets. He is available for speaker sessions, recipe development and consultancy, workshops and coaching programs and can be contacted directly here
BACKGROUND FOR RECIPES
The recipes will cover the principles of health eating, using and celebrating the power of plants, optimising quality protein and fats alongside wholegrains, and adding polyphenols and the right balance of micro-nutrients to support overall gut health
*
Have your ingredients ready, weighed out and chopped where necessary before the class starts to help you keep pace with the session and feel more relaxed. We also recommend printing out your handout or having it available to view on a separate device if possible.
EQUIPMENT LIST
Mixing bowls
Chopping board
Knife
Pots
Baking tray
Baking paper
Kettle
INGREDIENTS LIST
Store Cupboard Ingredients
Olive oil
Black pepper
1 teaspoon miso paste (optional)
240g tin of green lentils (drained and washed)
250ml tomato passata or 4 large tomatoes (soaked in boiling water)
1 vegetable stock cube
2 tablespoons dried Italian herbs
1 bay leaf
170g chia seeds
1 teaspoon vanilla extract (optional)
½ teaspoon cinnamon powder (optional)
2 tablespoons cocoa powder
5 tablespoons maple syrup
Toppings of your choice (nuts, seeds, dark chocolate) - optional
Fresh Ingredients
2 eating apples (peeled, cubed and seeded retaining the core)
2 kiwis (diced)
700ml plant-based milk (oat/cashew/almond)
2 garlic cloves (minced)
200g spinach
1 large white onion (diced)
1 small red onion (sliced)
2 large carrots
2 celery stalks (diced)
1 courgette (peeled into ribbons)
*
Refunds/transfers: we require a minimum of 14 days' notice for any cancellations or transfers once you have booked onto a class to enable us to try to resell your ticket.
Vouchers: To redeem a voucher purchased on our site, please contact us to book a place. If contacting us by email please attach your voucher. If telephoning, have your voucher to hand so you can quote the voucher number.
Note: This is a fundraising class and the proceeds help us fight hunger in our community. We run free community classes for people on low incomes, with health challenges or have other support needs. If you'd like to join this group email us classes@madeinhackney.org
For information: classes@madeinhackney.org / WhatsApp message +44 07833685894