Live Online Cookery Class - Vegan Cooking for Healthy Ageing with Dr Sunni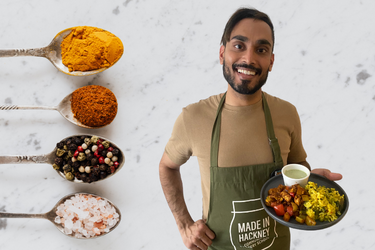 Date and Time
Wednesday 27th September 2023
6:00pm - 8:00pm
Cost
Ticket £25 inclusive of VAT. When you buy a Made In Hackney cookery class you enjoy an enriching culinary experience and help us fight hunger in our community.
Location
The class will be held on Zoom. Zoom details will be provided before the class, together with your recipe card. If you have not received the reminder email by 4pm the day before the class please contact us at classes@madeinhackney.org or send a message on WhatsApp message +44 07833685894.
This a past event and is no longer avaliable.
Please see our calendar for upcoming events.
The Event
Join Lifestyle Medicine Coach and Plant-based chef Dr Sunni Patel to learn how to cook simple recipes that can help to optimise and sustain healthy living and ageing. This online class will discuss the science around ageing, myths and fads as well as the role that food can play. You will cook 2 health inspired dishes and there will also be an opportunity to have an informal discussion throughout on all things health!
The class journey:
Discover the profound connection between diet, nutrition, and quality of life as we age
Learn how to make the most of plant-based foods, their health benefits and the role they play in the body and ageing
Make a delicious Moroccan Lentil Pilaf and Salad, and a Apple Crumble with Healthy Ageing Twist while learning everything about the ingredients/building blocks to sustain healthy living and ageing
Opportunity to ask questions and understand healthy ageing and the role that food can play
General knife and cooking techniques alongside kitchen safety
Easy-to-follow recipe sheets provided to recreate the dishes again and again at home
About Dr Sunni Patel
Dr Sunni Patel is the founder of Dish Dash Deets – a company and platform focussed on health coaching, education, and food with a mission to support as many people as possible on easy and practical holistic wellbeing. He has been featured on the BBC, ITV and is called for comment regularly on BBC radio shows with regular slots on BBC Stoke and BBC Wales as well as leading press outlets. He is available for speaker sessions, recipe development and consultancy, workshops and coaching programs and can be contacted directly here
BACKGROUND FOR RECIPES
These recipes play on some key fundamental principles and basics around healthy ageing and what we know are the building blocks of health from nutritional science and research. Maximising the power of plants with the correct balance of wholegrains, healthy fats and lean proteins, these dishes are a great introduction to healthy ageing.
*
Have your ingredients ready, weighed out and chopped where necessary before the class starts to help you keep pace with the session and feel more relaxed. We also recommend printing out your handout or having it available to view on a separate device if possible.
EQUIPMENT LIST
Baking dish for the apple crumble
Large bowl for mixing the apple crumble ingredients
Small bowl for preparing the dressing
Salad bowl for the chickpea salad
Mixing spoon or spatula
Large pot for the lentil pilaf
Knife for chopping vegetables
Chopping board
Whisk for mixing the salad dressing
​INGREDIENTS LIST
Store Cupboard Ingredients
Chickpeas (canned): 1 can
Coconut sugar (or alternative sweetener): ¼ cup
Rolled oats: ½ cup
Almond flour or any other flour of your choice: ¼ cup
Chopped nuts (such as walnuts or almonds): ¼ cup
Mixed seeds (such as chia seeds, flax seeds, or pumpkin seeds – optional): 2 tablespoons
Maple syrup or any other liquid sweetener: 3 tablespoons
Nut butter (optional): 2 tablespoons
Lentils (brown or green): 1 can
Long-grain brown rice: 1 cup
Olive oil: 7 tablespoons
Ground cumin: 3 teaspoons
Ground coriander: 2 teaspoons
Ground turmeric: ½ teaspoon
Ground cinnamon: 2½ teaspoon
Cayenne pepper (optional): ¼ teaspoon
Vegetable stock cube: 1
Salt and pepper: to taste
Fresh Ingredients
Apples: 3
Pears: 2
Mixed berries (optional): 1 cup
Lemon juice: 2 tablespoons
Red onion: 1
White onion: 1
Garlic cloves: 3
Carrot: 1
Bell pepper: 2
Cucumber: 1
Cherry tomatoes: 1 cup
Fresh parsley or coriander: ½ cup for garnish
*
Refunds/transfers: we require a minimum of 14 days' notice for any cancellations or transfers once you have booked onto a class to enable us to try to resell your ticket.
Vouchers: To redeem a voucher purchased on our site, please contact us to book a place. If contacting us by email please attach your voucher. If telephoning, have your voucher to hand so you can quote the voucher number.
Note: This is a fundraising class and the proceeds help us fight hunger in our community. We run free community classes for people on low incomes, with health challenges or have other support needs. If you'd like to join this group email us classes@madeinhackney.org
For information: classes@madeinhackney.org / WhatsApp message +44 07833685894