Masterclass - Vegan Diwali Cuisine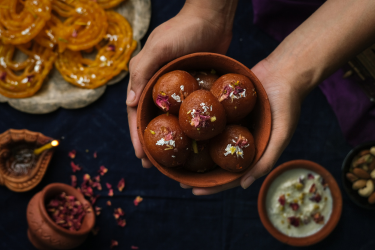 Date and Time
Saturday 4th November 2023
11:00am - 3:00pm
Cost
Ticket £100 inclusive of VAT
Location
Made In Hackney, Liberty Hall (black & white building by the common), 128 Clapton Common, Spring Hill, Clapton, London, E5 9AA, UK
The Event
Celebrate the vibrant festival of Diwali with our immersive Vegan Diwali cuisine masterclass. Diwali, often referred to as the Festival of Lights, holds immense cultural significance in the UK as well as India, symboliSing the triumph of light over darkness and good over evil. (And we always need that!)
Our masterclass invites you to explore the culinary traditions of Diwali, a delightful fusion of flavours, colours, and aromas In this experience. You'll discover the art of using spices, herbs, and other ingredients to create authentic Diwali flavours while crafting versatile and wholesome dishes that are not only delicious but also healthy and nutritious. Chef Nishma Shah - of award-winning vegan educators and caterers Shambhu's - will bring authentic moments to the plate with deep flavours.
This class is suitable for skilled chefs looking to add vegan alternatives to their knowledge base as well as novice and experienced home cooks interested in plant-based cooking.
The class journey:
Join us for an unforgettable cooking experience that promises excitement at every turn
Master the exquisite flavours of our Carrot Halwa, a gluten-free delight that's nutty, creamy, and utterly indulgent
Learn how to make and get your taste buds dancing with our gluten-free Bhajia, a crispy and delightful fusion of spinach, fenugreek, and banana. Each bite is a burst of vibrant, mouth watering flavours
Learn how to make a Stuffed Dum Aloo filled with aromatic spices and a nutty twist, this dish is a culinary masterpiece
But that's not all! We'll also be adding a touch of convenience with a Lacha Paratha and a drizzle of zesty Tamarind Sauce, perfectly complementing the magic of the other dishes
Top off the experience with the stunning views across leafy Clapton Common as you cook, learn and feast together
Easy-to-follow recipe sheets provided to recreate the dishes again and again at home
This class will be a mixture of practical cooking, demos and time to ask questions with a shared meal at the end. We are now returning to 'family style' cooking with everyone cooking and sharing workstations. This creates more of a communal and interactive experience, working together as a team. All ingredients and equipment needed for the class are provided.
About Nishma Shah
Nishma Shah is founder and chef of award-winning ethically-conscious London plant-based food business, Shambhu's. She provides plant-based catering and teaches plant-based cookery in a number of settings, drawing from her Indian and Kenyan culinary roots with the aim of showing how delicious, varied and nutritious plant-based food can be. She has been a masterclass teacher for Made In Hackney for over 6 years and has also taught plant-based cookery for many other organisations, both in the UK and abroad.
Ticket £100 inclusive of VAT. When you buy a Made In Hackney cookery class you enjoy an enriching culinary experience and help us fight hunger in our community.
Vouchers: To redeem a voucher purchased on our website, please contact us via email: classes@madeinhackney.org.
Refunds/transfers: Please understand our charity needs time to resell your tickets as we rely heavily on the income generated by our fundraising classes. We require a minimum of 14 days' notice for any cancellations or transfers once you have booked onto a class.You are also welcome to give your ticket to a friend or family member in case of last minute illness (just email classes@madeinhackney.org to let us know).
Note: This is a fundraising class and the proceeds help us fight hunger in our community. At Made In Hackney we believe access to good food is a human right - not a privilege. If you would like to learn more about our work, please click here.
For information: classes@madeinhackney.org / 020 8442 4266 / WhatsApp message +44 07833685894