Recorded Online Cookery Class - Vegan Diwali Feast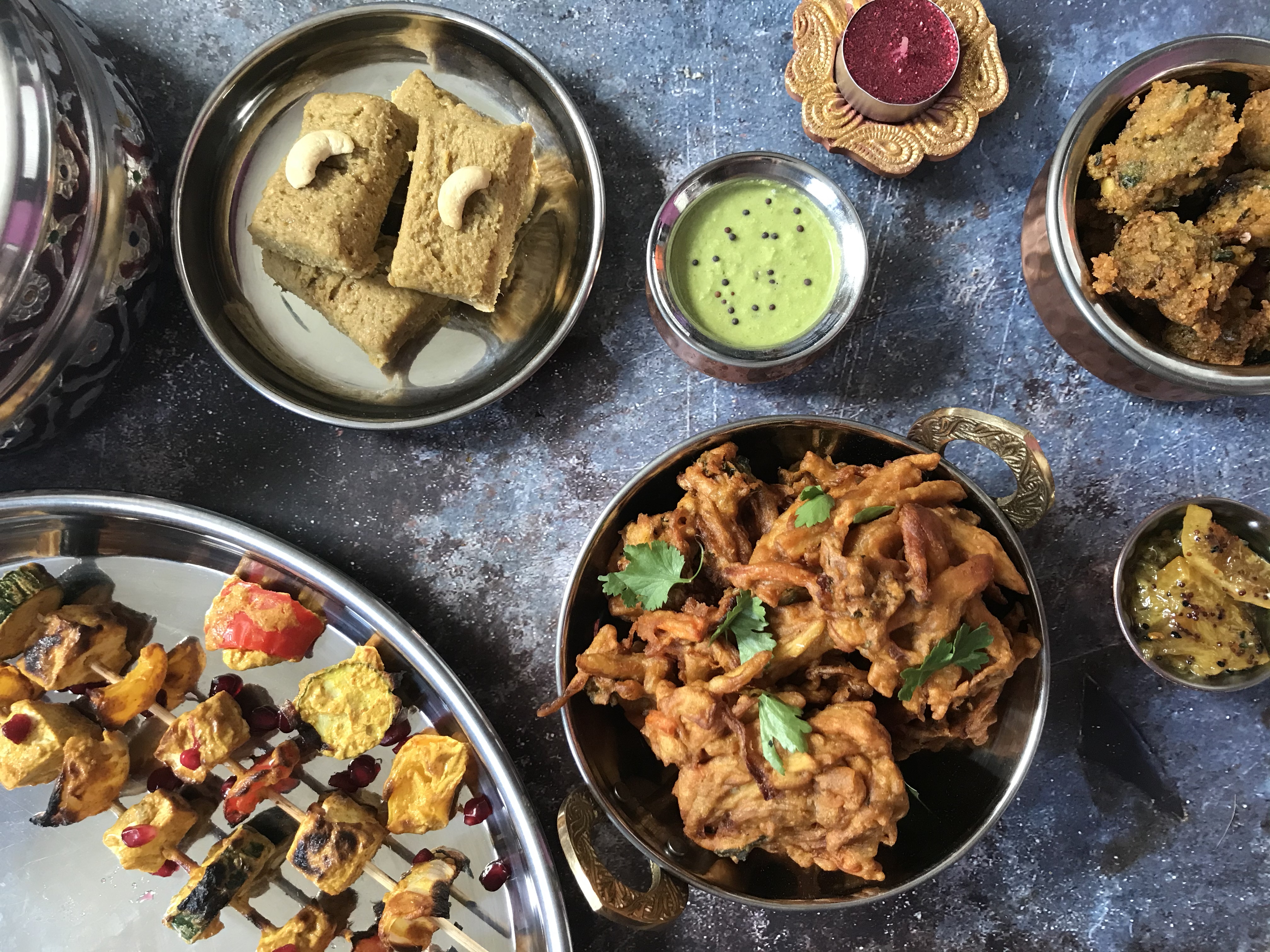 Date and Time
07/11/2021 5:30pm - 07/12/2021 7:30pm
Cost
Fee*: £15 Standard / £7.50 Concessions**/ £3 Unwaged All proceeds help fund our community meal service which continues to provide free nutritious, tasty meals to households struggling to access food
Location
Zoom, details to be provided via email (usually the day before the class). Check your junk mail if need be!
This a past event and is no longer avaliable.
Please see our calendar for upcoming events.
The Event
Join Made in Hackney community food service head chef Sareta Puri to celebrate the South Asian festival of lights, Diwali. Discover how to make some of Sareta's favourite festival and party foods - pakora, tofu tikka, coconut chutney and mango burfi - and learn more about the illuminating festival.
This recording of a live class will include:
How to make authentic Indian festival and party foods - vegetable pakora, tofu tikka, coconut chutney and mango burfi
Learn about Diwali festival traditions across South Asia
How to make fresh, healthy versions of traditional Indian dishes
Benefits of plant-based foods
Link to recording valid for 7 days
Recipe handout
About the chef: Sareta Puri
Sareta is the head chef of the Made in Hackney community food service which makes and delivers nutritious meals to people across Hackney. Sareta is a Scottish-Indian vegan chef who grew up in her dad's kitchens where she learnt the basis of Indian home cooking. In 2015 Sareta officially moved into food, through hosting supper clubs then street food, catering, teaching and recipe development, as well as food writing. In 2021 she published her first cookbook: Plant BasedPlanet which curates recipes from around the world.
EQUIPMENT LIST
Chopping board
Knife
1 large pan
1 medium pan
1 frying pan
Mixing spoon
3 mixing bowls
Serving bowls
6 wooden or metal skewers*
Baking tray & paper
Blender
Grater or mandolin
Scales
Tablespoon and teaspoon measures
*or you can just grill the kebab pieces without skewering
INGREDIENTS LIST
300g firm tofu
250g plant-based yoghurt (plain or Greek style)
200g selection of vegetables for the tofu tikka kebabs: choose from bell peppers, mushrooms, courgettes, red onion
250g/2 medium potatoes
250g/2 medium brown onions
100g/1 medium carrot
40g spinach, kale or savoy cabbage
1 green chilli
5g fresh ginger (¼ inch)
5-6 fresh curry leaves (or 10-12 dried)
40g fresh coriander
500ml vegetable oil, to fry pakora – can also be air fried or baked
10ml vegetable oil or vegan ghee
150g gram flour
80g finely ground oats or oat flour
80g cashews or almonds*
100g tinned mango pulp or pureed fresh mango
10ml date syrup or sweetener (depending on how sweet the mango pulp is)
60g desiccated coconut
Spices:
2 tablespoons garam masala
2 teaspoons ground cumin
2 teaspoons turmeric
1.5 teaspoons chilli powder (or to taste)
1 teaspoon cumin seeds
1 teaspoon black mustard seeds
1 teaspoon paprika
1 teaspoon garlic powder or fresh garlic
½ teaspoon cardamom powder or cinnamon powder (optional)
½ teaspoon ground ginger
¼ teaspoon ajwain (optional)
Sea salt
Fee*: £15 Standard / £7.50 Concessions**/ £3 Unwaged
*All proceeds help fund our community meal service which has become a critical food support service delivering 70,000 free nutritious, tasty meals per year to households struggling to access food, and is needed now more than ever by our community.
**Concessionary rate available for students, pensioners and low waged
Thank you for supporting our fundraising programme. We hope you might also consider making a donation to our crowdfunder 'No one goes hungry 2022' to help secure our Community Meal Service so we can provide meals to households in Hackney who need support with food.
https://www.crowdfunder.co.uk/noonegoeshungry2022/backers#start
If you would like to be added to our FREE online community class mailing list - just drop a line to classes@madeinhackney.org. Please note that, in the interest of fairness, opportunities to attend free classes are limited.
Refunds: we require a minimum of 24 hours' notice for any cancellations or transfers once you have booked onto a class.
Refunds: we require a minimum of 7 days' notice for any cancellations or transfers once you have booked onto a class.
For information: classes@madeinhackney.org / 020 8442 4266
Location: The class will be held on Zoom. Details will be provided in your booking confirmation email and in a reminder email the day before the class. If you have not received the reminder email by 4pm the day before the class please contact us at classes@madeinhackney.org. Do check your junk mail first!