Masterclass - Vegan Ethiopian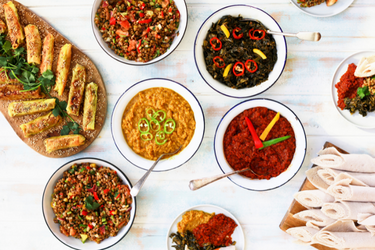 Date and Time
Saturday 19th November 2022
2:00pm - 7:00pm
Cost
Single workstation: £99 / Double workstation: £178 inclusive of VAT. All proceeds help fund our Community Meal Service, which provides not just food but connection and care to people hit by crises.
Location
Made In Hackney, Liberty Hall (black & white building by the common), 128 Clapton Common, Spring Hill, Clapton, London, E5 9AA, UK
The Event
Are you enchanted by Ethiopian cuisine and dream about creating the colourful plates full of flavour and wonder at home?
Our teacher, Woin Tegegn has travelled throughout her native Ethiopia to experience the flavours and traditions and its regional cooking practices. She describes her food as 'plant-based paradise' and we think you'll agree, it's pretty special.
The character of Ethiopian food is captivating and distinct, bringing together essences of earthy, spicy, sour and tart flavours with brilliantly aromatic spices which has made it very popular. The communal sharing and serving of food with friends and loved ones will be explored, using the famous injera (a fermented flatbread), which when torn with the hand acts as a delicious spoon to scoop each heavenly bite.
In this class you will be infused with storytelling of the evocative recipes, many passed down through Woin's family and then developed to fit a modern, plant-based lifestyle. Each plate is crafted to ensure health and nutrition whilst retaining the nostalgic traditions of Ethiopian fare.
Breaking bread brings people together and creates a sense of belonging. Through sharing ancestral skills, techniques and the cultural richness of eating together, Woin supports community and healthy living through sharing her food and the richness of her travels. This translates into an Ethiopian carousel of dishes that you'll find yourself cooking again at home with ease and pride.
"I'll show you how to make delicious plant-based versions of authentic Ethiopian dishes with love, inspired by recipes handed down through generations." Woin Tegegn, Ethiopic Kitchen vegan caterers.
At this masterclass you will learn:
How to make soothing Ethiopian spiced tea to enjoy soon after your arrival, together with a popular snack made with roasted grains and seeds known as kolo
Learn to make lightly-fried, crispy Ethiopian lentil spring rolls as a mouth-watering starter; a twist on the traditional sambusa
Delve into creating authentic main course dishes: shiro wot, a spicy stew made with gram flour and alicha miser, a tasty lentil stew
Discover how to make delicious classic gomen (flavourful collard green cabbage) and spicy karya sinig (stuffed jalapeño peppers)
Enjoy your Ethiopian feast with traditional injera, the favourite sourdough-risen flatbread with a spongy texture (a traditional injera will be brought to the class after a 4 day process of making)

Round off your sumptuous meal with fresh exotic fruits and homemade refined sugar-free sweet treats
Relax with a sit down lunch in our beautiful venue with views across the common, and a chance to ask Woin your questions
Take-home recipe pack to enable you to make the recipes over and over again
About the chef
Woin is a chef with a specialism in authentic Ethiopian cuisine and veganising traditional dishes. Always a passionate cook, she left a career in IT to pursue her dream of becoming a full-time chef. She travelled extensively around Ethiopia to research the authentic recipes and ingredients of different regions before coming home and launching her catering company Ethiopic Kitchen and taking her sumptuous buffet-style feasts to clients such as Amnesty International. She teaches cookery at Migrateful and is a treasured community class teacher and masterclass teacher at Made In Hackney. She is also a busy mum of three.
Refunds/transfers: we require a minimum of 7 days' notice for any cancellations or transfers once you have booked onto a class to enable us to try to resell your ticket.
Note: Please understand our charity needs time to enable us to try to resell your tickets as we rely heavily on the income generated. You are also welcome to give your ticket to a friend or family member in case of last minute illness (just email classes@madeinhackney.org to let us know). If the workstation you require (single or double) is not available, please let us know as we may be able to accommodate.
Vouchers: To redeem a voucher purchased on our site, please contact us to book a place. If contacting us by email please attach your voucher. If telephoning, have your voucher to hand so you can quote the voucher number.
For information: classes@madeinhackney.org / 020 8442 4266 / WhatsApp message +44 07833685894