Online Cookery Class - Vegan Gyoza & Ramen Noodle Soup (7 day recording)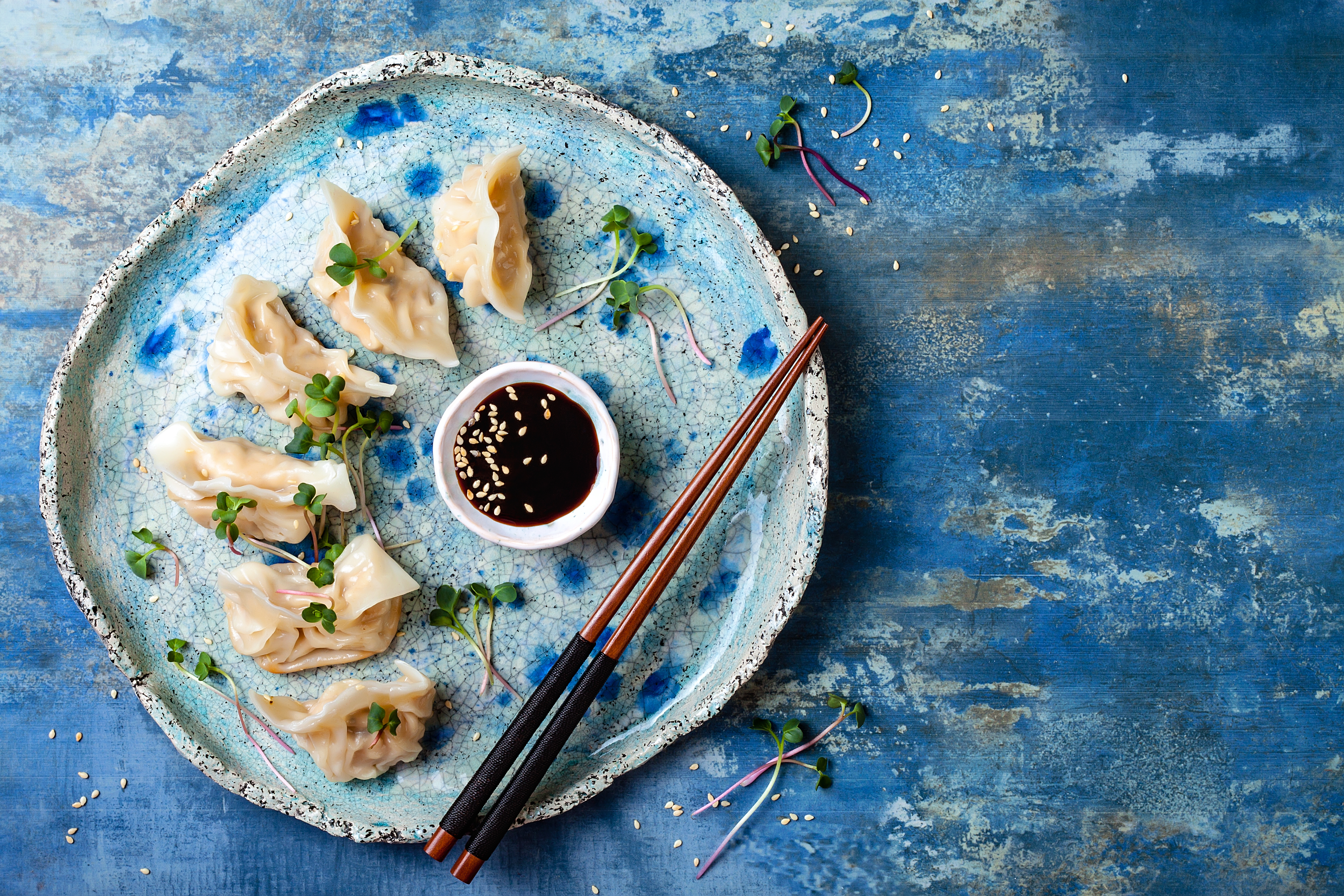 Date and Time
21/05/2021 6:00pm - 21/06/2021 8:00pm
Cost
Fee*: £15 Standard / £7.50 Concessions**/ £3 Unwaged
Location
Zoom, details to be provided via email. Check your junk mail if need be!
The Event
Join Kieumy Pham Thai, a plant-based certified cookery teacher and specialist in Asian oriental cooking, to learn how to make popular gyoza, dumplings filled with seasonal vegetables and packed full flavour to serve with a tasty bowl of ramen noodle soup..
This recording of a live interactive class will include
Making dough for dumplings from scratch
How to prepare a tasty filling using seasonal vegetables
Learn to pleat dumplings for a professional touch
How to prepare a tasty dipping sauce
Learn to cook dumplings to perfection
Make a tasty broth using just 2 ingredients
How to prepare the perfect noodles
Presentation skills
How to avoid food waste
Recipe handout
For ingredients and equipment needed see below
About Kieumy
Kieumy was born and raised in France by Vietnamese parents, and she lived in Asia for more than a decade. She trained at Ferrandi, a renowned cookery school in Paris, and later as a Natural Chef and Plant-Based Chef in London. Her style of cooking is strongly influenced by her French-Asian Oriental background and extensive travels. Kieumy is passionate about healthy seasonal food which is good for people and kind to the planet. She founded BOM (Beautiful Wholesome Meals), a social enterprise which employs and trains up refugee women, teaching people to make more conscious choices about the food they eat through sustainable culinary activities.
INGREDIENTS LIST
For the dough (approx 30 wrappers)
All purpose flour (approx10% protein) + some for dusting
125ml water, just boiled
1/2 teaspoon sea salt
For the filling
150g White cabbage
150g Carrots
100g tinned or frozen sweetcorn
20g Spring onions or chives (or otherwise red or white onions stir fried beforehand)
5 Dried Shiitake mushrooms (pre-soaked for 1 hour in hot water)
20g Fresh coriander
3 tablespoons soya sauce
4 tablespoons sesame oil, or more to taste
2 tablespoons grated ginger
(Kieumy suggests including some green in the filling for visual appeal - etiher spring onions, coriander or a little spinach)
For the dipping sauce:
4 tablespoons soy sauce
4 tablespoons apple cider vinegar
2 tablespoons sesame oil
2 teaspoons grated ginger
Toasted sesame seeds (optional)
Chopped red chilli (optional)
For the noodle soup:
Broth
700ml water
4 Dried shiitake mushroom (can be found in Chinese or Japanese stores)
1 or 2 pieces (of around 5cm square) Dried Kombu (can be found in Chinese or Japanese stores)
1/2 tablespoons Sake(optional)
2 teaspoons Mirin
2 tablespoons Toasted sesame oil
3 tablespoons Soy sauce
Teriyaki Tofu
200g of pressed extra firm tofu
Marinade:
1 tablespoon sesame oil
1 tablespoon soy sauce
½ tablespoon brown sugar
½ tablespoon water
Noodles
200g Ramen or Soba or Udon noodles
Toppings
Green vegetables blanched
1 Spring onion stalk
BEFORE THE CLASS / FOR THE FILLING:
SOAK THE DRIED MUSHROOMS (1 hour before with boiling water)
CHOP THE CARROTS AND CABBAGE THINLY OR USE A FOOD PROCESSOR
GRATE THE GINGER
EQUIPMENT LIST
Scale
Mixing bowls
Tea towel
Food processor (if possible)
Rolling pin
Cookie cutter or glass (8cm diameter)
Large non-stick frying pan with a matching lid
2 pots (broth and noodles)
Chopping board and sharp knife
Serving Bowl
Chopsticks
Fee*: £15 Standard / £7.50 Concessions**/ £3 Unwaged
*All funds raised go towards our community meal service providing free nutritious, tasty meals to households who need them during these challenging times.
**Concessionary rate available for students, pensioners and low waged
If you are able to donate to our crowdfunder please visit https://www.crowdfunder.co.uk/...
If you would like to be added to our FREE online community class mailing list - just drop a line to classes@madeinhackney.org. Please note that, in the interest of fairness, opportunities to attend free classes are limited.
Refunds: we require a minimum of 24 hours' notice for any cancellations or transfers once you have booked onto a class.
For information: classes@madeinhackney.org / 020 8442 4266
Location: Zoom, details to be provided via email (usually the day before the class). Check your junk mail if need be!
---