Live Online Cookery Class - Vegan Kimchi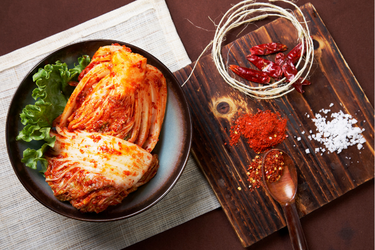 Date and Time
Thursday 11th January 2024
7:00pm - 9:00pm
Cost
Ticket £25 inclusive of VAT.
Location
The class will be held on Zoom. Zoom details will be provided before the class, together with your recipe card. If you have not received the reminder email by 4pm the day before the class please contact us at classes@madeinhackney.org or send a message on WhatsApp message +44 07833685894.
The Event
Kimchi is an iconic staple in Korean cuisine, with origins stretching back thousands of years. This fiery cousin of sauerkraut, with its fermented vegetables and spicy kick that keep its devotees coming back for more. Packed full of probiotics, its benefits go far beyond being delicious. A traditional Korean side dish, Kimchi has gained huge popularity internationally the past few years, and the appreciation and obsession for this probiotic jar of flavoursome crunch has captured the hearts and soothed the gut health of many.
This two hour class will provide everything you need to know about making kimchi; from the history of how it came to be, to the various methods and types depending on geography and family traditions.
Rebecca Ghim of The Ferm, who creates a wide range of fermented products by working to reduce food waste, will lead you through the process and put you on the path towards being a seasoned fermenter. You'll be led through a recipe to make a very special veganised umami version of traditional kimchi. With tips on where to get the perfect ingredients and a chance to ask Rebecca questions about anything and everything kimchi and kimjang (the annual event held to make large amounts of kimchi in preparation for the winter in South Korea), this is a class not to be missed.
This live online class will include:
Step by step guide on how to make traditional Korean kimchi
How to make a veganised version of traditional mak kimchi (similar to traditional kimchi but with chopped cabbage)
How to pre-salt different types of veggies perfectly for kimchi
How to ferment kimchi in different temperatures
How kimchi has changed throughout history
Opportunity to ask questions via the chat function
Recipe handouts provided to recreate the dishes again and again at home.
Learn how to make kimchi in time for Christmas, and make the perfect homemade present for your friends and family!
About the chef:
Rebecca Ghim is from Gwangju, where kimchi is famous even amongst Koreans. Known for strong southern flavours, Gwangju is the home of Kimchi Research Centre. Having learned the tips and secrets from the generations before her, Rebecca has participated in kimjang (the practice of a whole neighbourhood coming together to make kilos of kimchi together), since her childhood. Now she has her own vegan kimchi and pickle brand in London called The Ferm. She will be sharing her stories attached to the heritage of Korean fermentation and how she is spreading it through her brand. Rebecca's research in Korean food anthropology, archived preservation methods and low-waste generational insights, has informed her work and her approach to her fermented creations.
*
Have your ingredients ready, weighed out and chopped where necessary before the class starts to help you keep pace with the session and feel more relaxed. We also recommend printing out your handout or having it available to view on a separate device if possible.
INGREDIENTS LIST
Equipment:
2 Litre Jar
Chopping Board
Knife
Ingredients:
1 tablespoon rice
3-4cm carrot
1-2 spring onion or half of a leek
½ white onion
2-3 fresh big red chili
1-2cm ginger
1 bulb garlic
½ apple or pear or persimmon
3-4cm mooli radish (daikon, white radish)
A piece of dried kelp (seaweed) that's the size of a hand
4-5 dried shiitake mushrooms
5 tablespoon vegan fish sauce
4 tablespoon of plum sauce or sugar
7-10 tablespoon of gochugaru (amount depending on your spice level)
*
Refunds/transfers: we require a minimum of 14 days' notice for any cancellations or transfers once you have booked onto a class to enable us to try to resell your ticket.
Vouchers: To redeem a voucher purchased on our site, please contact us to book a place. If contacting us by email please attach your voucher. If telephoning, have your voucher to hand so you can quote the voucher number.
Note: This is a fundraising class and the proceeds help us fight hunger in our community. We run free community classes for people on low incomes, with health challenges or have other support needs. If you'd like to join this group email us classes@madeinhackney.org
For information: classes@madeinhackney.org / WhatsApp message +44 07833685894