Masterclass - Vegan Meats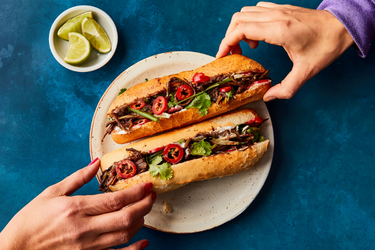 Date and Time
Saturday 27th May 2023
12:00pm - 4:00pm
Cost
Ticket £100 inclusive of VAT. £180 for 2 tickets purchased together. When you buy a Made In Hackney cookery class you enjoy an enriching culinary experience and help us fight hunger in our community.
Location
Made In Hackney, Liberty Hall (black & white building by the common), 128 Clapton Common, Spring Hill, Clapton, London, E5 9AA, UK
This a past event and is no longer avaliable.
Please see our calendar for upcoming events.
The Event
Would you like to be part of a community of cooks and chefs that know how to prepare a myriad of crowd pleasing vegan meat alternatives? Looking to elevate your repertoire and confidence in a professional kitchen creating ideas and recipes for your own vegan dishes? Have you been questioning the various processed vegan meat alternatives and want to learn how to choose the healthy and delicious possibilities? Wait no further!
The Vegan Meat Alternatives Masterclass - an extended version of a very successful workshop - will show you how to get the most out of plant-based alternatives to meat. You will learn how to create vegan dishes that are satisfying and captivating for vegans and those looking to add more plant-based choices to their diet. Through exploring nutritional facts, discovering how to create interesting texture, attain umami flavours, how to use your own creations in a variety of dishes and leave your dinner guests wowed at the possibilities.
This class is suitable for skilled chefs looking to add vegan alternatives to their knowledge base as well as novice and experienced home cooks interested in plant-based cooking. Network and build a community in a relaxed, bright and dynamic session led by Chef Vivianne and her breadth of foodie knowledge gained in professional kitchens and through her travels and curiosity for food and culture.
The class will include:
This class will give you the skills for cooking different types of vegan meats working with textures, colours and flavours that delight
Experience the joy of making vegan minced beef, chicken, fish & a bonus recipe: protein rich vegan omelette (that is great value for money and so easy to make)!
Learn how to bring the important umami flavour to your vegan feast!
Understand the importance of the nutritional value and how to work with textures to achieve the best vegan meats
Indulge yourself with a protein rich chocolatey dessert
Enjoy networking and creating relationships during an alfresco vegan lunch in our kitchen garden
Top off the experience with the stunning views across leafy Clapton Common as you cook and learn
This class will be a mixture of practical cooking, demos and time to ask questions. We are now returning to 'family style' cooking with everyone cooking and sharing workstations. This creates more of a communal and interactive experience, working together as a team. All ingredients and equipment needed for the class are provided.
About Vivianne Pontes
Food researcher Vivianne Pontes experiences food through many walks of life and adventures. She graduated with a Biochemistry and Molecular Biology degree which has developed and enriched her Food Science perspective. But through her travels and the exciting melting pot of foods in her native Brazil, she explored the intimate cultural foundations and many shared elements and overlays that form the basis of many dishes. She has written extensively about food and produced some pioneering content about aquafaba on the internet. Vivianne experienced the professional side of the food industry working as a head chef and consultant for pubs and restaurants in the UK. She never stops researching and experimenting with food & flavours. Lucky for us, she landed at Made in Hackney where she assists on the classes programme and sometimes pops in to run her own classes which have been hugely popular with our community. When asked where she got this deep love for food, she replied: "Because I am always hungry; for food, for knowledge, for sharing."
Vouchers: To redeem a voucher purchased on our website, please contact us via email: classes@madeinhackney.org.
Refunds/transfers: Please understand our charity needs time to resell your tickets as we rely heavily on the income generated by our fundraising classes. We require a minimum of 14 days' notice for any cancellations or transfers once you have booked onto a class.You are also welcome to give your ticket to a friend or family member in case of last minute illness (just email classes@madeinhackney.org to let us know).
Note: This is a fundraising class and the proceeds help us fight hunger in our community. At Made In Hackney we believe access to good food is a human right - not a privilege. If you would like to learn more about our work, please click here.
For information: classes@madeinhackney.org / 020 8442 4266 / WhatsApp message +44 07833685894