Online Cookery Class - Vegan Mexican Street Food (7 day recording)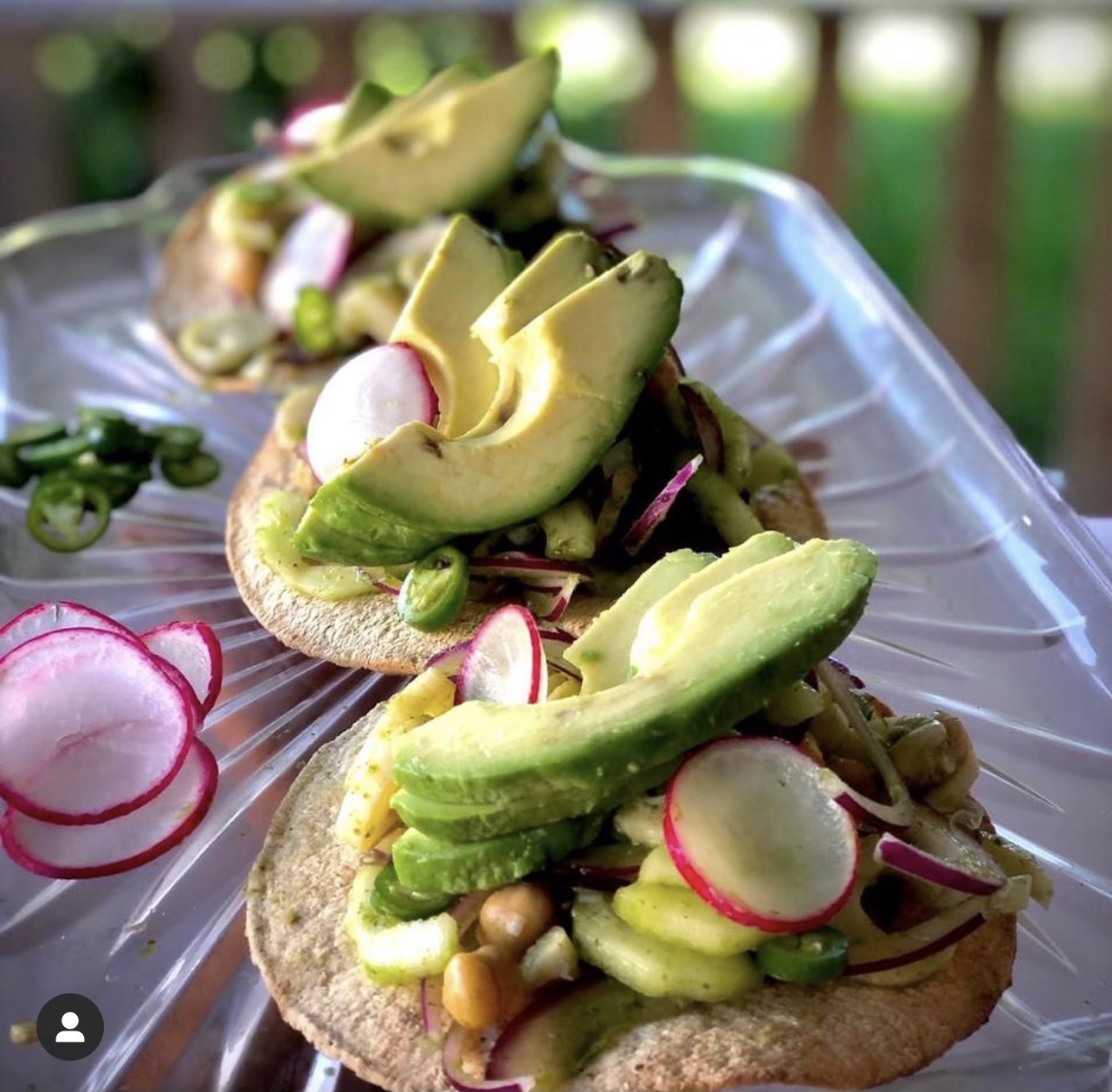 Date and Time
13/06/2021 6:00pm - 04/07/2021 8:00pm
Cost
Fee*: £15 Standard / £7.50 Concessions**/ £3 Unwaged
Location
Zoom, details to be provided via email. Check your junk mail if need be!
The Event
Join Eddie Garza, a plant-based chef, cookbook author, and American media personality, to learn how to make vegan versions of traditional dishes from Mexico. This class will be completely soy-free and gluten-free.
The class will include:
Learn how to make Northern Mexico-style Choriqueso (a stretchy cheese dip topped with chorizo) using nuts and chickpeas as the base
Learn how to make Puebla-style Tacos al Pastor with wild mushrooms and all the classic toppings
Learn how to make a Sinaloa-style Aguachile (a spicy green ceviche) with palm hearts and chickpeas
Plating and pairing suggestions
Opportunity to ask Eddie questions
Recipe handout
For ingredients and equipment needed see below
About Eddie
Eddie Garza is a plant-based chef, cookbook author, and star of the show "Global Bites with Eddie Garza" on OZ Tube. Eddie and his work have been featured by a wide variety of media outlets in the United States and abroad, including CNN, ¡HOLA! TV, The Washington Post, People, Telemundo, Univision, Travel + Leisure Mexico, TV Azteca (Mexico), Canal Nuestra Tele (Colombia), TV Venezuela, GoTV (Honduras), El Tiempo and El Colombiano (Colombia), Daily Mail (UK), and many more.

Eddie has cooked for a host of plant-powered stars in the television, film and music industries, including television host and model Daisy Fuentes, singer-songwriters Richard Marx and Rob Thomas, Latin American television personalities Marco Antonio Regil, Ximena Córdoba and Catalina Robayo, actors Kate Mara, Jamie Bell, Cybill Shepherd, Maria Conchita Alonso, Daniella Monet, among others.

Eddie grew up in the Mexican-American border town of Brownsville, Texas, a region plagued by childhood obesity, diabetes, and heart disease. Like many of his childhood peers, Eddie struggled with serious weight problems from an early age, maxing out at 310 pounds by the time he was 21 years old. It was when he transitioned to a plant-centric diet that Eddie was able to naturally lose over 150 pounds and reverse his declining health.

Eddie's latest book, The 30-Day Vegan Meal Plan for Beginners (Rockridge Press, 2021), features 100 globally-inspired recipes and a detailed, dietitian-curated meal plan to help new vegans succeed in their plant-based journey.

Eddie is a sought-after speaker, culinary coach, and thought leader on issues related to plant-based health. He has lectured and presented at top universities, culinary schools, and major conferences in the US and Latin America, including South by Southwest in Austin, Expo en Verde Ser in Mexico City, and the Nexus Summit in Washington, D.C.
INGREDIENTS LIST
Chickpea and Cashew Choriqueso (Tamaulipas, Mexico)
For the chickpea chorizo
1½ tablespoons sesame oil
½ white or yellow onion, finely chopped
4 cloves garlic, minced
2½ tablespoons sundried tomatoes, finely diced
½ teaspoon cumin powder
¼ teaspoon dried thyme
½ teaspoon dried oregano
¼ teaspoon black pepper
¼ teaspoon ground cinnamon
⅛ teaspoon ground cloves
1 teaspoon coriander powder
½ teaspoon smoked paprika
½ teaspoon chipotle powder
1½ cups cooked chickpeas, drained, rinsed, and chopped in a food processor
1 teaspoon tamari sauce
2 teaspoons apple cider vinegar
For the cheese dip
½ cup raw cashews, soaked for 20 minutes in hot water
1 cup water
½ tablespoon nutritional yeast
1 teaspoon apple cider vinegar
½ teaspoon salt
½ teaspoon garlic powder
½ teaspoon mustard powder
3 teaspoons tapioca starch (or use corn flour/starch or arrowroot)
¼ teaspoon black pepper
Mushroom Tacos al Pastor (Puebla, Mexico)
For the marinade
2 cups fresh pineapple, peeled and cut into cubes
3 chipotle peppers in adobo
¼ cup fresh lime juice (approx 2 large limes)
3 cloves garlic
½ white or yellow onion, rough chopped
1 teaspoon dried oregano
1 teaspoon black pepper
1½ teaspoon achiote paste (for those unable to find achiote paste, this is a wonderful alternative)
1 teaspoon cumin powder
¼ teaspoon salt
For the tacos
2 tablespoons sesame oil
1 pound oyster mushrooms, removed separated from clusters
12-15 corn tortillas
For garnish
2 cups fresh pineapple, diced small
½ red onion, finely diced
¼ cup cilantro, chopped
Palm Heart and Chickpea (Sinaloa, Mexico)
For the marinade
2 jalapeños, seeded (any spicy green Indian pepper will work, such as the rocket chili and finger chili)
1 clove garlic
1 bunch cilantro
1 cup fresh lime juice
Salt to taste
Black pepper to taste
For the aguachile
1/2 small red onion, julienned
1 medium cucumber, peeled, seeded, and sliced
1½ cups palm hearts (or you can use mushrooms such as shiitake or oyster mushrooms)
1½ cups cooked chickpeas, drained and rinsed
For garnish
1 avocado, cut into thin wedges
1 Serrano pepper or jalapeño, thinly sliced
2-3 radishes, thinly sliced (or you can use turnips, parsnips or carrots)
EQUIPMENT LIST
1 high speed blender
1 food processor (optional)
2 medium nonstick pans
1 large nonstick pan
1 medium saucepan
Large and medium mixing bowls
Spoons and spatulas
Chopping board and knives
Small bowls for the dipping sauce
Serving plates and bowls
Fee*: £15 Standard / £7.50 Concessions**/ £3 Unwaged
*All funds raised go towards our community meal service providing free nutritious, tasty meals to households who need them during these challenging times.
**Concessionary rate available for students, pensioners and low waged
If you are able to donate to our crowdfunder please visit https://www.crowdfunder.co.uk/...
If you would like to be added to our FREE online community class mailing list - just drop a line to classes@madeinhackney.org. Please note that, in the interest of fairness, opportunities to attend free classes are limited.
Refunds: we require a minimum of 24 hours' notice for any cancellations or transfers once you have booked onto a class.
For information: classes@madeinhackney.org / 020 8442 4266

Location: Zoom, details to be provided via email (usually the day before the class). Check your junk mail if need be!
---