Masterclass - Vegan Middle Eastern Brunch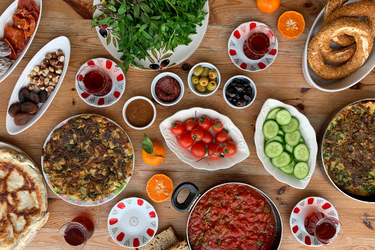 Date and Time
Saturday 25th March 2023
10:00am - 2:30pm
Cost
Ticket £100 inclusive of VAT. £180 for 2 tickets purchased together. When you buy a Made In Hackney cookery class you enjoy an enriching culinary experience and help us fight hunger in our community.
Location
Made In Hackney, Liberty Hall (black & white building by the common), 128 Clapton Common, Spring Hill, Clapton, London, E5 9AA, UK
The Event
Let's celebrate brunch! Join Emel Ernalbant, trained at the Vegan Chef School, in this hands-on class, and get ready for a delectable feast with Armenian, Arabic, Syriac and Kurdish influences, finishing with a good cup of strong black tea. Vegan Middle Eastern Brunch, is a brilliant Masterclass, offered in person at Made in Hackney headquarters.
At this masterclass you will:
Learn how to make a vegan Shakshuka, a popular Middle Eastern breakfast dish since the Ottoman Empire
Learn how to make Gözleme, the mouth-watering Turkish flatbread that dazzled the London street food scene
How to make Bean Tava, a wholesome and fresh Turkish stew of cooked beans to enjoy with warm Simit (the traditional and delicious circular bread, encrusted with sesame seeds)
Learn to cook a nutritious and gluten free herb omelette with gram flour
Create flavourful spreads like Çemen, made with tomato and pepper paste, crushed walnuts, olive oil and oregano
Enjoy a delicious organic plant-based brunch with olives, tomato & cucumber salad served with black or herbal tea
Learn how to prepare a beautiful Middle Eastern brunch table, from food styling to capturing the perfect photo of your delicious meal on your phone
Receive easy-to-follow recipe sheets provided to recreate these recipes again and again at home
This brilliant, organic, plant-based brunch will be a day to remember and you will be able to enjoy these flavours at home many times to come.
About the chef, Emel Ernalbant:
Emel is an Istanbul-born food and travel photographer who completed her vegan chef training in The Vegan Chef School. She wrote her first book '50 Maddede Veganlık' with Hazal Yılmaz, published in Turkey. Emel has worked with refugee and local children at the Syrian border of Turkey, teaching analogue photography. She also has an allotment and is a very busy vegan permaculture grower. Her dream is to build a plant-based community kitchen in the border city Mardin in the South East of Turkey, and introduce plant-based food and growing vegetables to young generations.
Vouchers: To redeem a voucher purchased on our website, please contact us via email: classes@madeinhackney.org.
Refunds/transfers: Please understand our charity needs time to resell your tickets as we rely heavily on the income generated by our fundraising classes. We require a minimum of 7 days' notice for any cancellations or transfers once you have booked onto a class.You are also welcome to give your ticket to a friend or family member in case of last minute illness (just email classes@madeinhackney.org to let us know).
Note: This is a fundraising class and the proceeds help us fight hunger in our community. At Made In Hackney we believe access to good food is a human right - not a privilege. If you would like to learn more about our work, please click here.
For information: classes@madeinhackney.org / 020 8442 4266 / WhatsApp message +44 07833685894