Online Cookery Class - Vegan Mughlai Fusion Cuisine (7 day recording)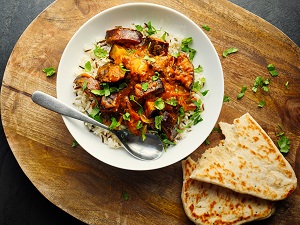 Date and Time
Monday 10th May 2021
6:00pm - 8:00pm
Cost
Fee*: £15 Standard / £7.50 Concessions**/ £3 Unwaged
Location
Zoom, details to be provided via email. Check your junk mail if need be!
This a past event and is no longer avaliable.
Please see our calendar for upcoming events.
The Event
Nishma Shah of award-winning vegan educators & caterers Shambhu's, will teach you how to make a healthy version of a Mughlai-style meal. This richly-spiced cuisine was developed in the medieval Indo-Persian cultural centres of the Mughal Empire, and was originally eaten only by the elite classes as spices were so valuable at the time.
This recording of a live class will include:
How to make a delectable creamy aubergine curry
Techniques for making tasty naan bread from scratch
Learn to make homemade vegan yoghurt and lassi, a fermented protein drink
How to make a healthier version of a delicious sweet treat, carrot halwa, without using any oil
Opportunity to ask Nishma questions
Recipe handout
For ingredients and equipment needed see below
About Nishma
Nishma Shah is founder and chef of award-winning London-based plant-based food business, Shambhu's. She provides plant-based catering and teaches plant-based cookery in a number of settings. She has been a masterclass teacher for Made In Hackney for a number of years, with her most popular class being Gujarati Cuisine.
INGREDIENTS LIST
300 grams aubergine (i.e. 1 aubergine)
Tin of tomatoes
100 grams onions
10 grams ginger
1 clove garlic
5 grams jaggery
2 teaspoons achhaar mix (pickle spice) - you can buy this from Indian grocery stores or make from scratch using instructions on this link: https://www.whiskaffair.com/achari-masala. It can be optional if you cannot find it.
1 tablespoon rapeseed oil
1 teaspoon cumin seeds
5 fenugreek seeds
1 teaspoon coriander powder
½ teaspoon turmeric
½ teaspoon mango powder (optional)
Sea salt to taste
100 millilitres vegan cream
3 stalks/sprigs fresh coriander leaves (optional)
EQUIPMENT LIST
Chopping board
Scales
Mixing bowl
Knife
Peeler
1 saucepan
1 frying pan
1 milk pan
Measuring jug
Measuring spoons
Box grater
Rolling pin
Pestle and mortar or spice grinder
Cereal bag
Whisk
Cereal bowl
Food thermometer (optional)
Stirring spoons
Spatula
Clean tea towel
Pastry brush
Glass, plate & bowl to serve
Fee*: £15 Standard / £7.50 Concessions**/ £3 Unwaged
*All funds raised go towards our community meal service providing free nutritious, tasty meals to households who need them during these challenging times.
**Concessionary rate available for students, pensioners and low waged
If you are able to donate to our crowdfunder please visit https://www.crowdfunder.co.uk/...
If you would like to be added to our FREE online community class mailing list - just drop a line to classes@madeinhackney.org. Please note that, in the interest of fairness, opportunities to attend free classes are limited.
Refunds: we require a minimum of 24 hours' notice for any cancellations or transfers once you have booked onto a class.
For information: classes@madeinhackney.org / 020 8442 4266

Location: Zoom, details to be provided via email (usually the day before the class). Check your junk mail if need be!
---