Masterclass - Vegan Punjabi Classics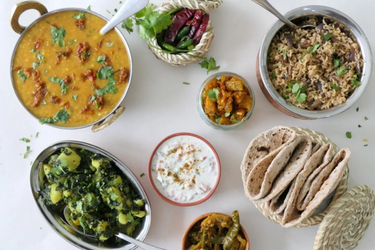 Date and Time
Saturday 11th June 2022
11:00am - 3:30pm
Cost
Single workstation: £125 / Double workstation: £230 inclusive of VAT. All proceeds help fund our community meal service which continues to provide free nutritious, tasty meals to households struggling to access food
Location
Made In Hackney, Liberty Hall (black & white building by the common), 128 Clapton Common, Spring Hill, Clapton, London, E5 9AA, UK
The Event
Chef, professional caterer and nutritonal therapist Amandeep will teach you how to make a delicious spread of Punjabi classics, including authentic recipes that have been passed down in her family, sharing plenty of tips and tricks for cooking Punjabi style along the way..
This masterclass will include:
How to master a classic Punjabi tarka (tempering spices to form the base of many Punjabi dishes)
Tips and tricks for how to use tarka for many versatile Punjabi subzis (curries)
How to make a tasty tarka daal, a lentil based curry with lots of warming spices
How to make ghiya subzi , a curry using the vegetable bottle gourd
Techniques for making plain pronte (parathas) and roti (chapatis)
A plant based spin on the traditional cucumber and tomato raita (Indian yoghurt)
Secrets to mastering jeera rice (cumin spiced rice) using wholesome brown basmati
How to make your own achaar (Indian pickle) made with fresh lemon, green chilli, ginger and spices which you can bottle up and take home!
Lots of family stories on the history of the dishes, and the opportunity to ask Aman your questions
Homemade chai on arrival and a delicious organic plant-based lunch
Easy-to-follow recipe pack provided to recreate the dishes again and again at home
Note - to take your achaar home, you will need to bring a large glass jar with a lid to the class.
About the chef: Amandeep Verdding
From a young age, influenced by her Punjabi mother's knowledge of Ayurveda, Amandeep has been interested in the healing properties of food. She is a qualified nutritional therapist and set up her own catering company, Biba Kitchen. 'Biba' translates from Punjabi as decent and honest – the key ingredients you'll find in her kitchen and food. Amandeep also works as a freelance chef, preparing food for supper clubs and events and creating menus for cafes.
Image credit: Aman & Sandeep of www.thenourishkitchen.com
Refunds/transfers: we require a minimum of 7 days' notice for any cancellations or transfers once you have booked onto a class to enable us to try to resell your ticket.
Note: Please understand our charity needs time to enable us to try to resell your tickets as we rely heavily on the income generated. You are also welcome to give your ticket to a friend or family member in case of last minute illness (just email classes@madeinhackney.org to let us know). If the workstation you require (single or double) is not available, please let us know as we may be able to accommodate.
Vouchers: To redeem a voucher purchased on our site, please contact us to book a place. If contacting us by email please attach your voucher. If telephoning, have your voucher to hand so you can quote the voucher number.
For information: classes@madeinhackney.org / 020 8442 4266 / WhatsApp message +44 07833685894