Masterclass - Vegan Southern Indian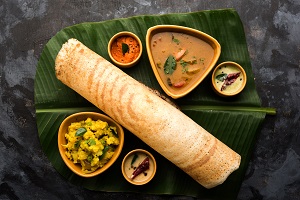 Date and Time
Saturday 5th March 2022
12:00pm - 4:30pm
Cost
Single workstation: £125 / Double workstation: £230 inclusive of VAT. All proceeds help fund our community meal service which continues to provide free nutritious, tasty meals to households struggling to access food.
Location
Made In Hackney, Liberty Hall (black & white building by the common), 128 Clapton Common, Spring Hill, Clapton, London, E5 9AA, UK
This a past event and is no longer avaliable.
Please see our calendar for upcoming events.
The Event
Nishma Shah of award-winning vegan educators & caterers Shambhu's will teach you how to make a healthy and delicious South Indian dosa meal - which happens to be gluten-free - and show you how to include a mix of highly nutritious and delicious pulses in your diet...

The class will include:
How to make a versatile wholesome split pigeon pea sambhar, also known as daal which can be batch cooked
How to flavour the sambhar using a combination of particular spices to enjoy as a hearty soup or with masala dosa or otherwise with rice to create a Gujarati dish
How to make a thin dosa using a fermented red rice and split urid bean batter.
How to make the classic potato-based masala for a masala dosa
How to make some delicious chutneys & dips: mint raita, coconut chutney and onion & tomato chutney
How to make the universal favourite: onion bhajia, but healthier baked versions which do no compromise the awesome taste
Opportunity to ask Nishma questions
A delicious organic plant based lunch
Recipe pack
About the chef: Nishma Shah
Nishma Shah is founder and chef of award-winning ethically-conscious London-based plant-based food business, Shambhu's. She provides plant-based catering and teaches plant-based cookery in a number of settings, drawing from her Indian and Kenyan culinary roots with the aim of showing how delicious, varied and nutritious plant-based food can be. She has been a masterclass teacher for Made In Hackney for over 5 years and has also taught plant-based cookery for many other organisations, both in the UK and abroad.
Fee:
All proceeds from our masterclasses help fund our community meal service which has become a critical food support service delivering 70,000 free nutritious, tasty meals per year to households struggling to access food, and is needed now more than ever by our community.
Single workstation: £125
Double workstation (share with someone from your household/ social bubble): £230
Prices include VAT
Note On Ticket Price Change
Apologies we have had to pause offering a concession rate for our paying in-person cookery classes. Due to the pandemic we cannot fit as many people in the kitchen which means classes generate less vital revenue needed to keep the charity going.
Refunds/transfers: we require a minimum of 7 days' notice for any cancellations or transfers once you have booked onto a class to enable us to try to resell your ticket.
Please understand our charity needs time to enable us to try to resell your tickets as we rely heavily on the income generated. You are also welcome to give your ticket to a friend or family member in case of last minute illness (just email classes@madeinhackney.org to let us know).
Vouchers: To redeem a voucher purchased on our site, please contact us to book a place. If contacting us by email please attach your voucher. If telephoning, have your voucher to hand so you can quote the voucher number.
For information: classes@madeinhackney.org / 020 8442 4266
Location: Made In Hackney, Liberty Hall*, 128 Clapton Common, Spring Hill, Clapton, London, E5 9AA, UK
*Liberty Hall is a black and white village hall building with a gable roof at the top of Spring Hill, just by the common
COVID-19 SAFETY
You will have your own set of equipment at your own workstation and our venue is well-ventilated.