Live Online Cookery Class - Vegan Vietnamese Street Food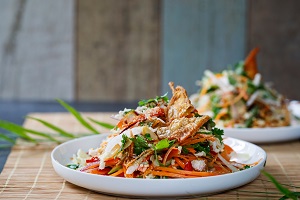 Date and Time
Wednesday 19th January 2022
6:00pm - 8:00pm
Cost
Fee*: £20 (£10 Concessions**/ £5 Unwaged) All proceeds help fund our community meal service which continues to provide free nutritious, tasty meals to households struggling to access food
Location
Zoom, details to be provided via email (usually the day before the class). Check your junk mail if need be!
The Event
Join Kieumy Pham Thai, plant based certified cookery teacher and specialist in Asian cooking, to learn how to prepare healthy authentic Vietnamese street food dishes...
The class will include:
Learning to make Banh Cuon, a delicate steamed rice roll and a Vietnamese Street Food classic
How to prepare Nuoc Cham, the famous Vietnamese dipping sauce
How to prepare a simple yet tasty plant based filling
How to achieve a soft and translucent wrapper with no special equipment
Learn to make Goi Chay, Vietnamese Slaw using tofu
How to prepare tofu for maximum flavour
How to balance sweet, sour and salty flavours
Presentation skills
Opportunity to ask Kieumy questions
Recipe handout
If you live in local surplus organisation Streetbox's delivery area you can get your veggies and some extra goodies delivered for free! More info below*
About Kieumy
Kieumy was born and raised in France by Vietnamese parents, and she lived in Asia for more than a decade. She trained at Ferrandi, a renowned cookery school in Paris, and later as a Natural Chef and Plant-Based Chef in London. Her style of cooking is strongly influenced by her French-Asian Oriental background and extensive travels. Kieumy is passionate about healthy seasonal food which is good for people and kind to the planet. She founded BOM (Beautiful Wholesome Meals), a social enterprise which employs and trains up refugee women, teaching people to make more conscious choices about the food they eat through sustainable culinary activities.
*GET YOUR VEGGIES DELIVERED FOR FREE
If you live in local surplus organisation Streetbox's delivery postcodes listed below and book by 5pm the Wed before the class using the promo code 'STREETBOX' you can get your veggies and some extra goodies delivered for free. You will be prompted to supply your full address when booking your ticket.Please note you will need to source all other ingredients yourself.
You must live in Streetbox's delivery postcodes: EC1, EC2, E1, E2, E3, E5, E8, E9, E10, E11, E15, E17, E18, E20, EN4, N1, N2, N3, N4, N5, N6, N7, N8, N9, N10, N11, N12, N13, N14, N15, N16, N17, N18, N19, N20, N21, N22, NW1, NW3, NW5
For ingredients and equipment needed see below
INGREDIENTS LIST
VIETNAMESE SLAW WITH STIR FRIED MARINATED TOFU
For 2 people (main course)
SALAD
¼ white cabbage
2 small carrots (or 1 large) shredded
3 large slices of root ginger
1 teaspoon sea salt
15g of coriander
15g of mint leaves
2 tablespoons fried shallots (ready to use - sold in Chinese supermarkets or homemade)
2 tablespoons crushed roasted peanuts
RED ONIONS
½ red onion sliced thinly
4 tbsp apple cider vinegar
1.5 tablespoons maple syrup
1 teaspoon sea salt
DRESSING
4 tablespoons lime juice
3 tablespoons fish sauce or soy sauce
2.5 tablespoons maple syrup
3 tablespoons water
2 garlic cloves minced
1 teaspoon fresh red chilli deseeded and thinly chopped
STIR-FRIED MARINATED TOFU (toofoo brand in Waitrose or Sainsbury or extra firm tofu)
200g of extra-firm tofu
2 teaspoon tamari or soy sauce
2cm piece root ginger , peeled and finely chopped or grated
1 garlic clove , finely chopped
2 tablespoons lemon or lime juice
BEFORE THE CLASS
Wash all fresh vegetables
Peel carrots, remove both ends and set aside, cut the carrots in julienne
Slice the cabbage leaves thinly, ideally using a mandolin
Wash, dry the aromatic herbs and remove the mint leaves from the stem
BANH CUON
INGREDIENTS FOR 15 BANH CUON
BATTER
1.5 cups of Potato Starch (bought in Chinese/South East Asian shops)
0.5 cup of Rice Flour (also can be found in oriental shops)
4 cups of water
1/2 tsp of sea salt
1 tablespoon of rapeseed oil
GARNISHING
400 g sprouted mung beans
50 g fried shallots (sold in Asian shops)
Cucumber sliced in julienne
FILLING
15 g dried black mushrooms soaked in water for 30 mins
200g shredded carrots
100g chestnut mushrooms
3 small shallots, chopped thinly
2 spring onions, chopped thinly
2.5 tablespoon soy sauce
½ tablespoon maple syrup
¼ teaspoon black pepper
DIPPING SAUCE (sweet and sour)
3 tablespoons soy sauce sauce / 2 tablespoon maple syrup / 3 tablespoon lemon juice / 6 tablespoon water / 1 minced garlic clove
EQUIPMENT LIST
Mixing bowls
Knives
Mandolin (or use a good knife)
Large plates
Brush
Non stick pan with a lid
Spoons
Ladle
Chopping board (to be covered with aluminium foil later in the class)
Fee*: £20 Standard / £10 Concessions**/ £5 Unwaged
*All proceeds help fund our community meal service which has become a critical food support service delivering 70,000 free nutritious, tasty meals per year to households struggling to access food, and is needed now more than ever by our community.
**Concessionary rate available for students, pensioners and low waged
Thank you for supporting our fundraising programme. We hope you might also consider making a donation to our crowdfunder 'No one goes hungry 2022' to help secure our Community Meal Service so we can provide meals to households in Hackney who need support with food.
https://www.crowdfunder.co.uk/noonegoeshungry2022/backers#start
If you would like to be added to our FREE online community class mailing list - just drop a line to classes@madeinhackney.org. Please note that, in the interest of fairness, opportunities to attend free classes are limited.
Refunds: we require a minimum of 7 days' notice for any cancellations or transfers once you have booked onto a class.
For information: classes@madeinhackney.org / 020 8442 4266
Location: The class will be held on Zoom. Details will be provided in your booking confirmation email and in a reminder email the day before the class. If you have not received the reminder email by 4pm the day before the class please contact us at classes@madeinhackney.org. Do check your junk mail first!
---