Live Online Cookery Class - Veganuary African Calabash Bowl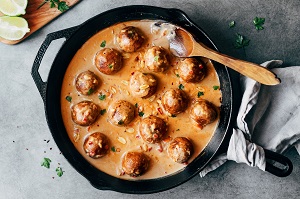 Date and Time
Thursday 21st January 2021
6:30pm - 8:30pm
Cost
Fee*: £20 Standard / £10 Concessions**/ £5 Unwaged All funds raised go towards our community meal service providing free nutritious, tasty meals to households who need them during these challenging times.
Location
Zoom, details to be provided via email (usually the day before the class). Check your junk mail if need be!
This a past event and is no longer avaliable.
Please see our calendar for upcoming events.
The Event
Join the incredible plant based chef Bettylicious live, all the way from her family home in Sierra Leone to learn how to create a nourishing plant based feast: an African calabash bowl, comprised of 5 dishes you'll want to enjoy over and over again!..
The class will include:
Learn to make a hearty 'Salone' groundnut soup - a West African specialty, Sierra Leone style
Make protein-packed balls to enjoy in your soup using fonio, an ancient West African grain similar to quinoa
How to make tasty binch, black eyed peas in a rich and flavoursome and tomato stew - eating these are considered a sign of prosperity and good luck for the year ahead
Learn how to make delicious classic Ghanaian-style Kelewele, spicy fried plantains
Make nourishing steamed sweet potato leaves as a side dish
Learn about the ancient grains and pulses of Sierra Leone
How to create wholesome and nutritious plant based African dishes
A chance to ask Betty questions
Recipe handout
For ingredients & equipment see below
About Betty
Betty Vandy, owner of Bettylicious Cooks has been travelling across West Africa; Ghana, Liberia, Ivory Coast and Sierra Leone for the past 8 months exploring Food, Farming and African people keeping the rich West African culinary legacy alive. A graduate in Hospitality Management and a plant based chef with an interest in West African plant based ingredients and cooking, Betty's interest was driven by personal health issues, which she overcame through a change in her eating habits, as well as the lack of African food representation in mainstream media and culinary platforms.
Bettylicious Cooks provides street food stalls at festivals and carnivals, corporate and private events. Betty also runs cooking classes to empower people within diverse communities to learn to cook wholesome and nutritious African food. She has a witty yet serious podcast; Plantain and Politics, a reflection of her passion for plant based food and representation. Betty is also part of the team behind the UK Vegans of Colour event, the first of its kind which successfully launched in 2019.
Stunning image credit: Full of Plants blog
INGREDIENTS LIST:
Salone Groundnut Soup (serves 3-4)
1 tablespoon smooth peanut butter (no added sugar)
200g chopped tomato (or you can used tinned tomatos)
2 teaspoon tomato paste
½ teaspoon cinnamon
1 scotch bonnet
1 sweet red pepper
1 medium sized onion
1/2 teaspoon salt
Black eyed peas (serves 3-4)
450g cooked Black eyed peas
3 large fresh tomatoes or 350 grams tinned chopped tomatoes
50g tomato puree
1 red habanero pepper (scotch bonnet)
1 large onion (1/2 finely sliced, 1/2 roughly chopped)
1/2 cup African palm oil or sunflower oil
1 teaspoon smoked paprika
¼ teaspoon sweet cinnamon
1 teaspoon Curry powder (mild/medium heat)
1 vegetable stock cube
1 teaspoon sea salt
Rita's Kelewele (serves 3-4)
2 medium sized plantains
1 piece of fresh ginger (thumb size, finely crushed)
1 clove of fresh garlic (finely crushed)
1 teaspoon sea salt
1 teaspoon freshly ground nutmeg
1 teaspoon freshly ground chilli
1 teaspoon ground turmeric
1 tablespoon water
1 cup Sunflower oil
Steamed sweet potato leaves (serves 3-4)
1 large bunch sweet potato leaves or 150g Spinach leaves
1/2 tablespoon sunflower or sesame oil
1 tablespoon tamari or soy sauce
2 Spring onions stalks
1 tablespoon red wine vinegar
1⁄2 teaspoon salt
1 clove of garlic
1 tablespoon water
Fonio balls (serves 3-4)
1 cup fonio (or you can use millet if you can't find fonio)
2 – 3 cups of water
¼ teaspoon salt
1 large potato (peeled and boiled)
1 small onion (finely diced)
1 clove of garlic
2 teaspoon cumin
1 teaspoon smoked paprika
1/2 teaspoon cinnamon
1/2 teaspoon cayenne pepper
2 tablespoon tomato puree
1/4 teaspoon salt
EQUIPMENT LIST:
Medium sized saucepan
Blender
Sharp knife
Wooden spoon
Chopping board
Frying pan
Fork
Medium sized bowl
Pestle and mortar
Slotted turner
A large plate lined with a sheet of paper towel
Chopping board
Mixing bowl
Desert spoon
Food processor
Pestle and mortar
Fee*: £20 Standard / £10 Concessions**/ £5 Unwaged
*All funds raised go towards our community meal service providing free nutritious, tasty meals to households who need them during these challenging times.
**Concessionary rate available for students, pensioners and low waged
If you are able to donate to our community meal service crowdfunder please visit https://www.crowdfunder.co.uk/...
If you would like to be added to our FREE online community class mailing list - just drop a line to classes@madeinhackney.org. Please note that, in the interest of fairness, opportunities to attend free classes are limited.
Refunds: we require a minimum of 24 hours' notice for any cancellations or transfers once you have booked onto a class.
---