Live Online Cookery Class - Vegan Indian Brunch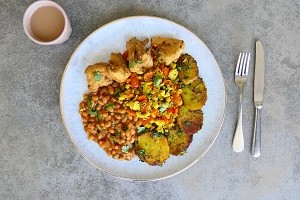 Date and Time
Saturday 26th February 2022
10:00am - 12:00pm
Cost
Fee*: £20 (£10 Concessions**/ £5 Unwaged) All proceeds help fund our community meal service which continues to provide free nutritious, tasty meals to households struggling to access food.
Location
The class will be held on Zoom. Zoom details will be provided in your booking confirmation email and in a reminder the day before the class, together with your recipe handout, in an email titled 'REMINDER & IMPORTANT INFO: Your Made In Hackney online class'.
If you have not received the reminder email by 4pm the day before the class please contact us at classes@madeinhackney.org. Do check your junk mail first!
This a past event and is no longer avaliable.
Please see our calendar for upcoming events.
The Event
Husband & wife duo and passionate cooks, Sandeep and Arvinder of @wearetnk will show you how to make an Indian brunch bursting with flavour, sharing plenty of tips and tricks for cooking with a range of Indian spices...
This class will include:
How to make Bombay aloo (spicy potatoes), delicately flavoured with mustard seeds
Learn to make the perfect tofu scramble with a few fiery notes
Give your baked beans a makeover by learning to make healthier masala beans
How to make wonderfully warming and health-boosting masala chai
Opportunity to ask Aman and Sandeep questions
Recipe handout
If you live in the delivery area for local surplus organisation Streetbox you can get your veggie ingredients and some extras delivered for free! Scroll down for more details*
For ingredients and equipment needed see below
About the chefs: Sandeep and Arvinder
Sandeep and Arvinder are the mum and dad of family-run Indian cookery school The Nourish Kitchen. By cooking with them you can not only expect flavour packed authentic recipes, but also the stories behind the recipes that have been passed down the generations of their family!
You can find these passionate cooks on Instagram: @wearetnk
*GET YOUR VEGGIES DELIVERED FOR FREE
If you live in local surplus organisation Streetbox's delivery postcodes listed below and book by 5pm the Wed before the class, you can get your veggies and some extra veggie goodies delivered for free. You will need to book using the promo code 'STREETBOX' on the Billetto booking page and you will be prompted to supply your full address, contact number and a safe place when booking your ticket. Please note you will need to source all other ingredients yourself.
You must live in Streetbox's delivery postcodes: EC1, EC2, E1, E2, E3, E5, E8, E9, E10, E11, E15, E17, E18, E20, EN4, N1, N2, N3, N4, N5, N6, N7, N8, N9, N10, N11, N12, N13, N14, N15, N16, N17, N18, N19, N20, N21, N22, NW1, NW3, NW5
Fee*: £20 Standard / £10 Concessions**/ £5 Unwaged
*All proceeds help fund our community meal service which has become a critical food support service delivering 70,000 free nutritious, tasty meals per year to households struggling to access food, and is needed now more than ever by our community. By supporting our fundraising programme you have an opportunity to learn new skills, support a worthy cause, and enjoy delicious food!
**Concessionary rates available for students, pensioners and low waged
Refunds: we require a minimum of 7 days' notice for any cancellations or transfers once you have booked onto a class.
For information: classes@madeinhackney.org / 020 8442 4266
INGREDIENTS LIST
Have your ingredients ready, weighed out and chopped where necessary before the class starts to help you keep pace with the session and feel more relaxed.
We also recommend printing out your handout or having it available to view on a separate device if possible.
Masala chai (serves 2)
2 black English tea bags
100-150 ml oat milk
2 mugs boiling water
2 cardamom pods
1 teaspoon fennel seeds
Sugar or maple syrup to sweeten to taste
Tofu scramble (serves 2)
1 medium bell pepper - we love red ones!
150g plain tofu block (we recommend the brand Tofoo as it is already drained and pressed)
1/2 fresh green chilli
1/2 medium white onion
1 handful coriander leaves
1 teaspoon salt
1 teaspoon turmeric powder
6-8 cashew nuts - optional
2 tablespoon preferred cooking oil (eg vegetable, rapeseed)
Bombay aloo (serves 2)
2 medium sized potatoes
1 teaspoon mustard seeds
1 teaspoon cumin seeds
1 teaspoon salt
1 teaspoon turmeric powder
1 teaspoon garam masala
½ teaspoon red chilli powder
3-4 tablespoon oil
Masala beans (serves 2)
1/2 fresh green chilli
1/2 medium white onion
1/2 teaspoon garam masala
1/2 teaspoon salt
415g can baked beans in tomato sauce (ideally a low sugar or wholefood brand)
1 tablespoon oil
small handful fresh coriander leaves
EQUIPMENT LIST:
1 saucepan
1 frying pan
1 frying pan with lid
Chopping board
Knife
Can opener
Spatulas
Peeler
Small sieve
Measuring jug
Serving plates