Masterclass - VIP Series: Going Vegan (What to Eat in Veganuary) with Day Radley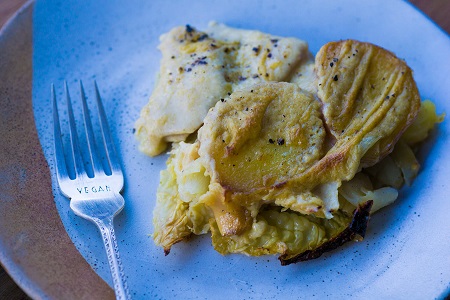 Date and Time
Saturday 20th January 2018
12:00pm - 4:30pm
Cost
£65 (£52 Concessions)
Location
Made In Hackney
Food For All Basement
3 Cazenove Road
London
N16 6PA
This a past event and is no longer avaliable.
Please see our calendar for upcoming events.
The Event
"I'm Vegan Chef Day, a professional chef and long time vegan. With my help you will learn how to become vegan with ease, but also with fun and creativity. Being vegan need not be difficult, if you have the foundational knowledge and a handful of tried, tested and trusted recipes to hand." Day Radley, International professional vegan chef, food writer and Made In Hackney Ambassador.
This Masterclass is part of our 'VIP Series', led by experts who are renowned in their field. The class will include:
An introduction to a variety of delicious and nutritious vegan ingredients
A selection of quick and easy recipes for breakfast, including pancakes and which mylks to put in your cuppa
Wholefood recipes to create delicious creamy and cheesy flavours and textures, including bechamel, mornay, pizza cheese, cheese for gratin, and ready made cheese.
How to make mouth-watering vegan desserts, cakes and cookies.
Recipes to create hearty meaty flavours and textures using ingredients such as smoked tempeh and tofu.
Learning the health benefits of vegan ingredients and the importance of including fermented foods in your diet.
Plenty of tasty meals and snacks throughout the day (all will be gluten free).
Delicious plant based recipes to take home.
Day Radley is an international professional chef & food writer. Having healed her own toxic relationship with food, she now helps women all over the world do the same. She regularly writes for UK & International Food magazines, has been featured on Sky News and has worked as health food consultant for international brands. Day is considered a leading pioneer of simple modern simple cooking and is passionate about ditching the rules and making food and eating fun again.
Fee*: £65 (£52** Concession) includes a delicious organic plant based lunch
* This fee is used to fund our programme of free courses to vulnerable and low-income community groups
** Concessionary rate available for students, pensioners, unemployed and low waged
Refunds: we require a minimum of 7 days' notice for any cancellations or transfers once you have booked onto a class.
For information: info@madeinhackney.org / 020 8442 4266 - Regretfully, the kitchen is not wheelchair accessible.
---
Masterclass Prices and VAT from January 2019
Stop press! Due to our growth (a good thing!) Made In Hackney is now VAT registered. This means from January 20th 2019 our masterclasses prices must include VAT - raising our prices by 20%. This is a legal requirement. Thanks for your understanding.
---
---