Masterclass - VIP Series: The Essentials of Vegan Cooking (book for 4 week course or individual classes)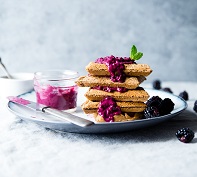 Date and Time
07/03/2019 6:30pm - 28/03/2019 9:00pm
Cost
Fee*: £264 (£228 Concession**) for 4 weeks or £71 (£59 Concession**) per individual class inclusive of VAT
Location
Made In Hackney
Food For All Basement
3 Cazenove Road
London
N16 6PA
UK
This a past event and is no longer avaliable.
Please see our calendar for upcoming events.
The Event
This Masterclass is part of our 'VIP Series', working with experts who are renowned in their field.
"Whether you're new to veganism, want to cook for a vegan partner or friend, you're interested in eating more plants or a long term vegan that wants to up their culinary game, this is the course for you."
Anton Petrov, Plant Based Chef
This 4 week intensive course will include:
Elevate your cooking skills to make delicious vegan creations and impress your friends and family
How to cook vegetables for optimum nutrition with fantastic flavour - to please any hardened carnivores!
How to make meaty tastes and textures with tofu, tempeh and mushrooms
Create a tasty vegan brunch with gorgeous waffles, cheeses, butters and mylks
How to create indulgent healthy bakes, sweet treats & raw desserts without eggs, gluten or sugar
Tips on cooking with lentils and legumes – such as aromatic Mujaddara and Kichari
Knife and presentation skills
Plenty of delicious tastings, top tips and take-home recipe packs
Anton is a professional plant based chef with over ten years' experience working in a variety of acclaimed restaurants including 'Acorn Vegetarian Kitchen', 'Demuths', 'The Gate', and 'Tibits', as well as the prestigious Michelin-Guide recommended 'Vanilla Black'. Inspired by locally grown seasonal produce (and a committed all year round forager), Anton is deeply passionate about sharing the delights of plant based ethical cooking which, as he puts it, 'nourishes our bodies, minds and spirits and brings a positive change to the world.' Anton now runs his own plant based gourmet private event /catering company, as well as teaching at Made In Hackney and Demuths Cookery School.
Week 1: Seasonal Vegetables & Plants for Vegan Meat substitutes
Including cooking vegan meat substitutes tofu and tempeh, best way to cook greens to maintain flavour and nutrition, seasoning/roasting veggies to bring out the flavour. e.g. dishes may include Garlic and parsley oil sautéed spring greens, purple sprouting broccoli, Smokey wilted spinach, Whole baked cauliflower, Tofu and tempeh.
Week 2: Nutritious Sources of Vegan Proteins, Lentils & Legumes
Including cooking with lentils and legumes - soaking times, cooking times, pressure cooking, sprouting, how to season lentils and legumes. e.g. dishes may include creamy and hearty indulgent cannellini beans, aromatic Mujaddara (Middle Eastern rice and lentils), nourishing and balancing Kichari.
Week 3: Vegan Baking with Indulgent & Healthy Sweet Treats
Including introduction to raw desserts and cakes, introduction to baking including various egg replacements and flours, introduction to alternative sweeteners. e.g. dishes may include raw cake, orange polenta cake, tray bake.
Week 4: Vegan Brunch with Dairy Free Alternatives
Including creating cheesy flavours, sauces and cheese, using aqua-faba in waffles and pancakes, how to make nut butters and mylks. e.g. Dishes may include aged cashew cheesy spread, cheese sauce, hazelnut butter, waffles and pancakes
Fee*: £264 (£228 Concession**) for 4 weeks or £71 (£59 Concession**) per individual class inclusive of VAT, includes plenty of delicious tastings, top tips and take-home recipe packs (if you have any food allergies please email details to info@madeinhackney.org immediately after booking to enable us to accommodate your dietary needs).

* This fee is used to fund our programme of free courses to vulnerable and low-income community groups. By attending a Made In Hackney masterclass you get a great day of learning AND you're providing our charity with essential funds for us to continue our work with vulnerable community groups.
* *Concessionary rate available for students, pensioners, unemployed and low waged (please contact info@madeinhackney.org to book an individual class at concession rate)
Refunds: we require a minimum of 7 days' notice for any cancellations or transfers once you have booked onto a class.
For information: info@madeinhackney.org / 020 8442 4266 - Regretfully, the kitchen is not wheelchair accessible.
ALLERGEN ALERT
Made In Hackney uses cereals containing gluten namely: wheat (spelt and khorasan wheat), rye, barley, oats; peanuts; all other nuts; sesame; all other seeds; soybeans; celery and celeriac; mustard; sulphur dioxide/sulphites; lupin; tomatoes and other allergens in it's classes. Our food is freshly prepared in our busy cookery school kitchen that handles allergens, so we cannot guarantee that our food and drinks are allergen-free. Even in classes where these ingredients are not being used, they will be on site in our store rooms and our equipment will have previously come into contact with them. Participants attend at their own risk.
---
Masterclass Prices and VAT from January 2019
Stop press! Due to our growth (a good thing!) Made In Hackney is now VAT registered. This means from January 20th 2019 our masterclasses prices must include VAT - raising our prices by 20%. This is a legal requirement. Thanks for your understanding.
---
---