Live Online Cookery Class - Webinar: DabbaDrop cooks Punjab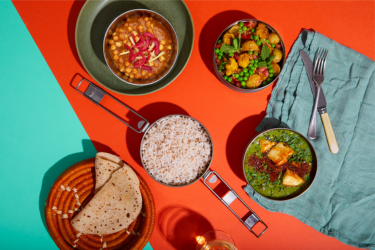 Date and Time
Wednesday 12th July 2023
6:30pm - 8:30pm
Cost
Ticket £25 inclusive of VAT. (Special Online Fundraising class). When you buy a Made In Hackney cookery class you enjoy an enriching culinary experience and help us fight hunger in our community.
Location
The class will be held on Zoom. Zoom details will be provided before the class, together with your recipe card. If you have not received the reminder email by 4pm the day before the class please contact us at classes@madeinhackney.org or send a message on WhatsApp message +44 07833685894.
The Event
If you haven't heard of zero-waste, subscription based Indian take-away service @dabbadrop, you're missing out on something truly special.
As passionate foodies and busy mums Anshu and Renée loved getting a takeaway but hated the greasy gruel and plastic pile-ups that followed. In 2018 they went on a mission to create a better alternative and using heirloom family recipes from across South Asia they created DabbaDrop, a 100% plant-based, takeaway service delivering delicious, emission-free (the 'drop')dishes in reusable tiffin tins (the 'dabba').
As purveyors of great tasting, nutritious, environmentally conscious food, the Made In Hackney team have been fans of DabbaDrop for years - enjoying their delicious dishes, bold flavours and reusable tiffin-tins. Our founder Sarah Bentley describes it as, "One of the best take-aways in London. Banging flavours, clean but still satisfying, and no plastic waste afterwards. Perfect."
We're therefore elated to welcome Anshu and Renée for this special online fundraising class. They'll guide you through each step of the DabbaDrop cooking process, answer your questions and provide personalised tips and techniques along the way.
This online webinar will include:
Learn the stories behind DabbaDrop - why and how they started
Learn how to bloom spices to get the most flavour out of them, a technique at the heart of Indian cooking
Learn how to make a wholesome pindi chole that can be batch cooked to save you time and money
Learn the art of the perfect side dish with the classic cumin basmati rice
Learn to make saag tofu, a perfect fusion of Indian spices and creaminess
Learn to make aloo gobi & peas blending the comforting warmth of potatoes, nutty crunch of cauliflower and sweet bursts of peas
At the end of this class you enjoy a full meal bursting with rich, complex flavours that will transport you to the vibrant streets of India
Receive easy-to-follow recipe sheets provided to recreate the dishes again and again
About DabbaDrop
DabbaDrop is the brainchild of Anshu Ahuja and Renée Williams, Hackney neighbourhood friends who bonded over their love of cooking and a desire to make a small difference to the planet and for their children.
Anshu is a Mumbai-born passionate home cook who, following a career in TV production, was a finalist on the incubator scheme, Kitchenette, that allowed her to launch the pop-up Indian tapas concept, Pao Wow, to critical acclaim at Stevie Parle's Dock Kitchen.
New Zealand native Renee has 12 years' experience with a background in restaurant operations and design, as well as events production at Soho House, Caprice Holdings and Caravan restaurants.
Anshu and Renee brought together their complementary skills to develop DabbaDrop in November 2018. In Summer 2021 Marie Claire magazine awarded DabbaDrop the winner of the 'Best Sustainable Food Delivery Initiative'.
*
Have your ingredients ready, weighed out and chopped where necessary before the class starts to help you keep pace with the session and feel more relaxed. We also recommend printing out your handout or having it available to view on a separate device if possible.
EQUIPMENT LIST
Chopping boards
Knives
Measuring cups and spoons
Wooden spoon
Baking trays
Weighing Scales
Mixing bowls
Grater
Pots
Frying pans
Fork
Garlic crusher
INGREDIENTS LIST
Store Cupboard Ingredients
3 tablespoon cumin seeds
2 teaspoon turmeric powder
2 teaspoon garam masala
1 teaspoon Kashmiri chilli powder
2 tablespoons coriander seeds
1 teaspoon black peppercorn
1 teaspoon ginger powder
2 black cardamoms
1 tablespoon dried pomegranate seeds (optional)
8 cloves
3-4 dried red chilies
2-inch cinnamon stick
1 cup basmati rice
2 teaspoon tomato puree
Vegetable oil
Olive oil
Chilli powder - to taste
Salt, pepper and sugar to taste
Fresh Ingredients
Bunch fresh coriander
1 small Cauliflower
3-4 Lemons
10 baby Potatoes
6 clove garlic
1 onion
1 green chilli
1 tablespoon chopped ginger
2 medium sized ripe tomatoes
400g fresh or frozen spinach
100g Frozen peas
400g tofu, pressed and cubed
¼ cup vegan cream
*
Refunds/transfers: we require a minimum of 14 days' notice for any cancellations or transfers once you have booked onto a class to enable us to try to resell your ticket.
Vouchers: To redeem a voucher purchased on our site, please contact us to book a place. If contacting us by email please attach your voucher. If telephoning, have your voucher to hand so you can quote the voucher number.
Note: This is a fundraising class and the proceeds help us fight hunger in our community. We run free community classes for people on low incomes, with health challenges or have other support needs. If you'd like to join this group email us classes@madeinhackney.org
For information: classes@madeinhackney.org / WhatsApp message +44 07833685894