Recorded Online Cookery Class - Recorded Webinar: Vegan Cheese with Miyoko Schinner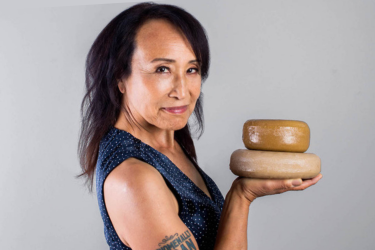 Date and Time
Thursday 1st February 2024
6:30pm - 8:30pm
Cost
Ticket £20 inclusive of VAT. When you buy a Made In Hackney cookery class you enjoy an enriching culinary experience and help us fight hunger in our community.
Location
THIS IS A PURCHASE OF A RECORDED CLASS AND ONCE YOU RECEIVE YOUR EMAIL CONFIRMATION YOU CAN ACCESS THE CLASS AT ANY TIME FROM THEN UNTIL YOUR TICKET EXPIRES. YOU CAN PAUSE, CONTINUE, AND WATCH AGAIN AT YOUR CONVENIENCE.
The Event
Miyoko Schinner is a powerhouse vegan chef, activist, acclaimed cookery book author, and entrepreneur. With her at the helm, Miyoko's Creamery developed a pioneering range of vegan cheese and butter products that are now sold in stores across the United States and Canada.
As the author of 'Artisan Vegan Cheese: From Everyday to Gourmet' originally published in 2012, Miyoko brings a wealth of knowledge and experience to this epic class. From research to recipe development to production, Miyoko has done it all, making her one of the most authoritative voices in the field. When it comes to learning about vegan cheese, who better to turn to?
This class is a must-attend for anyone who wants to learn how to make their own vegan cheeses. Whether you're a seasoned vegan or just starting out, you'll love the practical tips and expert advice that Miyoko has to offer. At this webinar she will be sharing her expertise on the big 3 vegan cheeses: cheddar, mozzarella and a truffle brie.
And fortunately you don't have to travel far to learn from Miyoko. This online class can be accessed from anywhere in the world. So don't miss out on this amazing opportunity!
This recording of a live webinar includes:
Explore the techniques for making the 'big three' vegan cheeses: cheddar, mozzarella and truffle brie
Learn how to ferment vegan cheeses to develop flavour and texture
Learn how to shape and store your vegan cheese for optimal texture and freshness
Learn how to make a rich and full flavoured cheddar, that continues to age and improve in the refrigerator for weeks or even months
Learn how to make a mozzarella that looks and tastes like its dairy counterpart, formed into balls and packed in brine
Learn how to make a truffle brie with a rich umami flavour
Gain a deeper appreciation for the art and science of vegan cheese making
Bonus recipes: butter and panzanella
Receive easy-to-follow recipe sheets provided to recreate the cheeses again and again
About Miyoko Schinner
Miyoko's journey to veganism began in the 1980s, and started to experiment with making her own vegan cheeses and butters, using ingredients like nuts and soy. Over time, Miyoko became an expert in vegan cheese-making, developing a range of delicious and innovative recipes that she later compiled in her book, "Artisan Vegan Cheese." The book quickly became a bestseller and helped to popularise vegan cheese as a viable alternative to dairy cheese.
*
Have your ingredients ready, weighed out and chopped where necessary before the class starts to help you keep pace with the session and feel more relaxed. We also recommend printing out your handout or having it available to view on a separate device if possible.
EQUIPMENT LIST
Knife or potato peeler
Pot (to boil potatoes)
High speed blender
Sieve
Small saucepan
Cheesecloth or plastic wrap-lined mould
Ice cream scooper (for the mozzarella balls)
Bowl
Six-inch round cake pan or similar mould
INGREDIENTS LIST
Store Cupboard Ingredients
1½ cup plain unsweetened soy yogurt
2 cups raw cashews
200 g pumpkin seeds
5 tablespoons tapioca flour
100 g deodorised cocoa butter, chopped
50 g refined or deodorised coconut oil
1/2 cup refined coconut oil (don't use extra virgin!)
60 g miso
60g nutritional yeast
45g agar powder
1 teaspoon good quality black truffle oil (or more - depends on quality)
Few drops annatto or paprika for colour
Vegan probiotic cultures or cheesemaking cultures as available
1 tablespoon oil
Sea salt
Ice (for ice water bath)
Fresh Ingredients
300 g. waxy potatoes
180g (6 ounces) mushrooms
*
This webinar is not intended to provide you with a set of fixed recipes. Our main goal is to inspire and guide you on your own exciting vegan cheese-making journey. We want to encourage your creativity and exploration, allowing you to adapt the recipes we discuss to suit the ingredients available in your region and cater to your unique preferences. Please be aware that the recipes were carefully reviewed after the class, but might differ from the class, just listen to Miyoko wisdom - but follow our handout! Please be aware that the ingredients used may differ from country to country. Get ready to embark on a delightful adventure in the world of vegan cheeses!
*
Vouchers: To redeem a voucher purchased on our site, please contact us to book a place. If contacting us by email please attach your voucher. If telephoning, have your voucher to hand so you can quote the voucher number.
Note: This is a fundraising class and the proceeds help us fight hunger in our community. We run free community classes for people on low incomes, with health challenges or have other support needs. If you'd like to join this group email us classes@madeinhackney.org
For information: classes@madeinhackney.org / WhatsApp message +44 07833685894